09 Feb 2014

Every child's right to be heard

A resource guide on the rights of the child general comment no.12 published by Save the Children UK on behalf of Save the Children and UNICEF (2011).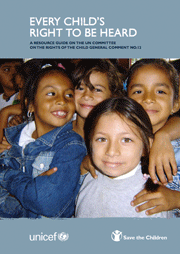 The United Nations Convention on the Rights of the Child (UNCRC), which was adopted by the UN General Assembly in 1989, included a provision that introduced a right of all children capable of forming a view to be heard and to be taken seriously. The provision, outlined in article 12 of the Convention, states that:
1. States Parties shall assure to the child who is capable of forming his or her own views the right to express those views freely in all matters affecting the child, the views of the child being given due weight in accordance with the age and maturity of the child.
2. For this purpose the child shall in particular be provided the opportunity to be heard in any judicial and administrative proceedings affecting the child, either directly, or through a representative or appropriate body, in a manner consistent with the procedural rules of national law.
It was a new concept in international law, and posed a challenge to most countries throughout the world, where a culture of listening to children was not widespread or even acceptable. Over the past 20 years, many governments, alongside civil society organisations, have begun to grapple with the implications of this new obligation to recognise children as citizens, as participants and as active contributors both to decisions within their own lives and to the wider society.
However, there is still a lack of understanding, and often of confidence, among governments as to what it means to listen to children, and how to introduce the necessary measures to fulfil that responsibility.
Accordingly, in June 2009, the Committee on the Rights of the Child, the international body established to monitor governments' implementation of the UNCRC, adopted a General Comment on the Right of the Child to be Heard. This General Comment elaborates in detail the scope of Article 12, how the Committee expects governments to interpret their obligations to children under its provisions, what action governments are expected to take to implement Article 12, and how to interpret its meaning.
This resource guide has been produced as a companion document to sit alongside the General Comment, largely following its structure, to provide governments with more detailed practical guidance on how to implement it. In addition to a fuller explanation of how to understand the obligation to listen to children and take them seriously, it provides:
Illustrative examples of laws and regulations that have been adopted by some governments to give effect to the right embodied in Article 12.
Illustrative examples of guidance and policy that have been adopted by some governments, professional bodies and other institutions to give effect to the right embodied in Article 12.
Suggested practical guidance on how to create the opportunities for children to be heard.
Evidence from research, for example, regarding the impact of children's participation, or children's concerns in particular settings.
Illustrative examples from around the world of initiatives undertaken to enable children to participate in decisions and actions that affect them basic requirements for ensuring child participation that is ethical, safe and effective.
The arguments to be made to demonstrate the positive outcomes associated with realising the right of children to be heard and taken seriously.
The child's right to be heard is, as yet, far from being fulfilled for the majority of children around the world. The aim of this handbook is to try to make easier the task of governments in moving that agenda forward. It seeks to demonstrate not only that it is eminently possible to fulfil the obligations associated with Article 12, but also that there are profound benefits associated with doing so. It provides an opportunity for governments to explore the potential for building on the experiences of other countries and regions in implementing Article 12.
It is aimed primarily at governments, national and local government officials, policy-makers and parliamentarians, although it will also be valuable for those advocating with governments. Article 12 extends to matters relating to health, education, child protection, child welfare, juvenile justice, planning, transport, economic development and social protection. Therefore, even though there may be a lead department focusing specifically on children, it is important that all relevant government departments make use of the guidance the handbook contains. n
The handbook is available here.