19 Sep 2017

Filipino Indigenous people's radio goes on air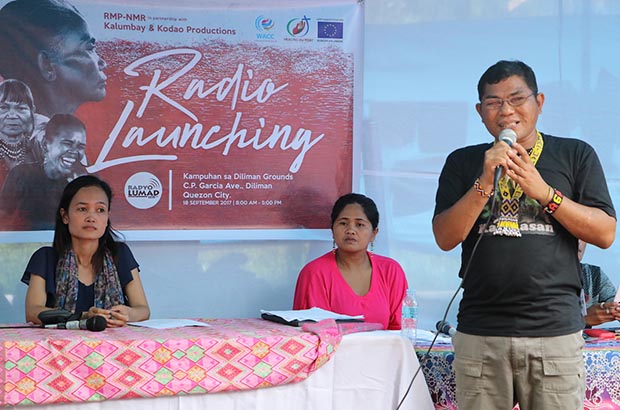 The launch of Radyo Lumad at the University of the Philippines. Photo: RMP-NMR.
---
WACC partner Radyo Lumad began broadcasting 18 September 2017 from the University of the Philippines – Diliman campus.
The community radio station was set up with the support of the European Union (EU) and under WACC's programme on communication for social change.
"Community radio is vital to marginalised groups struggling to maintain their traditional ways of life and to communicate their needs and concerns," said WACC Deputy General Secretary Philip Lee. "WACC was delighted to be able to support Radyo Lumad."
Broadcasting is currently being done in solidarity with various Lumad communities taking their call to the nation's capital under the "Journey of National Minorities for Self-Determination and Just Peace".
Programmes will air every day in the province of Bukidnon and nearby areas, featuring stories from the Lumad communities of Northern Mindanao and Caraga regions.
"Radyo Lumad 1575 AM is the expression of the struggles of the Lumad who have been marginalized, discriminated, and oppressed. The radio is the voice of the Lumad in Mindanao that seeks to be heard. Through the radio, the Lumads can impart their own culture, said Ailene Villarosa of the EU's "Healing the Hurt' Project".
Radyo Lumad is an initiative of the Rural Missionaries of the Philippines (RMP-NMR) in partnership with the Kalumbay Regional Lumad Organization and Kodao Productions.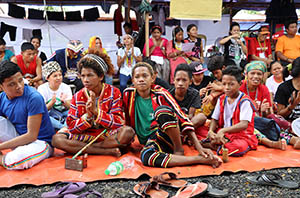 The new station's programming will be solely dedicated to Lumad stories, news reports, alternative music and advocacy songs produced by Mindanao musicians, and the traditional music of the Lumad communities.
Live reports of cases of violations direct from communities and interviews with victims will also be included in its programming.
A specific segment will be allotted to Lumad issues where questions from listeners via text messages or phone calls will be discussed.
Radyo Lumad aims to communicate with listeners from the urban and rural poor communities, who use radio both as entertainment and a source of information.
They include those with deep-rooted socio-political prejudices and religious biases against Indigenous Peoples from stories they have heard in the mainstream media.
Radyo Lumad will present alternative stories about this grouping of non-Muslim indigenous peoples who have lived in the southern Philippines for centuries.