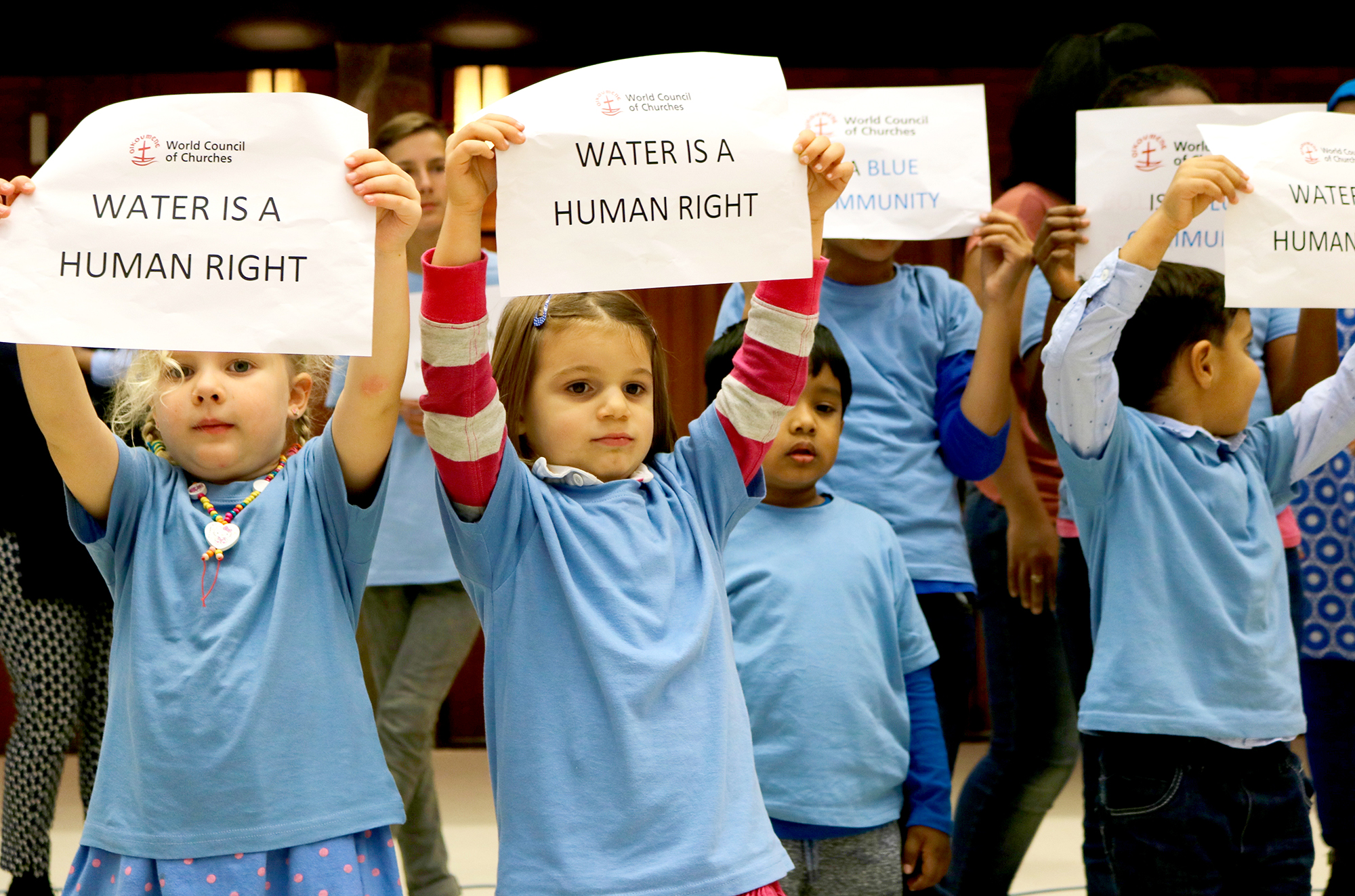 17 May 2020

For water justice, Churches ought to become "blue communities"!

By Dinesh Suna

Would you ever buy a sandwich for USD 10,000? I guess no one would, even if he or she were a billionaire. Because it's insanely expensive for a sandwich. About 2000 times more expensive, assuming the sandwich costs about USD 5. However, most of us have paid the equivalent of that "10,000 dollar-sandwich" for – guess what? A bottle of water!

Many of us have paid up to USD 10 for a one litre bottle of water at a restaurant or airport kiosk. This price is around 2000 times more than the price of tap water. How on earth do we not think twice before buying this insanely expensive product which is practically available for free from our kitchen tap?

This is the power of marketing. Through numerous advertisements, we have been told that tap water is not safe for us to drink. However, the problem of "bottled water" is not only the price. The problem is much more serious. Bottled water mostly comes in plastic bottles. Today we are buying more than 1 million plastic bottles every minute.

When we finish drinking the water, we dump the bottle in a garbage bin or in a so-called "recycle bin". However, statistics have shown us that more than 91% of these plastic bottles end up in landfills and in the oceans. Where they remain for up to 1000 years before fully biodegraded. If the business, as usual, continues it is estimated that by 2050, there could be more plastics in the oceans than fishes (by weight).

Further, the problem of bottled water is not limited to plastic pollution alone. The problem is larger. Bottled water industries are an impediment to the realisation of the human right to water. This is discussed in detail later in this article.

WCC became a blue community

Because of these problems associated with bottled water, the World Council of Churches (WCC) became a blue community in 2016 and banned bottled water on its premises and appealed to its member churches to do similarly.

What is a blue community? A blue community has to respect three criteria: 1) Recognize water as a human right; 2) Say "no" to the sale and use of bottled water in places where tap water is safe to drink; and 3) Promote publicly financed, owned and operated drinking water (in other words say no to privatisation of water).

The concept of the blue community was started by the Council of Canadians through its "Blue Planet Project", targeting the municipalities of Canada. However, soon it had spread to different parts of the world. Today we have several blue communities involving institutions, universities, churches and cities including Bern, Switzerland, Paris, Berlin, Brussels, and several municipalities in Canada's Quebec province.

Water privatisation

For most developed countries, water services were by and large under public control from the beginning, through its Ministries and the water authorities of the government. However, with the increased demand for clean water and to promote Public-Private-Partnership, slowly countries started to privatise their water services. Quite notably under the leadership of then Prime Minister Margaret Thatcher, water was privatised in England and Wales in the late 1980s.

In the 1990s, privatisation of water rapidly expanded as the World Bank's IFP (International Finance Corporation) lent around 75 billion dollars to countries for water and sanitation projects including water privatisation. The two French water service giants, Suez and Veolia, are the world's largest private water firms and responsible for the majority of water privatisation around the world.

When water privatisation is offered as a solution to municipal budget problems and ageing water distribution systems, it creates a greater problem leaving communities with higher rates, worse service, job losses, and more. The primary motive of the corporations is to make a profit. This will influence their pricing/tariff fixing, catering, quality, cutting corners, etc.

While the government is accountable to its public irrespective of the communities' ability to pay the water bills, the private water operator is not accountable to anyone. Often the contracts signed by them with government authorities run 20 years or longer and make it difficult for successive governments to pull out of the contract.

Nevertheless, today, thanks to the blue communities, more and more cities are making their water public again. A report by the Transnational Institute (TNI), Public Services International Research Unit and the Multinational Observatory suggests that "180 cities and communities in 35 countries, including Buenos Aires, Johannesburg, Paris, Accra, Berlin, La Paz, Maputo and Kuala Lumpur, have all 're-municipalised' their water systems in the past decade."

While AquaFed, a federation of more than 400 private water operators including Suez and Veolia continues to claim that they provide clean and safe drinking water to over 1 billion people and thereby they contribute to the realisation of the human right to water.

In a debate organised by the Ecumenical Water Network (EWN) of the WCC between AquaFed and EWN in Geneva, we pointed out to them the problems of privatisation of water and clarified the WCC-EWN's position of public control over waters system. We said, "private companies are not the solutions…Focusing on community participation is the answer." That is why we strongly believe in being a blue community.

Water and sanitation are human rights

In 2020 we are celebrating the 10th anniversary of the recognition of water and sanitation by the United Nations as human rights. We have made significant progress in ensuring the right to water and sanitation for all. However, SDG 6's (Sustainable Development Goals) universal access to water and sanitation by 2030 is still a far-fetched dream. According to the new JMP Report 2019 (Joint Monitoring Programme) of UNICEF and WHO, 2.2 billion people around the world do not have safely-managed drinking water, while 4.2 billion go without safe sanitation services and three billion lack basic handwashing facilities.

By 2025 two-third of the world will be facing water stress. As the resource becomes scarce, tensions among different users may intensify, both at the national and international level. Over 260 river basins are shared by two or more countries. In the absence of strong institutions and agreements, changes within a basin can lead to transboundary tensions. A 2014 survey of the world's 500 largest cities estimates that one in four is in a situation of "water stress".

According to UN-endorsed projections, global demand for freshwater will exceed supply by 40% in 2030, thanks to a combination of climate change, human action and population growth. This year 21 cities in India are predicted to be running out of groundwater. The Middle East and North Africa (MENA) is the Most Water-Stressed Region on Earth. Twelve out of the 17 most water-stressed countries are in the MENA region.

Respecting water rights

In such a scenario, how can we realise the human right to water and sanitation? And that's why being a blue community is to respect the human right to water and work towards it. Many people may have a different understanding of the human right to water. Some may argue that the right to water means water should be free. However, unlike air is free for us to breath, water has a cost – particularly that of treating it and providing an infrastructure for the service delivery to our homes.

But the cost has to be affordable. In the case of a particular community, if they cannot afford to pay any amount because they do not earn enough, access to water should be made free for them. Some countries have experimented with this aspect. The WHO has stipulated about 100 litres of water per day per person as a minimum amount of water for decent living.

The government of Delhi, India has allocated about 20,000 litres of water per family per month, which equals about 166 litres/day/person in a family of four. However, if anybody exceeds the 20,000 litres cut off even by a litre, they will have to pay the full water bill. This system has a safety net for the poor as they get the minimum water need for free. The rich, however, will find it hard to manage with 20,000 litres/family/month and will have to pay the full price.

Besides affordability, the human right to water and sanitation has four other important criteria / "normative content". They are accessibility, availability, quantity (sufficiency) and quality and safety.

Now let us revisit the issue we had placed in the parking lot – how bottled water is an impediment to the human right to water. It is the government's responsibility to provide clean water to its citizens fulfilling all the above five normative conditions of the human right to water and sanitation. However when the rich aren't complaining about unsafe drinking water through the taps, because there is always an alternative of bottled water available in the market, the government can continue to avoid its responsibility to ensure clean and safe water from the taps in the households.

The lead contamination of water in the U.S. city of Flint, Michigan, that began in 2014 is a case in point. The majority of those affected were African Americans who did not constitute an influential rich community. That led to negligence and overlooking the quality of the tap water for more than a year. Besides bottled water was supplied to the community for more than a year because tap water was contaminated.

This year's Lenten campaign: Seven Weeks for Water for the World Council of Churches EWN was focused in the Pacific region. The most famous bottled water comes from this region: Fiji water. The biblical reflections of Seven Weeks for Water have criticised how an American company markets Fiji water as "earth's finest water, bottled at the source, untouched by man, until you unscrew the cap". The irony is that the local people of Fiji are struggling to get access to clean and safe drinking water in the wake of climate change. But people around the world are drinking this surreal Fiji water.

Water and Climate Change was the theme of this year's World Water Day (March 22). The campaign says, "these two are inextricably linked. Adapting to the water effects of climate change will protect health and save lives. Using water more efficiently will reduce greenhouse gases."

Virtual water 

Have we ever imagined that we "eat" more water than we drink? You may be surprised that we "eat" 3496 litres of water every day and of which only 137 litres on average is consumed by us for domestic use including drinking and sanitation. This hidden water we use is called "virtual water". A kilogram of meat represents about 15400 litres of virtual water. You may ask why? That much water is used by the cow for fodder and water from birth till it becomes at least three years old and is then slaughtered, packaged and shipped from one part of the planet to another.

For this reason, it is important to choose wisely what we want to eat. A vegetarian diet consumes only a fraction of the water used by a meat-based diet. So it's not enough to save water physically where we can control only some 137 litres of water/day, whereas by choosing what and how to eat we can save a great deal of water from our daily consumption of about 3496 litres of virtual water.

What can we do as churches and individuals?
Let us become a blue community.
Respect the human right to water and say no to bottled water.
Save "virtual water" by choosing what and how to eat.
Join the campaign for water justice.
Dinesh Suna is the Coordinator of the Ecumenical Water Network of World Council of Churches (WCC), Geneva since 2012. The EWN raises awareness on the urgency of the water crisis and to strengthen the voice of Christian churches in the water debate. 
Photo at top: Children take part ion the occasion of the World Council Churches joining the Blue Community project , including installing tap-based public water fountains at the Ecumenical Centre. Photo: Ivars Kupcis/WCC