21 Mar 2014

GMMP Ambassador: Sharon Bhagwan Rolls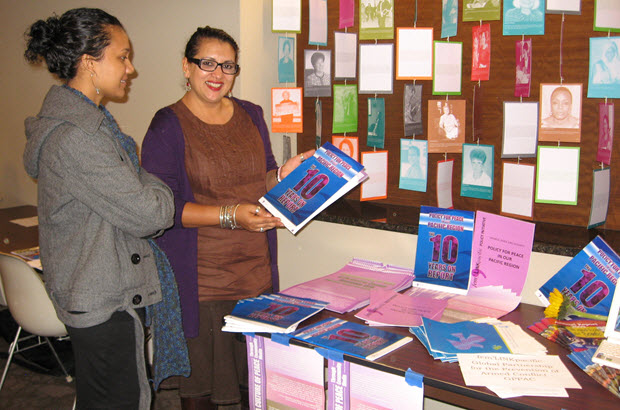 Sharon Bhagwan Rolls (center), a GMMP 2015 ambassador. Photo: Philip Lee
---
Sharon Bhagwan Rolls, who is passionate about implementing Section J of the Beijing Platform for Action to advance women's political and social wellbeing in Fiji and the Pacific region, is one of the inaugural group of "ambassadors" for the WACC-coordinated Global Media Monitoring Project (GMMP) for 2015.
In that role, she is "bringing out a greater visibility" of the GMMP in a diverse Pacific region and would like "to get as many Pacific island countries as possible to get on board with the GMMP," she said in an interview in New York, where on March 11 she accepted the 2014 Women of Distinction Award from the NGO-Committee on the Status of Women (CSW)/New York.
Bhagwan Rolls said the GMMP has already been linked with the Pacific Media Assistance Scheme, a 10-year project (2008-2018) that supports better governance in the Pacific region by contributing to the development of a diverse, independent and professional Pacific media system that informs all the people of the Pacific and gives them a voice in public life at local, national and regional levels.
The 2013 Pacific Women's Triennial Conference outcomes also made reference to the GMMP, as a result of Bhagwan Rolls' organization – FemLINKPACIFIC – providing input to the conference:
"The conference not only called for governments to recognize that community media and women's media networks are important for collaboration and partnerships but also Called for governments and National Women's Machineries to use the Global Media Monitoring project to conduct quantitative and qualitative analysis of content to be able to ensure that government communication and media strategies effectively promote their gender equality commitments."
Bhagwan Rolls commented, "so this is definitely supporting our aim to promote the GMMP as an important research base on how to address media advocacy to advance gender equality."
Starting in 1995, the GMMP has monitored gender representation in global media every five years. It is the largest and longest longitudinal study of its kind. Based in Toronto, it is also the largest advocacy initiative in the world on changing the representation of women in the media.
It is unique in involving participants ranging from grassroots community organizations to university students and researchers to media practitioners, all of whom participate on a voluntary basis. Its findings show that in 1995, 17% of persons seen, heard or read about in the world's media were women. By the fourth study, in 2010, that percentage had inched up to 24%.
For the fifth GMMP in 2015, the four global ambassadors also include Dr. Musimbi Kanyoro of Kenya, Jennifer Lee of the United States and Nadia Al-Sakkaf of Yemen. More about the ambassadors and their intended involvement is in this article here.
Based in Suva, Fiji, Bhagwan Rolls is a Fiji Islander. Starting in 1986 in radio, she worked in the broadcast industry in Fiji as on-air presenter, copywriter, technical producer and station manager. In 2000, she founded FemLINKPACIFIC, a community media initiative "that gives voice to the voiceless to empower women and ensure peace and security," according to the NGO-CSW/New York citation. FemLINKPACIFIC includes the women-led community radio network FemTALK 89FM.
In 2003, Rolls noted, FemLINKPACIFIC began "creating awareness around the GMMP," linking it to regional community media network partners. The number of countries participating in the GMMP has increased from Fiji only to Australia, New Zealand, Papua New Guinea, Fiji and the Solomon Islands as of the 2010 GMMP, Rolls said.
The 2010 GMMP, compared to the 2005 version, developed additional indicators around sexual issues in the news, Bhagwan Rolls said.
Another important issue is that in the Pacific, she said, "the numbers are very low in terms of women's involvement with political policy. Women's contribution to equality and peace flies under the radar."
Government-funded media must make a commitment to gender equality, Rolls said, noting that Fiji's media policy is that media with public funding must have 30% representation of women in the content it produces. "It is very important to link back to policy commitments and that is what we have been doing as FemLINKPACIFIC. Not only focusing on addressing the gaps in gender inclusive media but also addressing media and ICT policy."
However, she added, "The content trend of seeing more women visible is due to women's media and NGO content being produced and released to the media, and there are incremental steps within Pacific media content but it is all linked to where women are in positions of power and decision making in broader civil society as well as public and private sector." That trend is connected with political leadership. "If women are not in the senior positions of government, we don't see that representation. We must hold government systems accountable to the concept of gender equality," she said, citing Hilary Clinton's term as U.S. secretary of state as an example of a high-profile woman in government.
"Women make the news when they are in these positions of leadership. And what the GMMP highlights is reality – the missing picture that we still have a long way to go," Bhagwan Rolls said.