19 Aug 2014

Help advance gender justice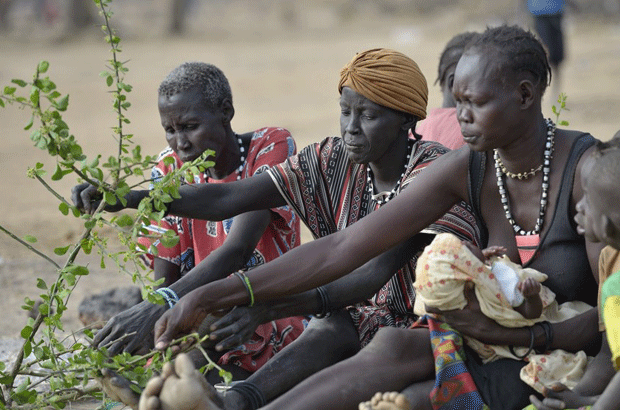 Hungry women eat leaves from the lalob tree in a camp for internally displaced people in Manangui, South Sudan. The tree (Balanites aegyptiaca) is a common "hunger food" in the region. Photo: Paul Jeffrey/ACT
---
WACC-Africa and project partners identified ways to advance communication rights and gender justice at a forum on Gender and Communication in Africa at War and in Peace, held Aug. 4-7 in Nairobi.
In a communiqué issued after the forum, the members acknowledge that Africa "is going through multiple armed conflicts and post conflict reconstruction processes" and that "women suffer disproportionally in conflict and post-conflict contexts."
Women also are underrepresented or completely excluded from formal peace and security processes, it said, and their rights are an important issue in those processes. Their voices are often not heard since they "are marginalized on various media platforms."
Get involved with another initiative on gender justice: WACC's ongoing Global Media Monitoring Project, a research and advocacy media monitoring process that pursues gender equality in and through the news media.
The Nairobi forum additionally said that although there are many international, continental and regional frameworks for women's rights, "there is a gap between the promises and the reality made by especially our governments."
Among the action items suggested in the communiqué [for the full list, click here]:
Communicators and media professionals should profile the role and perspectives of women before, during and after conflict and in peace and security processes.
Internet service providers should block or remove web or social media content that perpetuates violence against women.
Media owners can give space and airtime in news content on issues that promote women rights and challenge gender stereotypes.
National governments can create awareness on national action plans that have been developed to implement relevant U.N. resolutions and allocate resources to implement the action plans.
Civil society should work towards changing attitudes of society and socio-cultural norms and attitudes towards women and girls.
Faith-based organizations can broaden teachings beyond evangelism to include issues on women's rights and help communities to value and respect women and their rights.