06 Sep 2014

Her voice, her power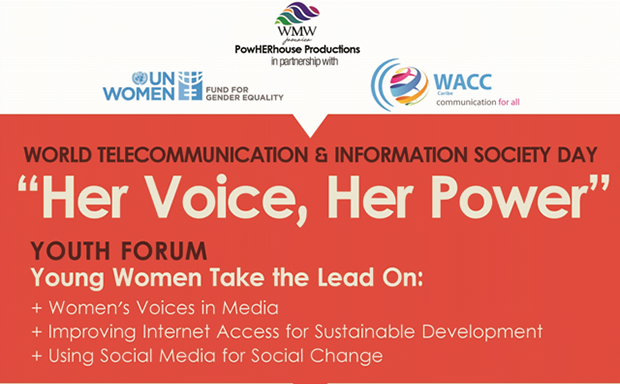 WMW Jamaica to host Youth Forum on Media, Technology & Leadership
WMW Jamaica, in recognition of World Telecommunication and Information Society Day will be staging a Youth Forum under the theme, 'Her Voice, Her Power' on Thursday, May 15, 2014 from 5:00 pm- 6:30 pm at JAMPRO. The forum is being held in partnership with WACC – Caribbean and WMW/UN Women PowHERhouse Project.
Emprezz Golding; TV Producer and host of the popular youth television programme, Talk Up Yout will be the guest panellist at the forum which will create a space for youth to share their concerns and views on women's voices in media and improving internet access for sustainable development.
"Young people are among the top consumers of technology; information and social media sites have become an integral part of their daily lives. This reality clearly underscores the need for interventions and opportunities that encourage youth to utilize social media to bring about social change," said Training Coordinator, Georgia Love.
The forum is also the closing event for WMW's Media and Leadership Training which was implemented over 4 days and targeted girls aged 15 -19 years. Over 50 participants were introduced to Media and Communication, the fundamentals of Journalism as well as the importance of calling people to action.
"The programme emphasized the value of collaborative and transformational leadership. We wanted to empower these young women and assisting them to understand that they are experts in their experiences. They have the power to make a difference and to allow them to speak with confidence in that way," she added.
World Telecommunication and Information Society Day (WTISD) seeks to raise awareness of the possibilities that the use of the Internet and other information and communication technologies (ICT) can bring to societies and economies, as well as of ways to bridge the digital divide. It is observed annually on May 17, 2014. The theme for this year is Broadband for Sustainable Development.
WMW Jamaica formerly Women's Media Watch is a civil society, non-profit organization which cultivates gender-equity, justice and violence-free social relations by using gender-aware media analysis and transformative action.
The Youth Forum is free. However, persons are asked to RSVP confirming their participation by Tuesday, May 13, 2014 by calling 969-7894 or email hello@wmwja.org.
For further information contact:
Keishagay Jackson
Tel: 969-7894/ 881-5177
Email: k.jackson@wmwja.org
Anna-Kaye Rowe
Tel: 487-8268
Email: annakaye.rowe@gmail.com
Afiche de la actividad