29 Mar 2016

Human Rights Award goes to "Censored Voices"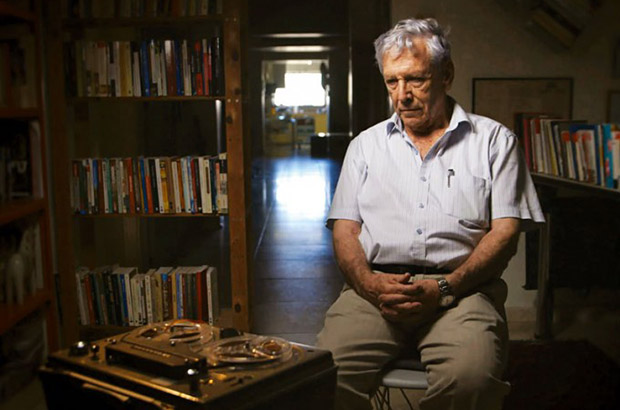 Writer and peace activist Amos Oz listening to the voices of Israeli soldiers. Photo: Censored Voices.
---
Censored Voices, directed by Mor Loushy (Israel, 2015) has received the SIGNIS-WACC Human Rights Award 2015. A feature-length documentary that highlights the darkest side of the history of the Six-Day War of 1967, the film revisits an ages-long conflict still reverberating in one of the most troubled regions of the world.
Between June 5 and 10, 1967, the Israeli armed forces took on and defeated the armies of Egypt, Jordan and Syria, whose numerical superiority in men and equipment over the Israelis was so disproportionate that the confrontation seemed a repetition of the biblical episode of David and Goliath.
As a result of what came to be known as the Six-Day War, Israel occupied Gaza, the West Bank, the Sinai Peninsula, the Golan Heights and – symbolically most important – the Arab sector of Jerusalem, bringing the entire city under Israeli control. The victorious warriors returned home as heroes, in an atmosphere of national euphoria and worldwide admiration.
In Censored Voices, Israeli writer-director Mor Loushy presents a starkly different, dark side of that story, which began to surface when writer Amos Oz and editor Avraham Shapira interviewed their fellow kibbutznik combatants just returned from the front.
Those testimonies can be heard in this powerful documentary. Most were originally censored by the Israeli government in the 1960s. The audio recordings have been masterfully spliced with archival footage of the war and present-day takes of some of the men listening to their own voices from almost five decades ago.
They reveal the emotional scars left by the horrors of war on men who found themselves killing other human beings, sometimes enemy soldiers, sometimes innocent civilians. They had entered the war convinced that they were fighting for a just cause, for the survival of their country, but soon learned that they had their share of responsibility in the atrocities of war.
Shocking at times, profoundly unsettling throughout, Censored Voices is unconventional in its approach to this episode of recent history, dressed up by ideology as a triumph of justice, but revealed here in all its brutal ugliness. Produced in Israel by Israeli filmmakers, the exemplary honesty of Censored Voices offers irrefutable proof that in war, the first casualty is truth.
The film won the Best Documentary Award of the Israeli Film Academy in 2015 and the Best Debut Film Award and Research Award in the Israeli Competition in the DocAviv Film Festival of 2015.
The SIGNIS-WACC Human Rights Award commends a documentary or feature film that seeks to throw light on a question of human rights and reflects the values and priorities of WACC and SIGNIS.
In 2014 the award went to Jafar Panahi's film Taxi, a feature-length documentary highlighting contemporary society in Iran and winner of the Golden Bear at the 2015 Berlin Film Festival.