27 Jun 2017

Human trafficking and the role of media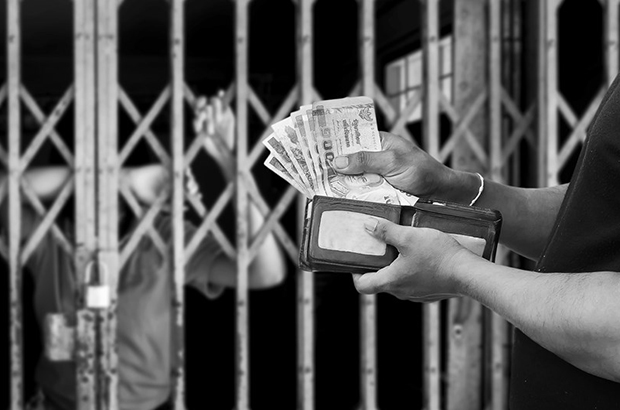 Human trafficking earns $9 billion to $31.6 billion globally. Photo courtesy of Fact Retriever.
---
Organized by the Martin Luther Evangelical Lutheran Church in Toronto, a series of Table Talks has been exploring "issues that matter".
Part of ongoing activities worldwide marking the 500th anniversary of the Lutheran Reformation, the Table Talks series began on April 26 with a discussion on restorative justice, and concluded June 21 with a discussion on human trafficking.
WACC was represented by Dr Sarah Macharia, Program Manager for Gender and Communication.
WACC is contributing to the Reformation celebrations with a special issue of its journal Media Development and is participating in a summer school on "Communication rights in the Global Digital Society" taking place in Wittenberg, Germany, 31 July to 4 August 2017.
Human trafficking violates basic human rights including the right to life, liberty and security; the right to be free from slavery and servitude; freedom from torture or cruel or degrading treatment; and the right to work in just and favourable conditions.
Human trafficking also violates the right to human dignity; to physical and psychological integrity; the right not to be sold into marriage; the right to a family and intimacy; and the right not to be discriminated against on account of being female.
Speaking of the role of media in addressing human trafficking in Canada and globally, Dr Sarah Macharia, noted that, "The mass media are key drivers for the spread of information, or misinformation about human trafficking. What we know or do not know determines our response to it, what is reported and how it is reported, goes some way in shaping the policy and State action agenda, and has implications for the traffickers and the trafficked."
"Journalistic responsibility lies in effective communication of relevant news stories. Considerations include the reporting angle, sensitivity to language that victimizes subjects and the extent to which the crime is exposed or camouflaged," she added.
The Martin Luther Evangelical Lutheran Church website notes that Table Talks was "inspired by the themes of the reformation anniversary: Salvation not for sale, Human beings not for sale, and Creation not for sale. We see reformation of our church and our society as an ongoing process and want to engage with the world around us to serve and inspire people."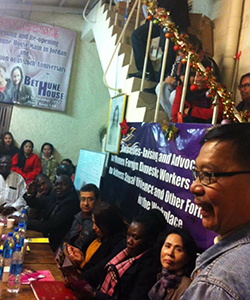 WACC is working towards greater awareness of trafficking and displaced persons in collaboration with its partner Asia Pacific Mission for Migrants (APMM), based in Hong Kong, on campaigns that engage grassroots migrants on the significance of communication rights and protection of rights and dignity of migrants and their families. (Photo right courtesy of APMM: The Bethune House Migrant Women's Refuge operates two small flats located in the centre of Hong Kong. There are bunk beds for 15 residents in each shelter but most of the time the house is occupied by more than that number.)
WACC's Europe Region is also currently implementing a media monitoring project to promote the rights of refugees to speak on their own behalf, to assess their portrayal in the media and uphold good journalistic practices, and to raise the visibility of refugee voices and networks.
Human trafficking is a form of violence against women, given that 71% of those trafficked, according to the 2016 statistics from the UN office on drugs and crime, are girls and women. Exploitation targets migrant women who endure harsh work environments and increased vulnerability to sexual exploitation in order to provide for their families. However, boys and men are also victims of trafficking.
"We all have a moral responsibility to end trafficking. Whether that means making conscious decisions on what we buy and caring to know how our lifestyles contribute to the exploitation of migrants factory workers," said Dr Mary (Joy) Philip, during the Table Talks. She is Assistant professor of Lutheran Global Theology and Mission at Waterloo Lutheran Seminary.
Remarking on the role human greed plays in fuelling human trafficking Martin Luther Church Pastor Christian Ceconi suggested, "We need to shift from a culture of more to a culture of enough."
Dr Sarah Macharia recommended that one place to begin is by educating the public about the facts and by generating more debate. She said, "It is important to know what is going on and to make use of what is available to hold media accountable; to be active citizens; and to keep educating ourselves."