26 Feb 2016

Indigenous peoples need to communicate for survival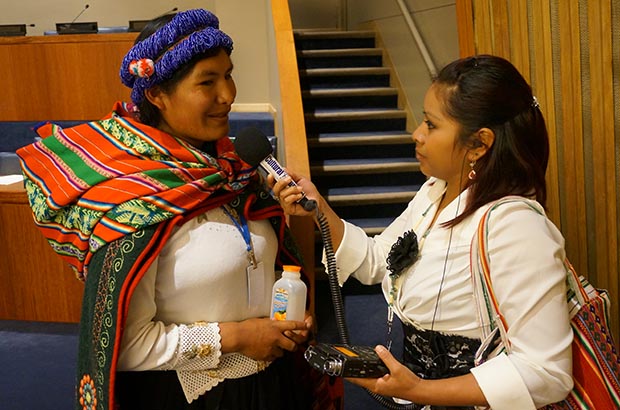 Community radio in Guatemala plays a vital role. Photo: Cultural Survival.
---
On Jan. 20, 2015, the local community radio station in the town of Santa Eulalia Huehuetenango, Guatemala, was reporting about the national police terrorizing local residents during their search for "agitators." The local authorities responded by shutting down Radio Snuq Jolom Konob, says an article in the current issue of Media Development.
The story, by the staff of Cultural Survival, notes that Guatemalan community radio stations are frequently targeted in police raids.
Cultural Survival advocates for indigenous peoples' rights and supports indigenous communities' self-determination, cultures and political resilience.
"We need the intervention of organizations and authorities that protect human rights in order to get this information out. It is obvious that our authorities won't do anything to protect us," stated the radio station's manager and communications rights defender Lorenzo Francisco Mateo, in the article.
The first six months of 2015 saw 59 documented attacks against journalists, including the murder of three journalists within one week in March. Cultural Survival has been working with the community radio movement in Guatemala since 2005.
Community radio has been a vital presence in the country's indigenous communities since the 1960s. Indigenous peoples in Guatemala rely on community radio to keep their cultures, languages, and traditions alive as well as to inform their communities about issues and events relevant to their lives.
Community radio also serves the vital function of distributing content to listeners in their own languages, reaching even the poorest areas where radio is often the only affordable form of communication. The right to this media is clearly defined by the Guatemalan Peace Accords, the Guatemalan constitution, UN Declaration on the Rights of Indigenous Peoples (Article 16), and international human rights bodies.
Yet, access to community radio remains restricted due to an outdated telecommunications law that the Guatemalan Congress refuses to change.
To read more about why community radio matters in the Internet age, the challenges in Guatemala and the work of Cultural Survival in Central America, subscribe here to Media Development.