25 Sep 2014

Indigenous voices exercise communication rights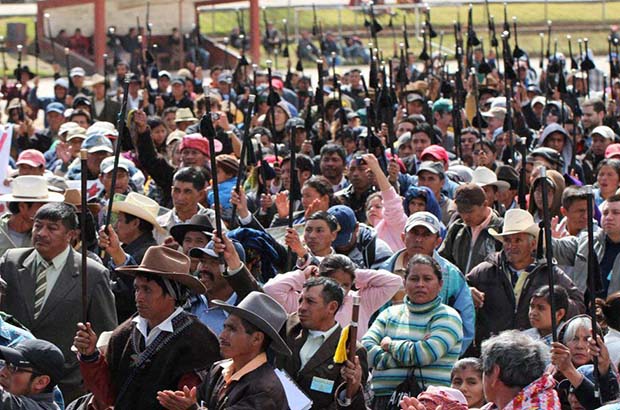 Indigenous voices call on international community to respect their rights. Photo: OHCHR/Rolando Alfaro
---
Indigenous peoples are being heard in New York during a week of activism on climate change, native people's rights and indigenous philanthropy.
Native communities were significantly represented on Sept. 21 at the People's Climate March through the streets of Manhattan. Among the estimated 400,000 marchers demanding more government action to address pollution issues were the Kichwa from Ecuador, Taino from the Caribbean, Winnemem Wintu from California, according to news reports.
Many wore traditional clothing and underscored the view that climate change affects the most vulnerable communities first.
Kathy Jetnil-Kijiner, who is from the Marshall Islands, said in this story that rising sea levels are affecting her Pacific Ocean home. "There are some parts of the Marshalls where you can stand and see both sides of the ocean," she said. Low-lying homes are now being flooded by sea water, she said.
As reported in this story, Margaret Lokawua, an indigenous leader from Uganda, said her rural communities depend on grazing animals and small subsistence farming, but that a famine has developed because of drought. "We came to air out our views that climate change is a reality, that it's affecting our communities. We are asking governments to do something about that, especially the industrialized countries that are creating this situation," she said.
On Sept. 22-23, the U.N. General Assembly convened a high-level plenary meeting known as the World Conference on Indigenous Peoples. A delegation of U.S. tribal leaders attended the conference. During the opening session, as reported here by Native American Times, the assembly adopted an outcome document that provides for concrete and action-oriented measures to achieve the objectives of the 2007 United Nations Declaration on the Rights of Indigenous Peoples.
The outcome document addresses four priorities: promoting implementation of the declaration, establishing status for indigenous governments at the U.N., preventing violence against indigenous women and children, and protecting sacred places and objects.
Taking these steps "will mean that indigenous voices will always be here in the U.N. to call for respect for our rights. Tribes, as indigenous governments, must be here, working within the U.N. system to represent our peoples and achieve the promise of the U.N. declaration," said Jefferson Keel, former president, National Congress of American Indians, and lieutenant governor of the Chickasaw Nation.
From Sept. 24 to 26, International Funders for Indigenous Peoples (IFIP) held a conference titled the World Summit on Indigenous Philanthropy. "The summit is uniquely positioned to bring together thought leaders, philanthropists, donor agencies, and indigenous visionaries in a powerful and informative event, resulting in concrete actions that will take indigenous philanthropy to the next level," said IFIP.
IFIP says it aims to establish the best and most efficient ways to practice indigenous philanthropy, whereby indigenous peoples are equal partners, not passive receivers. The summit is creating "a forum where more than 300 donors, [non-government organizations] NGOs and indigenous leaders … come together to cultivate funding partnerships, leading to the improvement of the lives of indigenous people globally," IFIP said.