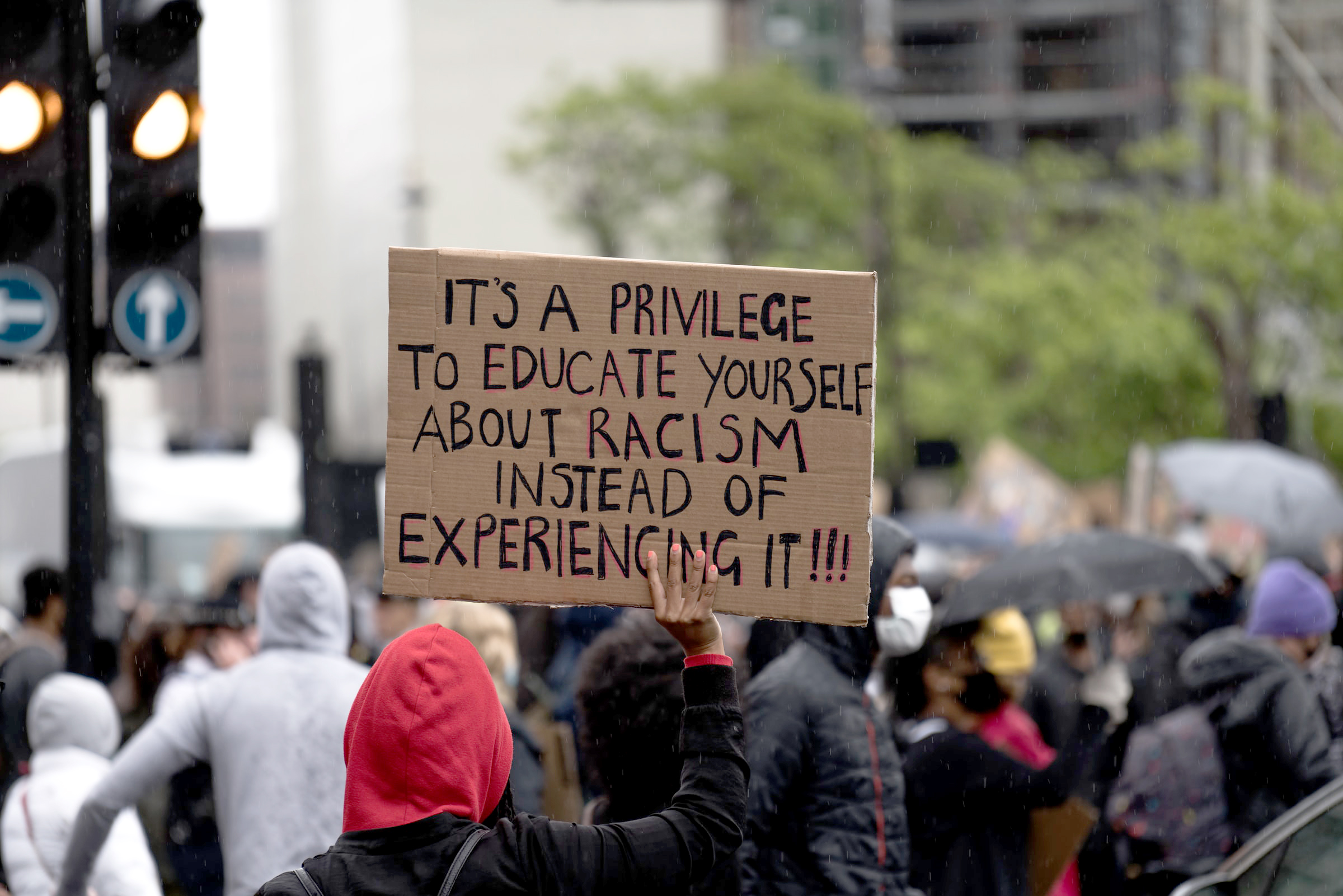 19 Nov 2020

Intersectionality, community, and memory of a just future

By Glory E. Dharmaraj

The dual shadow cast by the Covid-19 pandemic and the killing of George Floyd, an unarmed black man, by police brutality has made many of us in the USA "see" things which often go unreported or underreported in the media landscape. The dual pandemic has unveiled social inequities as never before. News media have been relentlessly capturing impact stories of Covid-19 as well as systemic racism.

A cursory look at the headlines in news media on the medical pandemic throws light on the impact of the layered crisis of Covid-19 on vulnerable communities. "Families in the Lower Income Brackets Hit the Hardest by Covid-19," "CDC (Center for Disease Control) Hospital Data Point to Racial Disparity in Covid-19 Cases," "Black and Latino Communities Hardest Hit By Covid-19," "Covid-19 incidence more than triple among Native Americans," "The erasure of Indigenous people in U.S. Covid-19 data," "Young People of Color with pre-existing Conditions face elevated Covid-19 risk," "Covid-19 is a 'crisis within a crisis' for homeless people," "Small rural counties struggle with Covid-19 in ways big counties don't," "Work-from-home model does not work for this group," "Parking Lots Have become a Digital Lifeline," and "Women care givers at the front of the crisis." The issues identified are humanized with compelling stories.

For naming and identifying the patterns that emerge from these stories, I turn to a way of seeing popularized by Kimerlé Crenshaw, a legal scholar. A lens and a critical framework of seeing these multiple realities of inequalities collectively is known as intersectionality. A lawyer by profession, Crenshaw who worked among battered women in the 1980s, especially African American women, named an experience that these women embodied. That is, multiple layers of oppression due to their race, class, sexuality, locality etc., intersected in the everyday lives of these women at the margins.

Crenshaw names the current moment of the dual pandemic in the U.S., as the convergence of "intersectional vulnerabilities" and "pre-existing vulnerabilities".1 A peek at the news coverage and analyses of the media highlight these inequities, while addressing these issues is a burden laid at the feet of communities and policy makers at large:
Digital divide is more pronounced among particular racial, ethnic groups such as African Americans and Hispanics. For example, 25% of these groups are smartphone only internet users, compared to 10% of white population. Lower-income adults' access to high-speed internet at home is limited.2
Extreme economic inequality is highlighted as a pre-existing condition. For instance, while 45 million people lost their jobs due to the pandemic, the combined wealth of 614 billionaires increased by $584 billions, according to one study.3 Further, people do not have equal access to healthcare or paid sick leave.
A gendered reality is the disproportionate impact of the pandemic on women as caregivers and low-income workers. Further, under the lockdown and household isolations, domestic violence against women and girls has also increased.
Hate speech relating to Chinese Americans and Covid-19 increased. Between February 9 and March 7, there was a 50% rise in news articles relating to Covid-19 and anti-Asian American discrimination, especially Chinese Americans and East Asian Americans.4
Separated from their parents, migrant children in detention centres, shelters, and hotels are either deported during the pandemic without recourse to asylum or await their fate at the hands of U.S. Immigration and Customs Enforcement legal procedures.
Immigrants beg to be released from detention centres in fear of the spread of Covid-19.
Putting on a mono-dimensional lens such as an economic or gender or racial framework misses the intersectional negative impact of the nature of Covid-19.
Historical memories & meanings revisited
The medical pandemic is a crisis within the pandemic of structural and systemic racism, especially against the African Americans. In the wake of the death of George Floyd by police brutality, Black-Lives-Matter protesters took to the streets in support addressing racial injustices against African Americans. Solidarity marches against racism and police brutality around the world flashed across the media. Most of the protesters in the U.S. are white, unlike, the Civil Rights protest marchers in the 1960s, and today's marchers are under 35 coming from various racial and ethnic backgrounds.
News stories of racial injustices as well as stories of protesters righting the wrongs of history have created a constantly evolving and shifting communication environment.
Toppling monuments and statutes, signs and symbols in public settings, which glorify narratives of slavery and colonialism.
Replacing racial stereotypes and brands in the advertising history. Quaker Oats, the owner of a 131-year old brand of Aunt Jemima, said that it would change the name and logo of its trademark, a long- enduring racial stereotype of a devoted and submissive African American slave. The symbol romanticized the era of slavery in the U.S., when enslaved African American women served as maids in the kitchens, and "mammies" in the households of slave-owners nurturing the children of the latter.
Retiring Native American names and mascots in sports that stereotype the indigenous peoples. The Washington National Football League's Redskins name and logo will be replaced by a new nickname and logo. Yet other names and logos caricaturing Native Americans in sports remain, while affected communities continue to call for dropping the use of denigrating representations in names and images.
Addressing semantic inadequacy in the definition of "racism" in the American Reference Dictionary, Merriam Webster. The updated definition includes a key missing component: systemic oppression. Now the Dictionary amplifies racism as a "doctrine or political program based on the assumption of racism and designed to execute its principles and a political system founded on racism, racial prejudice or discrimination."5 It was a feat accomplished by the advocacy of a 22-year old African American woman, Kennedy Michum, with the Dictionary's publishers.
Some of these changes are symbolic. The removals and dislocations of Confederate flags, statutes, and signs are contested realities, since these images and representations belie belief systems and identities often associated with white supremacy for those who have lived the underside of history as well as those who now stand in solidarity with the latter. For others, the same emblems are visual symbols and historical markers of heroism and heritage in the public space. Historical injuries and the accompanying struggles are likely to be fought in the memories of people, as history is being revisited in order to sift through myths and facts.
Covid-19 and fake news
The medical pandemic, coupled with the pandemic of racial injustice, has been exploited to spread misinformation and fake news. The World Health Organization calls the spreading of medical disinformation an "infodemic". Certain websites use social media as a platform for contagious misinformation, medical myths, and health-related false stories for political and corporate gains. Combating the spreading of false narratives and misinformation involves fact-checking on the part of media users, removal of misinformation, and fixing the complex algorithms involved in the rapid proliferation of such news.
The political narratives around Covid-19 are intense and fall along deep divisive party lines. Distrust and scepticism around vaccination, in general, has existed for a long time. In addition, mistrust around vaccination for Covid-19, in particular, is present also among some African American communities who carry scars and memories of prior racial experiments and unethical medical researches performed on their bodies in the past.
The voice of local newspapers, much needed for communities at this moment, has been in steady decline due to loss of funds. News headlines sum up the crisis and articles offer analyses:
"Newspaper Revenue Drops As Local News Interest Rises Amid Coronavirus."
"Local newspapers are facing Coronavirus crisis."
"The Coronavirus is killing the local news."
"Why 'withering' of local news landscape is dangerous for democracy."
The solutions for the crises rest with local communities, clues of change and transformation stemming from the grassroots. Covid-19 has also compelled one to see the plain truth of assessing and tapping into the strength of the vulnerable communities in decision-making, formulating policies, and their implementation.
For communicators of faith, especially, local journalism touches a range of delivery options starting from its basic role of offering news relevant for daily living to enabling the community to frame its compelling emotional, intellectual, moral, and spiritual vision of reality.
Memory of a just future
At the national level, recognizing the constantly evolving and complex nature of the Black-Lives-Matter protests in the U.S, amid the twin pandemic, the World Association for Christian Communication, North America, has sent out a press release recently, along with The Associated Church Press and Religion Communicators Council, condemning the "interference and abuse of journalists as they cover protests against police brutality and the extrajudicial killings of Black Americans," and the "repeated claims of 'fake news' and naming the press as 'enemies of the state' by the United States president."6
A core value of journalism is focus on truth, the search for it amidst the fog of competing ideologies and contradictory narratives, and the ethical commitment that accompanies this task. Communication is also a spiritual exercise – spirituality that is transformational. A transformative spirituality calls for resistance to everyday choices and systems and structures that promote injustices.7 An upstream calling of this spirituality is speaking truth to powers and addressing the root causes of injustices.
Truth itself has been on trial time and again. The new communications environment in the midst of Black-Lives-Matter brings an old question to the forefront: objectivity versus taking sides. The present moment is a platform for communicators to encounter and interrogate the traumatic past and its legacy on the present.
The origin story of the country itself, and how "Christianity" has been co-opted into powerful and imperialistic myths such as the "Doctrine of Discovery" and "Manifest Destiny" in the colonization of the Native Americans and slavery of African Americans leading to the legacies of structural and systemic injustices today.
Free land and free labour for the building of a great nation made possible by the "Doctrine of Discovery," a philosophical and legal framework that gave authority to Christian governments to take possessions of "pagan" lands, and "Manifest Destiny," a belief that white Christians were divinely ordained to settle in the U.S., and expand their territories.
The burden of the present where a persistent strain of these ideologies still manifests itself as Christian nationalism and white supremacy.
Christian communication's challenge today, as it has always been, is speaking truth to power, especially when Christian nationalism colludes with the systems of power, when church communication itself may be co-opted by powers against Christian communication, and when the trauma-informed people in our midst speak for themselves and call for allies who can stand in solidarity with them in building a just future.
For Christian communicators, the present moment is also a platform to draw in the "memory of the future", a vision of peace and justice, hope and resilience for human flourishing and a mended and healed creation, in the midst of the current structural inequities, and to take sides with the marginalized who "hope against hope".8 This convergence of the present, past, and future is an extraordinary platform. A "Kairos" moment. Acting NOW for transformative changes is a prophetic calling.
Notes
1. Crenshaw, Kimberlé (2020). "Under the Black Light: The Intersectional Vulnerabilities that Covid-19 Laid Bare." Webinar on April 8, 2020.
2. Pew Research (2019). https://www.pewresearch.org/internet/2019/06/13/mobile-technology-and-home-broadband-2019/
3. Thorbecke, Catherine and Arielle Mitropoulos (2020). https://abcnews.go.com/Business/extreme-inequality-preexisting-condition-covid-19-widened-americas/story?id=71401975
4. Tavernise, Sabrina and Richard A. Oppel, Jr. (2020). https://www.nytimes.com/2020/03/23/us/chinese-coronavirus-racist-attacks.html
5. https://www.merriam-webster.com/dictionary/racism
6. https://waccglobal.org/world-association-for-christian-communication-north-america-calls-for-an-end-to-police-attacks-on-journalists/
7. Keum, Joose, ed. (2013). World Council of Churches, Geneva. Together Towards Life: Mission and Evangelism in Changing Landscapes.
8. Russell, M. Letty (1987). Household of Freedom: Authority in Feminist Theology. The Westminster Press, Philadelphia.
Glory E. Dharmaraj (PhD) is President, World Association for Christian Communication, North-America.
Photo: James Eades on unsplash.com