12 Nov 2017

It's Time … a speech that shaped a life and Australia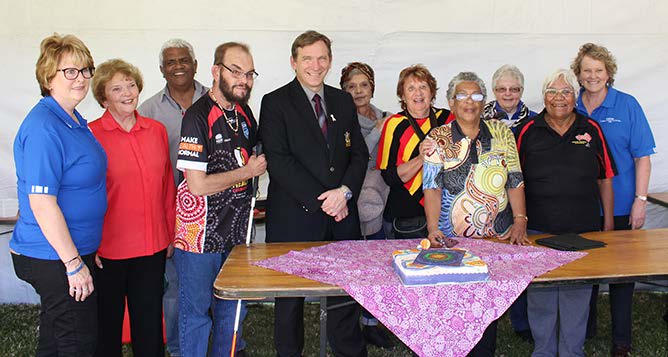 National Aboriginal and Islanders Day of Celebration (NAIDOC) in Blacktown. Kathie Collins is second from the left. The event represents a celebration of Aboriginal and Torres Straits Islander cultures and recognises the contributions of Aboriginal and Torres Strait Islanders as first Australians in various fields.
---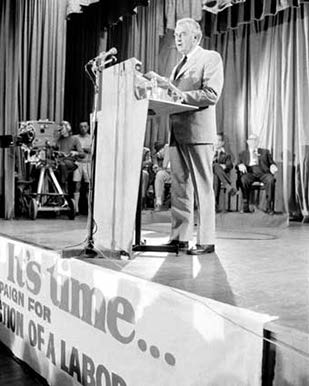 The following article is part of a memories project being carried out with a local council in Sydney, Australia, recording memories of senior citizens in a city that has changed culturally and geographically and in many other ways. Stories are recorded in video format and posted on the council's website with other layers of investigation and research as well as full transcriptions of the interview.
She moved to Blacktown in 1971. A year later, Gough Whitlam delivered Labor's policy speech "It's Time" at the Blacktown Bowman Hall (photo above right). Kathie Collins has vivid memories of watching, in awe, this turning point in Australia's history. In this conversation with Asha Chand, Kathie, a household name in Blacktown for her roles in politics and on social and volunteer fronts, widens the lens of her experiences in a city that is undoubtedly the lead contender for Australia's multicultural capital.
Describing Australia's citizenship test as "ridiculous" for expecting migrants, particularly those who are fleeing their own country, to know about Australian history and sportsmen, Kathie says better questions could relate to the contributions the newcomers could make to the country they want to call home. Kathie maintains that the focus should be on how the newcomers can make Australia an even better place.
Australia introduced tougher English language proficiency tests to ensure that "aspiring citizens are fully able to participate in Australian life by speaking English, our national language," Immigration Minister Peter Dutton told Parliament. According to a June 15, 2017 news report by the Australian Associated Press, Dutton said, "English language was essential to economic participation and social cohesion."
Kathie's comments came at a time when the Australian political arena was reeling with the revelation that some of its 226-member parliamentarians have dual citizenship in contravention of section 44 of the constitution. ABC News reported that "this section disqualifies someone from holding office" if they are entitled to the citizenship of another country. The cases of Deputy Prime Minister, Barnaby Joyce, Fiona Nash, Matt Canavan, from the Nationals party and Malcolm Roberts, (One Nation) are before the high court as they all have dual citizenship. Scott Ludlam and Larissa Waters from the Greens Party resigned over their dual citizenship status.
Bloomberg journalist, David Fickling, in his August 17, 2017 article, called for Australia to rethink its "out-dated citizenship restrictions," following the latest "blow" of Joyce's NZ citizenship to the one seat majority government of Prime Minister Malcom Turnbull. The deputy prime minister's father was born in New Zealand in 1924, as a result, he is officially considered a Kiwi.
"In total, 13 senators and 11 House members were born overseas, equivalent to about 17% and 7.3% of the respective chambers. More may be caught, like Joyce, as a result of their parentage," Flickling's report said. This crisis could stymie the government's ability to pass legislation as both the House of Representatives and Senate are finely balanced between parties.
Australia has one of the highest proportions of foreign-born residents among democratic countries. Nearly half of permanent residents are first or second-generation migrants, with 28% born overseas and 21% having at least one foreign born parent, according to the 2016 national census count. Kathie, a Labor councillor for Ward 3, moved to Blacktown in 1971.
A country of inclusion and exclusion
In 1800, when the first record was taken, Blacktown had a population of 16 people. This count would not have included the Aboriginal population. At the last Australian census in 2016, the city recorded 350,288 people and is expected to have 520,000 people by 2036. It is the second largest city in New South Wales by population and has a land area of 247 square kilometres. The area is steeped in indigenous history. Prior to 1788, it was largely an Aboriginal settlement until 13 people on the Prospect Hill were granted land by Governor Phillip in 1791. There was competition for land and resources as a result of white settlement. Although the Aboriginal Darug' population declined, there has always been a presence of the community in the city which was originally named Blacks Town.
One of the country's most culturally diverse areas, Blacktown, 34 kilometres west of the Sydney CBD, is one of the fastest growing cities in Australia. The city has 37.6% of its population born overseas. The city also has the largest urban Aboriginal population in Australia with 8,195 or 2.77%. With the real estate market soaring in Sydney, Blacktown's physical landscape is also changing dramatically.
"When we first moved to Blacktown the population was mainly Anglo with quite a few Maltese who generally were farmers. The Italians seemed to have the fruit and vegetable shops. Catholics were the most prevalent faith group. There were also quite a few refugees or displaced people from devastation of the 2nd World War. All of these newcomers to Australia were simply intent on making a home for themselves and contributing to the country," Kathie recalls.
Kathie was rostered on the night shift at the local Blacktown Library on the day Whitlam made his famous "It's Time" speech". She recalled, "It was 7.45 pm and I had just finished my shift at work. I walked across from the library to Bowman Hall where a crowd had gathered. I heard the speech and it had a life changing impact on me. I realized then the value of political philosophies and began my search for my place in politics. It's time … I told myself." Kathie continued working at the library, a job she says was easy to find, "given that there was almost full employment and I was the only applicant".
Even if you are not a true believer, Whitlam's speech stirs something radical in the political space: "Men and women of Australia! The decision we will make for our country on the second of December is a choice between the past and the future, between the habits of the past and the demands and opportunities of the future". Whitlam took his party to its first victory in 23 years at the 1972 election and became Australia's 21st Prime Minister. He was leader of the Labor Party from 1967 to 1977.
Spoken at a time when Australia was demanding social change including gender and racial equality, Whitlam's speech laid out a choice between the habits and fears of the past, and the demands and opportunities of the future.
Kathie gave up thoughts of pursuing a career in federal politics when she was described as "too old" when she was around 50. It is an irony that during the week of this interview with Kathie, Australia's former Liberal Prime Minister, John Howard and former Labor Prime Minister, Bob Hawke criticised career politicians "with no life experience".
Reflecting on Australian democracy in conversation with political journalist and commentator, Annabel Crabb, on 17 August 2017, Howard, who was the 25th PM and led from 1996 to 2007, said, "We have too many people who enter Parliament now, particularly at state level, who have had no experience in life other than politics." Hawke, who was Prime Minister from 1983 to 1991, said, "My advice consistently to every young person who comes and asks me about (entering politics) is to make a life first."
Paying tribute to the power of political speeches in 2012, then Senator, John Faulkner, speaking at the 40th anniversary of Whitlam's "It's Time" speech, at Bowman Hall in Blacktown, the site for the famous campaign launch, said, "We may be cynical about politics and politicians, we may be sceptical of the motives of those men and women who aspire to represent and to lead us – whether in Parliament, in community organisations and campaigns, or in social movements – but it is still their words which have the potential to express our aspirations, our beliefs, and our deepest sense of collective self."
He reminded the audience that political speeches are more relevant than ever in a technological age that allows for their wide and immediate dissemination.
Empowerment through technology
The digital age is making a huge impact on the way communities today engage with political decisions and messages, Kathie says. She attributes much of this "empowerment" through technology to the mobile phone. "Young and old alike are adapting to using the phone for anything and everything". The level of connectivity in cyberspace challenges the physical meeting spaces, she laments. Despite this, she says, "the world is much enriched because of this level of connectivity and information sharing".
Kathie believes that having information at your fingertips and carrying technology in the palm of your hands is power to individuals. High speed interaction brings opportunities, cultural change and appreciation of others. People share simple information about the places for best Indian food via social media and soon a particular place tucked away in Quakers Hill in Blacktown is on everyone's radar for curries.
Fashion, music and information have permeated cultural, ethnic, and physical boundaries in Blacktown. This is very different to when newcomers were so intent on making Australia home that they allowed their own culture to disappear, to some extent. There has been a remarkable change on this front with the city facilitating numerous cultural festivals and social events, allowing multiculturalism and diversity to reign as part of the city's cultural fabric.
In 1975, Kathie commenced a Degree in Australiana at New England University. She "absolutely embraced the history of Australia and much that was never taught in school about the Aboriginal people. I was outraged by the treatment of the Aboriginal people." This outrage has remained a constant for Kathie even while occupied with other activities such as sporting activities for her children.
In 1976 many refugees were seeking asylum in Australia following the end of the Vietnam War. St Patrick's Parish undertook to house two families. With many others, Kathie became involved with settling both families. The goodwill of the local community was inspiring. "Forty years later we still keep in touch with one of the families. Again, the Vietnamese sought to be part of the community and contribute to their adopted country," she says.
Then Deputy Mayor of Blacktown Cr Charlie Bali talked Kathie into joining the Labor Party in 1980. In 1983 John Aquilina, then Mayor of Blacktown and former speaker and member of NSW State Parliament, persuaded her to run for council. She was second on the Labor ticket for Ward 3 in the 1983 and 1987 elections but was unsuccessful. The council elections in 1991 saw Kathie elected.
Kathie reminisces on how much she has learned by being exposed to a variety of situations and diversity of people. The landscape of Blacktown has changed into a United Nations on her doorstep. The most common ancestries in Blacktown in 2016 were: Australian 17.8 %; English: 16.2%; Indian 8.9%; Filipino 7.0%; and Irish 4.4%. A total of 48,551 residents in Blacktown reported speaking a non-English language at home. This multicultural melting-pot makes the city richer for its diversity. Blacktown comprises 177 different nationalities and a similar number of languages spoken. The library now has collections in at least 21 different languages.
Kathie remembers how she stood in amazement when she saw Aboriginal children for the first time. "I was five then. I was playing near the gate of our farm house which sat on 8,500 acres outside Lake Cargelligo. A truck backed up against the gate. On the back were children with much darker skin than mine. I was speechless." In hindsight, I guess I reacted very similarly to how the Aboriginal people would have reacted as they watched white people land on their shores. I used to constantly talk, especially to the farm hands my father employed but this situation was something so different."
Kathie says that this scene was etched in her memory. She kept it filed away until she became an adult and with education and an inquiring mind, was able to learn and understand about other people, their cultures and ways of life, including the Aborigines.
Kathie says technology has made learning about others easier and faster. "I worked in the library when cards were issued for keeping records on borrowings and return". She grew up in an era when religion and politics were never discussed. The current debate in Australia over same sex marriage is an example of how much change has taken place. Same sex marriage will only become law if passed through Australia's parliament. The government, however, is seeking public consent on The Australian Marriage Law Postal Survey, says the Australian Broadcasting Commission.
A fact-check by the news provider says that the process is voluntary and non-binding. Unlike other media reports, the ABC says the process is not a plebiscite which is a compulsory vote by citizens on an issue of significance, but one that does not affect the Constitution of Australia, and has no legal force. Same sex marriage became legal in New Zealand and the UK in 2013 and the US in 2015.
"People from all sections of the local, national and international communities have jumped on the social media band wagon to have their say on this important matter", Kathie says. Commenting on women not being able to break the glass ceiling in the corporate and political world Kathie says that the situation is created by men not willing to give up the positions they believe were created for men. "Women, for the most part, are not feisty and don't push the issue. There is much to be done."
In 1996 Kathie (photo at left) walked the Milford Track in New Zealand. In 2001 she completed a Bachelor's Degree at the University of Technology, Sydney, while working full-time at Western Sydney University's Penrith campus library. In 2006 she fulfilled a childhood dream by walking the Kokoda Track in New Guinea. That tough walk was followed by walking the Sandakan track in Sabah, Borneo in 2009 and a section of the Camino de Santiago in Spain in 2012. These travels opened her mind to other possibilities such as being involved in charities and tackling social issues like homelessness.
Kathie's philosophy is, "Nothing comes easy. If you want to achieve something, you have to work hard."
All photos courtesy of Blacktown City Council & Library Services records. for a video interview with Kathie Collines visit: https://youtu.be/W4mYdt-Owzw
Dr Asha Chand is Senior Lecturer and Journalism Area Convener in the School of Humanities and Communication Arts at Western Sydney University. She migrated to Australia from Fiji where she worked as a journalist and was chief of staff on Fiji's then News Ltd owned national daily newspaper, The Fiji Times. Asha's PhD research is on "The Chutney Generation: Migration, Match-making and the Media among Sydney's Fiji Indians". She has published some of her research in national and international journals. Her most recent community journalism work is focusing on Blacktown Memories, a project involving her third year journalism students using digital technologies to record the memories of senior citizens. The works can be watched here: http://www.blacktown.nsw.gov.au/Discover_Blacktown/Our_History_Heritage/Oral_Histories