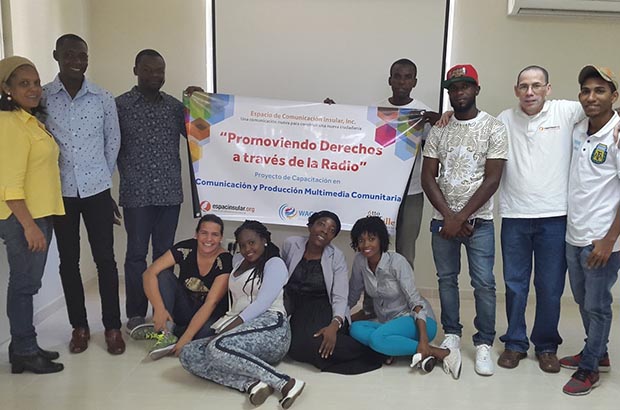 13 Feb 2018

Join WACC in celebrating World Radio Day 2018

WACC calls on radio broadcasters everywhere to help promote gender equality in their work.

February 13 is World Radio Day, an opportunity to celebrate radio and radio broadcasters around the world. World Radio Day is promoted by UNESCO.

WACC believes that radio plays a critical role in enabling access to information for communities everywhere, especially for people living in areas where radio is the only form of media.

WACC is particularly committed to supporting the community radio sector because community radio stations contribute to sustainable development in many different ways.

They help to create local dialogue platforms around topics such as health, education, the environment, or conflict resolution that often lead to concrete action. Community also radio stations advance democratic participation by enabling marginalized people to exercise their rights.

Every year, WACC's Communication for Social Change programme builds the capacity of community radio stations (online and broadcast) around the world to contribute to local development, as well as to advocate for communication rights. The program provides access to funding, knowledge exchange, and training.

This year's theme for World Radio Day is "Radio and Sports". The theme was selected because of the numerous sporting events taking place this year, such as the Winter Olympics and the FIFA World Cup, and the possibilities that radio broadcasting of sport events creates in terms of "strengthening diversity, peace, and development".

UNESCO is shedding light on gender equality in sports broadcasting, the coverage of traditional sports, and the coverage of "sports for peace and development initiatives".

WACC's own research on the relationship between media and sports reinforces the need to promote gender equality in sports broadcasting, as well as in print and digital media.

WACC's research shows that the proportion of sports news stories on radio, television and newspaper main pages reported by women was just as insignificant in 2015 as it was 15 years prior. In both periods, women reported only 14% of the stories globally and only in television did the gender gap lessen, by four points.

Also, as subjects and sources in sports stories, women were just as severely underrepresented in 2015 as they were in 2000. They are only 12% of the people interviewed, seen or mentioned in sports news segments, albeit a significant narrowing of the gender gap (+11 points) in the Caribbean region and moderate change (+4 points) in North America.

This evidence from WACC's Global Media Monitoring Project strongly suggests a stagnation of progress towards news reporting that reflects the reality of women´s active and increasing participation in sports. The evidence points as well to an overall lack of change in newsroom practices of assigning stories based on the journalist´s gender, at least in the case of sports reporting.

WACC encourages radio broadcasters everywhere to join in the World Radio Day celebrations and to help promote gender equality in their work and in their communities.

Photo above: Community radio broadcasters from the Dominican Republic. By Espacio de Comunicación Insular.