28 Apr 2014

Journalists against hate speech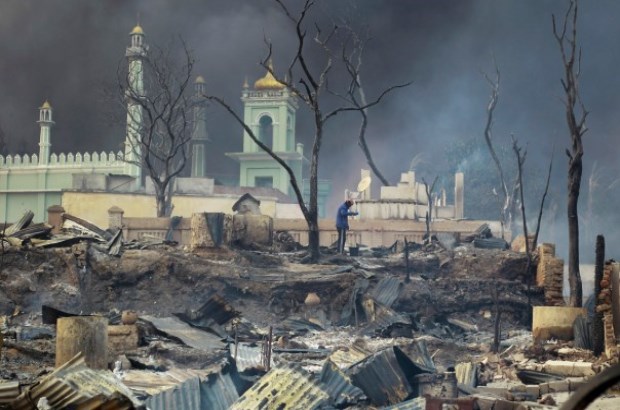 Meikhtila, Burma, 2013. Photo: Soe Zeya Tun.
---
On 25 April 2014 the International Federation of Journalists (IFJ) gathered together journalists, academics, and freedom of expression experts for a high profile "Media, Armed Conflict and Hate Speech" conference in Brussels. Participants agreed a declaration against "Incitement to Hate and Violence through Media."
Participants were guided by the main mission of journalism to be a force for good and to serve the public interest by reporting the truth, in total independence and with a sense of responsibility.
They expressed concern that media have been used to stoke up hatred and incite violence among communities in conflict situations on the African continent and beyond, leading to loss of life.
They urged journalists' unions to reaffirm editorial independence and their right to report free from pressure, and stressed that such freedom should be balanced against the protection of the rights of others.
The Declaration of Brussels agreed to recommend to journalists and their unions to:
Stand up for the principles and ethics of responsible journalism at all times;
Commit to fighting incitement to hate and violence in media and to denouncing it wherever and whenever it happens as a matter of principle, and ensure that their members are made aware of codes and guidelines as well as their use in resolving ethical dilemmas;
Promote higher standards in journalism through education and training, putting an emphasis on the importance of words;
Further promote better working conditions for journalists to increase their independence and commitment to their profession;
Urging media to be aware of the potentially self-serving rhetoric used by those parties with a vested interest in influencing public opinion in order to justify racist acts or even war;
Encourage diversity in media and solidarity among journalists and their organisations at the country, regional and global level in order to oppose attempts to use media for the purpose of inciting hate and violence;
Support the use of online media in a way which seeks to prevent the abuse of these platforms to foment violence and divisions based on hate speech.
Source: IFEX.