29 Aug 2017

Keeping the faith in family planning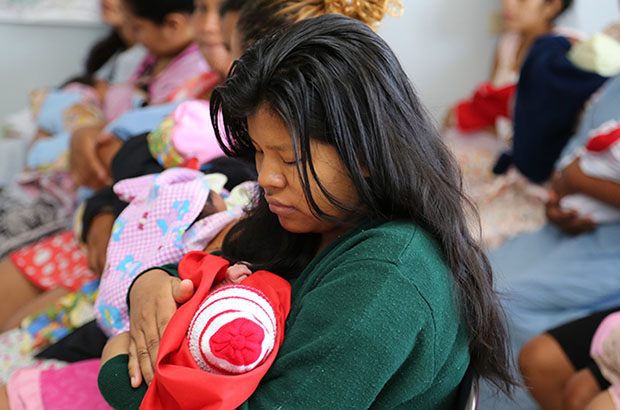 A new mother attends a culturally sensitive counselling session at the Jose Domingo De Obaldia Hospital in David, Panama. Photo courtesy of UNFPA/Guadalupe Valdes.
---
A key component of communications rights is recognition of human difference and working together to enhance and enrich the common good.
Three years ago, a delegation of more than 40 faith leaders from around the world convened at the 69th session of the UN General Assembly to discuss sexual and reproductive health and the post-2015 development agenda. The meeting, facilitated by the United Nations Population Fund (UNFPA), ended with a call to action that emphasized the role of religion in preventing gender-based discrimination and violence.
Now, faith leaders and faith-inspired development partners are taking action on sexual and reproductive health rights. The collective has released a document linking Family Planning to the Sustainable Development Goals (SGDs). The document highlights teachings of major world faiths on issues that intersect with sexual and reproductive health and gender equality.
"This Faithful Affirmations Overview gives a comparative, 'at a glance', perspective, on how different faith traditions view Family Planning, in a manner which affirms the relevant human rights involved," says Dr Azza Karam, UNFPA Senior Advisor and Coordinator, UN Inter-Agency Task Force on Religion and Development.
Faithful Affirmations of Family Planning has been contributed to, and endorsed by religious leaders from different religious traditions, faith-based NGOs and secular human rights actors who collaborate on diverse religion and development themes with UNFPA and other UN System entities.
Dr Karam explains that the consensus document does not carry a UN logo, or any institutional logo, in deference to the wide base of contributions from multiple religious narratives and positions therein, and with a view to keeping this as a working document which may eventually expand to include other religious traditions, and affiliations."
"Intended as part of a series on Keeping the Faith in Sexual and Reproductive Health and Reproductive Rights, the door for endorsements from more faith-based, faith-inspired or secular civil society UN partners remains open," she adds.
WACC applauds this faith-inspired development on Family Planning as emphasized in its Strategic Plan 2017-2021, which speaks of the need to build and develop networks and partnerships that work with both faith-based and secular organizations to promote dialogue that advances the cause of communications rights.
Read the Consensus Overview on Family Planning here.