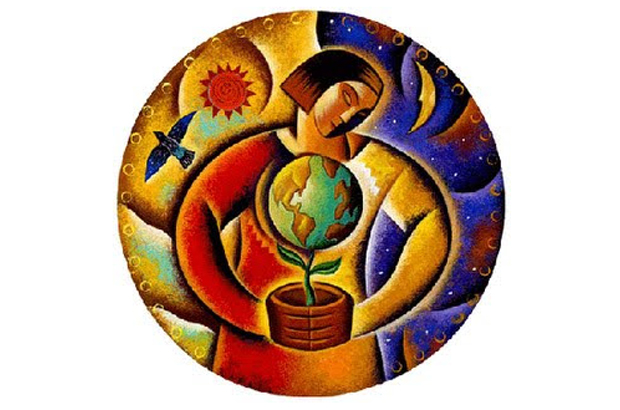 17 May 2020

MD 2020-2 Editorial

By Philip Lee

Many believe that an essential element of ways of responding to the current climate crisis lies in the traditional knowledge held by Indigenous Peoples. The way they think about life and death, natural resources, and the intimate and intricate relationship they have with land, ought to offer pertinent answers to pressing questions of mitigation, adaptation, and survival.

According to the NGO Cultural Survival, "The most significant victory for Indigenous Peoples at COP 24 was the formal establishment of the Facilitative Working Group to develop a work plan for the 'Local Communities and Indigenous Peoples Platform'. The Platform is intended to strengthen and exchange traditional knowledge for mitigating and adapting to Climate Change, based on paragraph 135 of the Paris Agreement."1

Paragraph 135 "Recognizes the need to strengthen knowledge, technologies, practices and efforts of local communities and indigenous peoples related to addressing and responding to climate change, and establishes a platform for the exchange of experiences and sharing of best practices on mitigation and adaptation in a holistic and integrated manner."

Indigenous peoples comprise only 5% of the world's population, yet their lands cover 22% of its surface and include 80% of the planet's biodiversity. A vital part of indigenous identity is linked to the natural world. Yet, as the Intergovernmental Panel on Climate Change (IPCC) Climate Change Synthesis Report 2014 underlined (p. 19):

"Indigenous, local and traditional knowledge systems and practices, including indigenous peoples' holistic view of community and environment, are a major resource for adapting to climate change, but these have not been used consistently in existing adaptation efforts. Integrating such forms of knowledge with existing practices increases the effectiveness of adaptation."

Ironically, as noted by Leanne Betasamosake Simpson, an activist/scholar from the Nishnaabeg nation and author of the book As We Have Always Done: Indigenous Freedom Through Radical Resistance (2017):

"Indigenous peoples have witnessed continual ecosystem and species collapse since the early days of colonial occupation… We should be thinking of climate change as part of a much longer series of ecological catastrophes caused by colonialism and accumulation-based society."

Such experiences mean that the practice of traditional knowledge in the everyday lives of indigenous women and men has yet to be adequately understood, with many research gaps confronting policy-makers. One, identified by Julie Grant in her article on the Khomani Bushmen of South Africa in this issue of Media Development, relates to what might be described as the forced adaptation of Indigenous Peoples to ways of living that are alien to their history and culture in place of so-called civilization adapting its ways and views to the lifestyle of more environmentally conscious peoples.

One might cite the Karuk Tribe of Northern California, which in 2019 drew up its own plans to tackle environmental management on traditional lands. The Karuk Climate Adaptation Plan points out:

"Ultimately, climate change is the product of unsustainable Western land management practices and the rise of political and economic systems for which indigenous people hold little to no responsibility. In this context, the crisis posed by climate change is also a strategic opportunity not only for tribes to retain cultural practices and return traditional management practices to the landscape, but for all land managers to remedy inappropriate ecological actions, and for enhanced and successful collaboration in the face of collective survival."

Around the world, an immense amount of positive and empathetic initiatives are being undertaken to work together with Indigenous Peoples in ways that benefit everyone but without riding rough-shod over traditional ways and beliefs. In addition, the science of climate change is itself being adapted in the light of traditional knowledge.

In one WACC-supported project developed by the Folk Research Centre (FRC) of Saint Lucia, some 75 women and men from grassroots Kwéyòl-speaking communities increased their knowledge of the language of climate change particularly in relation to environmental issues. They also shared knowledge and insights handed down over generations.

During a 10-week course, leaders from the communities of Monchy, Babonneau, and Mon Repos were trained on how to produce media content in the Kwéyòl language, with a particular focus on sustainable development and survival.

In Colombia, one of 20 countries most at risk from suffering the disastrous effects of climate change, of particular importance is the protection of moorland ecosystems (known as páramos) in the high Andes (3,100 meters above sea level), which provide approximately 70% of drinkable water and are under serious threat from climate change.

Here, WACC launched a three-year initiative entitled "Voices of the Andean Moorlands: Network of Environmental Citizen Reporters in Colombia" to promote a culture of people-led environmental protection among Indigenous, peasant, and Afro-descendant communities in regions that are home to moorland-related ecosystems.

Drawing on the concept of sumak kawsay, an ancient Quechua word meaning "good living" and promoting community-centred, ecologically-balanced and culturally-sensitive development, the project will establish a network of environmental journalists linked to community radio stations.

Such projects are not about plundering or borrowing the non-tangible heritage of Indigenous Peoples, but about working alongside vulnerable and often marginalized communities to assure their future safety and survival. In the process, Indigenous Peoples communicate knowledge that will help the world and its people collectively to turn around the juggernaut of climate change and to repair the only sanctuary we have.

Note

1. The United Nations Climate Change Conferences are annual events held in the framework of the United Nations Framework Convention on Climate Change (UNFCCC). They serve as the formal meeting of the UNFCCC Parties (Conference of the Parties, COP) to assess progress in dealing with climate change.

Photo at top: Sumak kawsay or "good living". Image courtesy of Otras Voces en Educación.