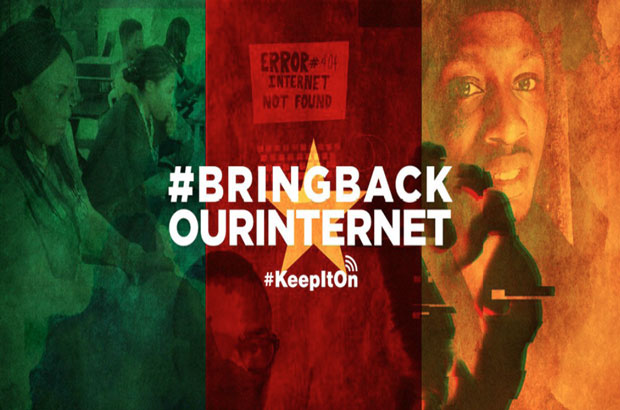 28 Feb 2019

Media and conflict in Cameroon today

Cameroon is on the verge of a separation. Two sets of people; the French and the English – speaking can no longer dialogue. The ugly head of division violently arose in 2016 plunging Cameroon into civil strife. At the nexus of this melee is the media, which play an important role in uniting the nation but also with vast differences between the French and English communication cultures.

The highhanded and arbitrary manner by which state authorities respond to the actions of the media can serve as a barometer to measure freedom of expression in a country. So, is it easier to punish the Anglophone media culprit in Cameroon? The answer lies in the stories of these journalists, Mancho Bibixy (known as Mancho BBC) of Abakwa FM, and Mimi Mefou of Equinox Television.

Mancho Bibixy works for a local radio broadcasting in Anglophone North West region, Bamenda. He reports on the rights of the Anglophone minority in Cameroon with a focus on social and economic marginalisation. Working in close collaboration with the civil society groups, Mancho documented and reported on human rights violations in North-West Cameroon. He became a fire-spitting questioner of Cameroonian authorities by probing subjects such as, Cameroon's crude oil and mineral resource management.

In 2016, frustrations over marginalization boiled over amongst English-speaking professionals, lawyers and teachers. They decided to protest on the streets for rights in courts and schools. This was met with firm military and police repression. Discarding the comfort of armchair journalism in the Abakwa radio studio, Manacho Bibixy, joined the demonstrations in-person in the City of Bamenda in what was called the "Coffin Revolution".

Using the radio to galvanize the people, many English-speaking youth joined the protests. This attracted the wrath of authorities and on January 19, 2017, the journalist was arrested in Bamenda and transferred to the national capital, Yaounde, where he was detained in the Kondengui Central Prison and tried by a Military Tribunal.

On May 25, 2018, Mancho Bibixy was sentenced to 15 years in prison and a hefty fine of over 268 million francs CFA (approximately 600,000 CAD) on charges of "acts of terrorism", "hostility against the state", "secession", "revolution", "propagation of false information", "contempt of public bodies and public servants", "resistance", "failure to possess his national ID card" and "insurrection" under the Law on the Suppression of Acts of Terrorism of 2014 and the Criminal Code.

The Cameroon media reported the case of Mancho Bibixy timidly, in fear of government reprisal and as lip-service to freedom of expression while leaving the bulk of human rights fight for his release to protests by civil rights organizations such as the Central Africa Human Rights Defenders Network, Center for Human Rights and Democracy in Africa, Observatory for the Protection of Human Rights Defenders, and the World Organisation Against Torture.

Ideally, the Cameroonian media could pitch for peace by building local and international alliances with these advocacy groups to call for the release of the journalist. However, local journalists are often scared to be identified as accomplices to acts that propagate insurrection, which is heavily punished in Cameroon. The case of Mancho therefore serves as a deterrent to daring journalists who eye the opportunity to be similarly critical of the state.

The Mimi Mefou saga
Mimi Mefo, is a young journalist who has grown into a reference point in the reporting of the atrocities in the country's restive Anglophone regions. She was arrested on charges of "endangering state security" and publishing false information about clashes between the army and English-speaking separatist militias. On October 30, 2018, she posted a tweet @Mimimefor237 that attributed the death of an American missionary gunned-down in Bamenda to the Cameroonian army.

She wrote: "American missionary Charles Trumann Wesco shot today by Cameroon soldiers near Bamenda, North West Region of Cameroon. He is an Indiana. This is not the first case, soldiers three months back, killed a Ghanaian pastor on pastoral mission in the North West region."

This tweet became a fireball. She was summoned to the Douala Military Court on November 7, 2018 and summarily imprisoned in the New-Bell Central Prison. Anglophone and Francophone activists, media and human rights groups such as the Committee to Protect Journalists and Reporters Without Borders called for her immediate release by launching the #FreeMimiMefo online campaign. She was freed on November 10, 2018 after two days behind bars. All charges were later dropped by the military tribunal.

The difference is that, unlike other arrested and tried journalists such as, Mancho Bibixy; Mimi Mefo is employed by Equinox TV, which is based in Cameroon's economic capital Douala, a French region. She is the Deputy Editor-in-Chief and star news presenter and received huge support from both French- and English-speaking Cameroonians who pressured the government for her release.

In addition, Mimi Mefo's parents hail from both French- and English-speaking Cameroon. This possibly gives her a more acceptable profile on both sides of the English and French-speaking population. Her case demonstrates, therefore, that peaceful cohabitation and collaboration among the people of Cameroon can bring about peaceful solutions. If the Cameroonian government can be pressured by a wide alliance of French and English citizens and media, it can give in to demands and social change can become effective.

Internet blockade
A place of English-speaking eminence is Buea, the former capital of German and British Cameroon. Today, backed by a thriving university, the town has gained the status of a technology hub in the country and been dubbed the "Silicone Mountain". High above sea-level at more than 1200 meters and on the foot of Africa's second highest mountain, "Mount Cameroon", the University of Buea became the site of assault and brutality by police and soldiers in early 2016 when students joined the Anglophone protest for education reforms. True to the budding technological overflow, atrocities were graphically recorded on simple devices such as, mobile phones and portable cameras and livestreamed, uploaded and broadcast to the world.

The acts ranged from female students dragged in the mud, stripped naked, beatings and police aiming their firearms on defenceless citizens, among others. This enraged English-speakers who multiplied the viewership on social media, drawing further attention to issues and proving the complaint of marginalization. This was bad public relations for the government.

On January 17, 2017, the Government of Cameroon instituted a three-month blackout of internet in English-speaking territories, South West and North West regions. Just a day before internet services disappeared, the Ministry of Posts and Telecommunications issued a statement in which it warned social media users of criminal penalties if they were to "issue or spread information, including by way of electronic communications or information technology systems, without any evidence".

The statement also confirmed that the authorities had sent text messages directly to mobile phone subscribers, notifying them of penalties, including long jail terms, for "spreading false news" via social media. Several Cameroonians posted screenshots on Twitter showing the various warnings they received.

The major mobile phone providers MTN, Orange and Nextel stayed silent while the rights to access to communications was shutdown to millions of English-speaking customers. To communicate, English-speakers had to travel to the French-speaking areas to have full access to the Internet.

This shutdown emboldened dissent rather than crushed it. The hashtag #BringBackOurInternet spread rapidly in Cameroon and beyond, with WikiLeaks's Edward Snowden among the high-profile supporters. The campaign also attracted the support of campaign groups such as, Internet sans Frontières (ISF).

Behind this curtain of silence and blackout on instantaneous reporting, the government unleashed a more severe crackdown with the world shutout and precluded from knowing the extent of the atrocities. During this period, more active communications were mobilized by the government to control the message and tell a different story. Hence, new tactics were used with more robust presidential communications on Twitter and Facebook. The number of Government Press Conferences hosted by the Minister of Communications increased. On April 20, 2017, Cameroon's government ordered telecommunications operators to restore internet access in the North-West and South-West regions.

The restoration of the internet was one of the three conditions for the protesters to resume dialogue with the government. The other two conditions were to release the more than a hundred arrested Anglophones and to withdraw the soldiers deployed in Anglophone regions. However, according to an official statement, the government reserved the right to impose further internet shutdowns, "if the extremists calling for secession use it again to call for violent demonstrations."

Nevertheless, the internet tale brought out the best in the technological acumen and desire for social change of the affected English-speaking population. They researched and applied new strategies to post videos on Facebook and WhatsApp by outwitting internet providers. Although slow to load, with patience gory images of the realities on the ground escaped the Cameroonian internet dragnet.

In response to the internet shut down, community media-makers in Anglophone areas and abroad came together to create the Southern Cameroon Broadcasting Corporation Television, SCBC TV, using satellite technology to rally and broadcast information from around the world to English-speaking communities.

The Cameroonian "Tower of Babel"
Apart from the national languages, English and French, there are more than 260 dialects in Cameroon. This makes Cameroon a melting pot of cultures, an epicentre for varied views and a challenge for dialogue. In the middle of this national melee is the state-owned media house – Cameroon Radio Television, CRTV. Cast in an aluminium tower in Yaounde, the building resembles the biblical Tower of Babel. Created in 1985 as a harbinger of national unity, CRTV has reflected the quest to share the national cake as each of the more than 260 tribes attempt to be represented and have a slice.

The public-financed media is hence construed as a global-voice-of-all-voices, thereby, making it the Cameroonian Tower of Babel. Accordingly, the state-owned media represents the nation but works for the authority in power. Historically, it served as the media rostrum through which President Paul Biya launched his ruling political party, Cameroons People Democratic Movement, CPDM, in 1985 during its maiden broadcast. Hence, the fortified alliance between the state and the public broadcaster has been a long-established adjunct of the ruling party.

So, when the English-speaking minority started clamouring for equal rights, access and inclusion in Cameroon's decision-making, the monster of inequality in the treatment of Anglophone journalists in the state-owned media also showed its ugly head which has for long been struggling to emerge. From inception, English language programs on both radio and television such as, Cameroon Calling and Morning Safari have been most critical of the government and serve as a social enlightening corner to Anglophones. Often, these critical programs are suspended or scrapped from air especially during instances considered as subversive to the unity of the state such as, during this recent English-speaking uprising in the South West and North West regions. Earlier on, young and talented English-speaking journalists were banned from broadcasting, others were jailed for voicing anti-state commentaries such as, Johnny McViban, Emmanuel Tatah Mentan while others fled the country to settle abroad such as, Boh Herbert and most recently, John Mbah Akuro who are vocal leading spokespersons of the Anglophone cause in the diaspora.

However, French-speaking journalists have mostly succeed in toeing the state line and articulately serve as government mouth-pieces. CRTV has maintained a strong patriarchal broadcasting system that serves the master who pays for the tune of truth. The truth is at the behest of state authority and the Board Chairman of the CRTV, who also doubles as the Minister of Communication, commandeers the decision-making.

Currently, CRTV is breaking new digital grounds with a new CRTV web which links to Facebook, Twitter and YouTube pages. These have opened a certain level of information to Cameroonians in the diaspora, but it is still considered biased and one-sided. Remarkably, CRTV can become a pathfinder of peace if it explores its strategic position by creating grassroots communication networks, diaspora agencies and more expansion on digital platforms.

Diaspora command centres
Enter the diaspora communicators. They are the English-speaking leaders commanding activities in Anglophone Cameroon. They inform, instruct, involve and direct the action. These are the diaspora internet juggernauts; Mark Bareta, Ivo Tapang, Nso Foncha Nkem, Ebenzer Akwanga, Ayaba Cho Lucas, John Mbah Akuro and Chris Anu, amongst others.

Although thousands of kilometres away from Cameroon, they lead millions of English-speaking Cameroonians into obedience and disobedience. Based in England, Germany, Belgium, Canada, South Africa and United States of America, they use free communication platforms such as, Facebook, YouTube and WhatsApp to launch hundreds of groups to discuss and share information on events in Cameroon. These active virtual forums have been at the forefront of the new quest for freedom in Cameroon, especially, the Anglophone identity. Many of these groups have robust cyber-militants abroad. Some of these foreign-based online activists have since proclaimed themselves to be "commanders" of armed groups fighting for the independence of a new country call Ambazonia and many have called for retaliation against Francophones and government security forces while accusing them of "genocide,".

Since the crisis began, activists living in the North America and Europe have used online platforms to urge the diaspora to support armed separatists through fundraising campaigns such as "Adopt a Freedom Fighter" for a minimum of $75 monthly, or "Feed the Nchang Shoe Boys." In October 2017 for instance, the Maryland-based Southern Cameroons Youth League, Chairman, Ebenezer Akwanga published a press release stating that his organization "resolves that it is the right, the legitimate, legal and moral right of the People of the Southern Cameroons to take up arms to defend themselves from a brutal and demonic annexationists Cameroun Republic regime…"

On November 27, 2017, a video portraying Ayaba Cho Lucas, the self-exiled and self-styled "chief of staff" of the "Ambazonia Defense Forces", reviewing a dozen armed separatists parading in uniform in a small Cameroonian town began to circulate on social media. The video was interpreted as a signal that the armed separatists were trying to assert control by force over Cameroonian territory.

Shortly after, on December 14, the Cameroonian army launched a raid on Dadi, a small locality in a densely forested area of the South-West region's Manyu division, just three kilometers away from the Nigerian border, where it claimed the video had been filmed. According to Amnesty International, civilians were reportedly killed during the raid, which caused most of the town's population to flee to the bush and to Nigeria.

However, these diaspora forums have also been blighted by fake news syndrome as every member is free to post information. Such unlimited digital bushfire sparks the need to verify information and consider graphic content before posting to a mass audience. For example, multiplicity of graphic and sensitive pictures is published everyday awash in blood of murdered people with a few erroneous cases of pictures taken from other countries or unrelated events. The corrective side is that these forums have moderators and administrator who correct and bring the members to order while verifying the authenticity of information.

In certain instances, there is heated debate and arguments which lead to sanctions by expulsion of recalcitrant members from the group. This process therefore makes it a challenge in managing a populist platform and exposes the grim reality to the limits of freedom of information, even to these groups that are themselves professing the fight for freedom from a draconian regime.

Furthermore, the diaspora is passively insulated from the realities on the ground but instigates and supports the local masses in the homeland. It is therefore a challenge of responsibility to use the new tools of communication prudently, which may make or mar a cause for peace.

Hate journalism: Another "Radio Mille Collines"
Ernest Obama is a Journalist and Director of Vision 4 Television, a Yaounde based channel. Through a program "Tour d'Horizon" on October 6, 2017, he made the following statement regarding Anglophones who are fighting for genuine reforms in the country.

"It's time for government to stop playing with these people (referring to Anglophones). There is no country in the world that jokes with terrorists. Most of them are just making noise on Facebook. (A minority group) in Algeria is also asking for independence. Are people not killed there? They are killed. If it is necessary to restore order and if you are considered a terrorist, you should be killed…It's time for the government to put in place extremely repressive measures (against Anglophones)…I am also urging the government to decree a state of emergency in the two English-speaking regions of the country…From 7 pm, all bars should be closed…there are some Anglophones (in Yaounde) who are happy about what is happening over there (North West and South West)…If a bomb is planted in a school, it will kill the Anglophones themselves…But what is this whole thing about 'Anglophonie'? All my daughters are in Anglophone schools… We will no longer give room for dialogue with terrorists…I hold the opinion that all Anglophones are in support of the explosions in Bamenda. Even here in Yaounde, neighbourhoods which are predominantly Anglophone need to be put under surveillance…If they have already started implanting bombs in Douala, then it's possible they can do same in Yaounde…"

On October 2, 2017,over 40 English-speaking journalists from television, radio, newspaper and online petitioned the National Communication Council, NCC. They denounced hate speech against Anglophones propagated by Ernest Obama. More than a week later, Obama, under legal pressure and diplomatic condemnation, asked for forgiveness:

"To all my brothers in the English-speaking community of Cameroon, if some of you were shocked and offended by my words that were only meant to unite. I sincerely present my apologies. In love we are all crazy about Cameroon. This love can sometimes lead us to use words that can go overboard."

This is a gesture in the right direction as peace journalism implies the ability to forgive and reconcile. However, Ernest Obama of Vision 4 was suspended from broadcasting for two months by the National Communications Council for propagating hate speech. The sanctions according to the English-speaking petitioners is mild for preaching hatred while the likes of Mancho Bibixy, Mimi Mefou are arrested for upholding rights and freedoms. This has made French-speaking Ernest Obama a symbol of double standard in sanctioning of erring journalists in Cameroon.

Verification debunks the myth of fake news
On June 25, 2018, the British Broadcasting Corporation, BBC, published a master peace on investigative journalism during a conflict. In a video report titled "Burning Cameroon: Images you're not meant to see", BBC assessed a total of 131 villages via satellite imagery for evidence of building destruction in the subdivisions of Mbonge, Kumba, Ekondo Titi, Konye, and Nguti, in the South-West region. In one of the videos of late April 2018 which had been widely circulated on social media, a man is shown calmly setting fire to a house and watched by a group of at least 13 men dressed in fatigues. BBC Africa Eye went on to prove the perpetrators.

BBC confirmed the location as Azi, a village in Cameroon's Anglophone South-West region by matching buildings to satellite imagery and comparing the fire damage shown in a subsequent video from the same village. To BBC, these men appeared to be Cameroonian soldiers. Their uniforms, helmets and webbing were all consistent with those worn by Cameroon's Rapid Intervention Battalion (BIR), an elite army unit equipped and trained by the US and Israel.

However, the Cameroonian Government official version of the facts as stated by the Minister of Communications is that, "They (the separatists) are able to acquire military uniforms of the Rapid Intervention Battalion or any other brigade of the defence forces in order to perpetrate their crime and blame our defence and security forces for it." The army sought to minimize, but not deny, allegations that they burned homes. In an April 2018 interview with Agence France Presse (AFP), Brigadier Donatien Melingui Nouma, the South-West region military commander, said that the army was struggling to quell the rising insurgency by armed separatists and said that the army "only burns those houses where we find weapons".

To establish truthfulness, BBC experts analyzed videos originating from the North-West and South-West regions to identify the precise location in which they were filmed. These videos, largely posted online on platforms like YouTube and Twitter, were filmed by local people who witnessed the aftermath of the destruction of buildings and villages or in some cases by the security forces' personnel involved. The geolocation verification process centred around matching video footage with satellite images. By identifying distinguishing features – a bend in a road, different types of trees, shadows from buildings, or the shapes and colours of roofs – in both the video and the aerial image, the verification process enabled BBC investigative journalists to confirm where the video was shot by local people.

This investigative feat engages a new social communications importance that combines geolocation to grassroots video recordings on mobile phones by villagers: Kwakwa filmed in January 2018; Azi filmed in April 2018; Munyenge filmed in May 2018; and Ekona Mbenge filmed in June 2018. The BBC investigation crew also authenticated that these videos were not filmed months or years before these incidents were reported to have taken place by confirming that they were not uploaded online before the date that the destruction was said to have taken place.

With this new state-of-the-art authentication, tyranny can be monitored and checked. The notion that there is a satellite up there, always above Cameroon that can collect images and broadcast the truth may be a dissuasive ploy to nib-in-the-bud of human rights violations and restore peace in a country that is slowing sliding into a full-blown conflict.

Kome Epule Abel is a Cameroonian journalist currently working in Canada. The photo on page 50 (courtesy of the author) shows Kome Abel discussing the media situation on air in Cameroon.