15 Nov 2017

Media and memory is theme of WACC journal
Museum on Wheels in Kępno, Poland (2015). Photo taken by Filip Basara for the Museum of the History of Polish Jews POLIN. Used with the permission of the Museum.
---
"Digital Media and Social Memory" is the theme of the latest issue of WACC's journal Media Development.
As the editorial notes, "Traditional media and other social institutions are giving ground to digital technologies and social media with a consequent revaluation of how public memory is represented and conserved."
It is important, therefore, to test some of the assumptions made about digital media and, in particular, to tease out potential implications for the way society sees itself, records itself, and remembers itself. That is the focus of this issue of Media Development.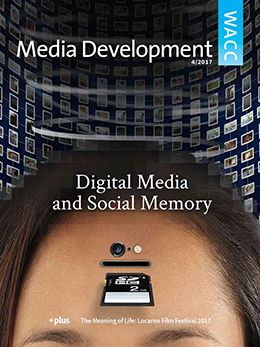 The editorial points out that, "Today, public statements that lay claim to a particular status or existence, and the public forms of communication that maintain them, have been appropriated by digital technologies that seem to be shifting the nexus of power from the monopoly of authority (political or social) to that of the social collective or, indeed, of the ordinary person, either of which can effectively challenge, make counter-claims, and organise in opposition."
In "Go-ogle: Gender and memory in the 'globital' age", Anna Reading explores how throughout history the cultural memory of women and girls is often erased, side-lined in ways that those of girls and women are not.
She argues that, "This creates new challenges for gender equality and for media development. It also creates new possibilities for different kinds of gendered memories to be activated and mobilized to make a difference."
In "Asylum seekers, new media, and society's memory", Noam Tirosh explores how contemporary media grant asylum seekers with new powers and capabilities to share their stories and to gain "voice" in the public sphere.
He notes that, "Contemporary media's capability to voice individual asylum seekers blurs the distinction between individual memory and 'collective' or 'cultural' versions of society's memory."
An unusual aspect of the memory debate is tackled by Colin Harvey in "Video games, transmedia, and cultural memory". He suggests that video games are eminently capable of remembering accurately and engaging seriously with difficult subject matter.
Harvey writes, "As the medium matures, video games set in the geographical arenas and historical epochs in which atrocities occurred but which do not engage with the realities of those atrocities might start to be accused of a sin of omission, of deliberately non-remembering."
Other articles include "Digital narratives: me, us, and who else?" by Karen Worcman; "Museums that travel" by Aleksandra Kubica; "The political economy of historical digital games" by Emil Lundedal Hammar; "It's Time … a speech that shaped a life and Australia" by Asha Chand; and "The Meaning of Life", a report from the Locarno Film Festival 2017 by Robert K. Johnston.
The next issue of Media Development (1/2018) will include articles in preparation for the sixty-second session of the Commission on the Status of Women, which takes place 12-23 March 2018.
The CSW's priority theme is "Participation in and access of women to the media and information and communications technologies and their impact on and use as an instrument for the advancement and empowerment of women".
For further information and how to subscribe, visit the journal's home page.