03 Dec 2015

Media Development examines barriers to communication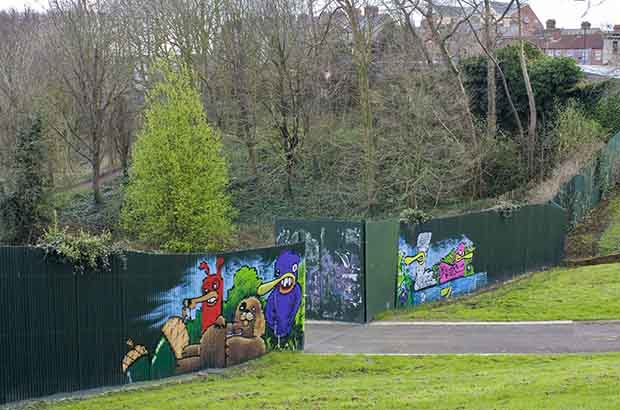 The gate in the peace wall in Alexandra Park, Belfast. Photo: Kate Trenery.
---
The Q4 2015 issue of Media Development engages the theme of "Invisible Walls and Barriers," exploring some of the political, social, cultural and technological impediments to freedom of expression in today's world.
Humanity has built many physical walls, from the Great Wall of China to the concrete barrier between Israel and the West Bank, notes Media Development editor Philip Lee in the introductory editorial.
"Then there are the uncompromising barriers erected by the global economy in a world where, in developed and developing countries alike, the rich control 90% of the wealth … Less immediately obvious are the social, cultural, and psychological barriers to better understanding between peoples and communities," Lee writes.
"Many of these impediments are directly related to communication – from linguistic barriers to media misrepresentations," he notes.
Some examples:
Indigenous people and their communities have been denied access to communications and excluded from discussion tables at international and national levels.

The voices of refugees and migrant workers are not often heard by policymakers.

In the world's news media, women are often rendered invisible – which has been the focus of a 20-year-long study carried out by WACC's Global Media Monitoring Project.
Lee also points out that young people in today's world often face apparently insurmountable barriers, yet display astonishing resilience and creativity. Addressing an audience of young people in the Town Hall, Belfast, Northern Ireland, on 17 June 2013, President Barack Obama told the story of a wall that divided the city's Alexandra Park.
The barrier was erected in 1994 and is one of a number of so-called "peace walls" built within the city in attempt to prevent violence between Nationalist/Republican and Unionist/ Loyalist communities.
President Obama praised the initiative of a young woman named Sylvia, who campaigned among local communities to build a gate in the wall that would allow people free access. In September 2011, the campaign achieved its goal.
As the articles in this issue of Media Development underline, traditional mass media and today's social media can play an important role in breaking down barriers and in creating better understanding between communities.
To read the full article and the quarterly issue, subscribe here to Media Development.