20 Jun 2014

Michael Waters: Hip-hop is communication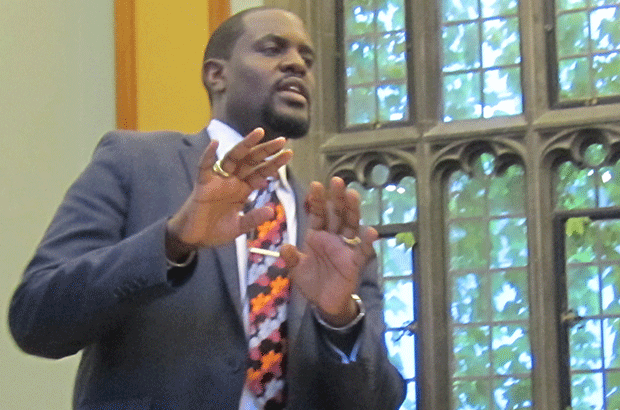 The Rev. Dr. Michael W. Waters speaking at a public event organized by WACC on June 19 in Toronto. Photo: Saskia Rowley
---
Quoting hip-hop culture and poet Maya Angelou, pastor Michael W. Waters on June 19 in Toronto addressed communication rights as he reflected upon the African-American community's struggle to be heard.
He spoke to 40 students and guests at a public event organized by the World Association for Christian Communication (WACC), part of its Summer School on Communication Rights and Religion taking place June 16-21 at Emmanuel College.
WACC General Secretary the Rev. Dr. Karin Achtelstetter introduced and welcomed Waters, highlighting his career as a social activist, teacher and preacher. He is founding pastor of Joy Tabernacle African Methodist Episcopal Church in Dallas, Texas, one of the newest and fastest-growing A.M.E. churches in the state. He is a sought-after motivational speaker.
Waters noted that Angelou wrote, "there is no greater agony than bearing an untold story inside of you." He focused his reflections on the role of the black church in the U.S. in articulating political and social concerns and its relationship to hip-hop music as a "movement to reclaim voice."
Referring to life in many minority communities, he asked, "what's it like to grow up in a context where death is ever present? What is the impact on the spirit of a young person when they have no expectation of living beyond 30 years old?"
Untold stories create a crisis of identity, he said. "Whose voices are not being heard? If you have no voice, or your voice has not been empowered, you might not fully exist. Everyone else tells your story for you. You have no agency in telling your own story."
Waters referred to "Holla If You Hear Me!", a song by the late rapper Tupac Shakur. Waters called it "an anthem of resistance," noting that giving voice to the voiceless reflects the claim to communication rights.
"There are special times in history when the vocally marginalized begin to speak truth to power, to speak loudly, to raise their voices. Those who have been rendered silent determine that they will be silent no more," Waters said.
Referring to the abolition of slavery and the black struggle to regain its voice, Waters quoted the Negro spiritual "Wade in the Water" as a song of freedom and subversion.
Relating it to the biblical story of King David, he recalled that the Psalms were songs telling of the troubles of the times.
Waters quoted the prophetic words of the Rev. Dr Martin Luther King Jr., "So often the contemporary church is a weak, ineffectual voice with an uncertain sound" (Letter from a Birmingham Jail, April 16, 1963.)
Hip hop music, he said, began in 1973 in New York's South Bronx, a place where an urban community lived in what appeared to be a war zone. People were living in hopelessness and their voices were not being heard.
"They find their voice in hip-hop, in the beat, in the music, in the community … Hip-hop becomes the cauldron out of which the voices of the people arise," he said.
In concluding, Waters asked, "Whose voices remain unheard, suppressed, and marginalized? Will you speak for them? When you will speak for them? How will you speak for them?"