03 Sep 2014

Montréal festival honours "Cape Nostalgia" and "Melody"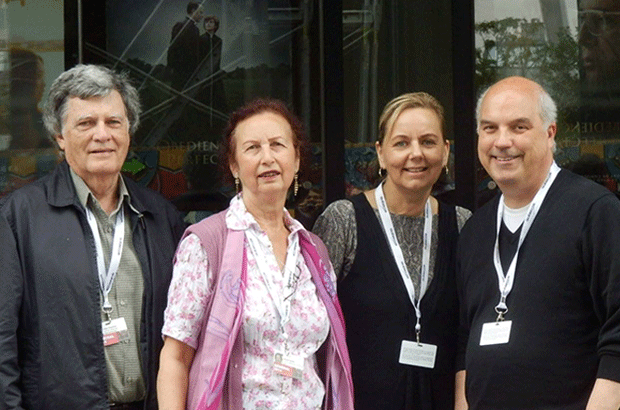 L to R, Peter Sheehan, Brisbane (Australia); the Rev. Denyse Muller, Arles (France) – President; the Rev. Dr. Karin Achtelstetter (Canada/Germany); Tony Spence, Washington D.C. (USA).
---
The Montréal World Film Festival's Ecumenical Jury announced that it awarded its top prize to "Cape Nostalgia / Fushigi Na Misaki No Monoga," directed by Izuru Naroshima of Japan.
The 38th edition of the festival ran from Aug. 21 to Sept. 1, 2014. The Ecumenical Jury was appointed by SIGNIS and INTERFILM for the 36th year in a row.
According to the jury's citation, "Cape Nostalgia" is a "gentle, high-quality film about great moments of life – loss, love, friendship and community in a Japanese coastal village. With humor and depth, the film celebrates humanity quietly and serenely. The photography is excellent, the direction assured and the film well balanced. In its conclusion, the movie moves away from nostalgia to embrace life."
The jury also awarded a commendation to "Melody," directed by Bernard Bellefroid, representing Belgium/France/Luxembourg.
The citation said: "A struggling young woman decides to become a surrogate mother and she is accepted by a businesswoman who has longed for her own child. The film explores sensitively the different facets of motherhood and affirms strongly the importance of bonding and maternal commitment. The movie has quality direction, dialogue and acting."
WACC General Secretary Karin Achtelstetter, who served on the Ecumenical Jury, said that jury members also commended the festival for "the free public viewings every night, which gave everybody the possibility to be part of the festival, and the question and answer sessions after the screenings and the press conferences."
The Ecumenical Jury also included:
Denyse Muller, Arles (France) – President
Peter Sheehan, Brisbane (Australia)
Tony Spence, Washington D.C. (USA)