16 May 2014

Orthodox Church conference looks at media ethics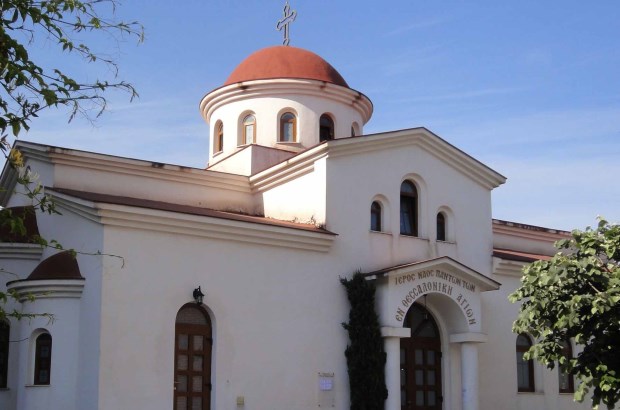 The church of the Diakonia Convention Centre, Thessaloniki. Photo: Philip Lee.
---
A conference organized by the International Assembly on Orthodoxy (IAO) on the theme "Christianity – Orthodoxy and the media in the modern world" took place in Greece, 12-15 May 2014.
Conference participants agreed on the need for better coordination and networking as well as a practical policy on social media use for the many different instances of the Orthodox Patriarchates.
World Association for Christian Communication (WACC) staff gave a presentation titled "Communication Rights, Ecumenical and Inter-religious Dialogue" at the event, which was held at the Diakonia Convention Centre in Thessaloniki.
Founded in 1993 the IAO seeks closer understanding between the Orthodox religion and parliamentary and political figures worldwide. It promotes spiritual values, people's rights, equality, and the protection of human life and the environment.
The President of the IAO General Assembly, Member of the Russian State Duma Sergei Popov, opened the conference. Some 60 participants took part, including MPs from several countries, religion journalists, academics, church press officers and representatives of Orthodox Churches as well as of the ancient Eastern Churches.
Pointing to evidence of bias and manipulation in the secular media, Sergei Popov called on Orthodox media to uphold Christian values and ethics in their work.
A video message from His All Holiness the Ecumenical Patriarch Bartholomew noted that the secular media tend to portray the views of the Orthodox Church in an uninformed way and called for greater objectivity and ethical oversight.
Mark Beach, Director of Communications for the World Council of Churches (WCC), brought a message of greeting from WCC General Secretary Olav Fyske Tveit. Stressing the need for the churches to come to terms with the fast changing media landscape, especially social media platforms and citizen journalism, he called on religious voices to speak with compassion and yet prophetically.
Participants heard presentations on freedom of religion and the role of mass and social media today. They explored the challenges confronting media coverage of religion news, and codes of ethical practice regarding social media usage.
Of particular interest in the context of Greece were the legal framework and issues of self-regulation, especially in relation to social media, and practical ways of testing the validity and credibility of Internet sources.