14 Oct 2016

Preserving India's palm leaf manuscripts for the future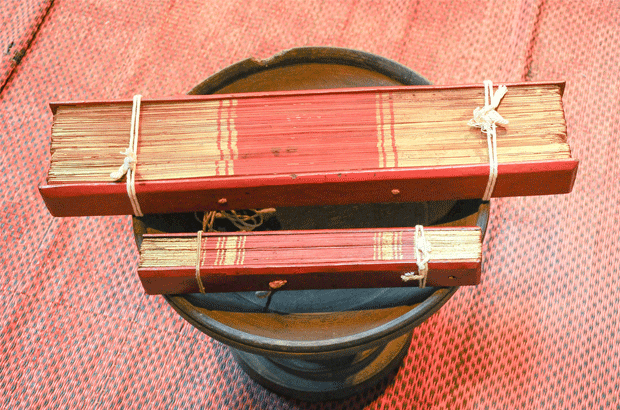 Shutterstock
---
India's rich repository of knowledge has been passed down for generations through oral and written traditions through a variety of writing materials such as stones, copperplates, birch bark, palm leaves, parchments and paper. Palm leaf manuscripts form an invaluable part of India's documented heritage. Written in different Indian languages, these manuscripts are scattered all over the country in monasteries, temples, libraries, museums, with individuals and in several private collections.
India has the oldest and the largest collection of manuscripts. Various scholars have documented the preservation of these ancient manuscript collections, including indigenous methods of preserving palm leaf manuscripts like wrapping, applying extracts of natural products and other chemical treatments. Studies have also been conducted on the digitization of these manuscripts for passing on their wealth of wisdom to future generations.
While efforts have been taken to digitize these endangered documents and prevent deterioration due to factors such as biological, chemical and climatic conditions, digital archiving has not been centralized to enable the present generation of digital citizens of the world (also known as 'Millennials') to benefit. The life of a palm leaf manuscript is far longer than a modern-day device like CD or microfilm. The increasing popularity of printed books has revitalized the interest for collecting and preserving of manuscripts in India. The Government of India has made consolidated efforts in preservation and providing access to manuscripts through many Research Centres across India.
This article seeks to document the preservation of palm leaf manuscripts in India and to highlight the role that these institutions are playing in creating awareness about these cultural heirlooms for Millennials. There is a pressing need to preserve these manuscripts that have been beautifully expressed in the form of an idea, thought, and imagination for posterity. They give a lasting impression of the multicultural society that India is, and its deep rooted knowledge system that has been passed down from generations.
"A nation's culture resides in the hearts and in the soul of its people" (Mahatma Gandhi)
India and its rich heritage spanning more than two millennia is a storehouse of manuscripts. Given the cultural diversity of India, there are manuscripts that have been preserved in all corners of the country in diverse languages, calligraphies, illumination, illustrations and materials.
Communication is about sharing ideas, feelings and emotions with fellow human beings. It is with this intent that manuscripts came to be evolved forms of communication and, today, their preservation is a step forward in commemorating this form of communication in the annals of our cultural history.
"My idea is first of all to bring out the gems of spirituality that are stored up in our books (manuscripts) and in the possession of a few only, hidden as it were, in monasteries and in forests-to bring them out; to bring the knowledge out of them, not only from the hands where it is hidden, but from the still more inaccessible chest, the language in which it is preserved, the incrustation of the centuries of Sanskrit words. In one word, I want to make them popular, I want to bring out these ideas and let them be the common property of all, of every man in India, whether he knows the Sanskrit language or not."1
Profound words from a Swami Vivekananda who was instrumental in spreading the Eastern society's knowledge to the West during his speech at Chicago in 1893 at the Parliament of the World's Religions.
Scholars have tried to ascertain the exact period when palm leaf manuscripts began to be used for writing. Palm leaf writing is the oldest form of writing and has a life span of 300-350 years. The scholar Richard Salomon ascertains the existence of palm leaf manuscripts and other materials in the following passage:
"Before Asoka, writing was probably used principally, if not exclusively, for economic and administrative, as opposed to literary and monumental, purposes; perishable materials such as palm leaves, tree bark and (according to Nearchos) cloth, which have little chance of surviving the rigors of the Indian climate, were used. Thus, according to this view, we need not be surprised that no early specimens of Indian writing have survived and their absence does not prove that they never existed" (Salomon, 1998:14-15).
Authoritative literature on palm leaf manuscript conservation is scarce. Manuscripts continued to be copied until the 19th century but declined after the invention of paper. On 14 February 2007, the National Mission for Manuscripts (NMM) launched Kritisampada, the National Database of Manuscripts that contains information about over a million Indian manuscripts
The National Mission for Manuscripts works with the help of 57 Manuscript Resource Centres across the country. These include well-established institutes, museums, libraries, universities and non-government organisations that act as the Mission's coordinating agency in their respective regions. They are primarily responsible for surveying and documenting every manuscript in their area. The Mission liaises with them for awareness campaigns and outreach activities such as lectures, school theatre programme and training workshops.
The 34 Manuscript Conservation Centres consists of a team of trained conservators with a laboratory equipped to undertake manuscript conservation. They also provide technical know-how on the preventive and curative conservation of manuscripts throughout the country. Various outreach programs are conducted to promote knowledge about conservation and the skill-sets of the conservators are regularly updated with workshops and training sessions.
The 42 Manuscript Partner Centres identified by NMM consist of certain prominent institutions with large holdings of manuscripts for collaboration with the Mission and they are required to document and catalogue their own collections. The third initiative by NMM is the 300 Manuscript Conservation Partner Centres with which the Mission collaborates to advice on storage and maintenance of their collections in a scientific manner.
Google and digitization
In 2006, my interest in palm leaf manuscripts was stimulated when I got unconfirmed reports as a journalist that Google was going to digitize these manuscripts in Mysore. The article revealed that the University of Mysore would be documenting history for all time when the world's largest search engine Google digitized at least 800,000 books and manuscripts including India's first political treatise, The Arthashastra, written by Kautilya in the 4th century BC.
A Google spokesperson was quoted saying, "We are always interested in working with libraries to digitize content and make it discoverable online. While we are in talks with the University of Mysore, no agreements have been reached. At present the Google Book Search does not support Indian language digitization."
Though the partnership did not finally take place, the Oriental Research Institute (ORI) under the University of Mysore has continued to preserve its rich collection of paper and palm manuscripts though there exists the risk of these manuscripts becoming fragile and fragmenting from constant handling. ORI has been preserving these manuscripts with periodic oiling (in the case of palm leaf manuscripts) and fumigation (in the case of paper manuscripts) for many years now.
The 100,000 manuscripts in the library, some dating back to the 8th century are on subjects of Ayurveda, mathematics, medicine, science, astrology, economics as well as several paper manuscripts of the royal family of Mysore. Established by Chamaraja Wadiyar in 1891, the manuscripts preserved here have been collected from the surrounding areas. More than 30,000 palm leaf manuscripts and paper manuscripts have been copied into the Devanagiri script.
Challenges in preserving manuscripts
Google has been aggressively expanding its book search program to include non-English material and, given India's strategic importance, the company's open-source tools like OCRopus has a handwriting recognizer. But how do you translate handwritten texts into searchable characters? An even bigger a task is storage and mark-up of the data. Optical character recognition can work well on handwritten pages, if the handwriting is regular enough, like Greek manuscripts. However, Indian manuscripts were written by different scribes.
Engaging in documentation, conservation, digitization and publication of manuscripts is a Herculean task, given the sheer volume in India. However, digitization will help in creating awareness about manuscripts among scholars and the general public. Creating a common national manuscripts library and the publication of unpublished manuscripts will result in India leading the way not only in preserving the manuscripts, but also for this unique initiative to document them.
In yen years, NMM has digitized more than 149,000 manuscripts which is only one percent of the total. At this pace it will take more than 600 years to digitize the estimated 10 million manuscripts. Will the manuscript survive till then? In addition, although India has the largest collection of manuscripts, there are few scholars who can decipher them, especially for the rare dialects used by tribes. Workshops on Manuscriptology and Paleography have been organized to tackle this challenge
The country's diverse languages, culture and geography make it a challenge to document manuscripts in the 27 odd states. The NMM has been able to provide 23 states with trained conservators who also discovered manuscripts in the state of Mizoram, which was not known before 2010. In 1931, shepherds in Gilgit in the Kashmir valley discovered a large cache of manuscripts which opened a new chapter on Budhhist Kashmir. The Gilgit manuscripts are among the oldest surviving manuscripts in India.
There are also a large number of Indian manuscripts in foreign libraries and digital copies of these should be made available. The common cultural link between India and South-East Asian as well as South Asian countries should enable the sharing of the literary heritage available in the manuscripts of these countries.
India's tryst with knowledge sharing
India constituted several small but independent states ruled by royal families who had their own scholars. These learned men were considered to be the jewels in the court of the enlightened rulers. It has been a tradition for the rulers of the state to undergo intensive training from a very young age under the guidance of learned men. Hence, after spending a considerable amount of their youth under the tutelage of these scholars, the young rulers were quite naturally inclined to be patrons of various forms of learning. Thus they encouraged the cultivation of knowledge in their courts. Even in the remotest corners of the country, one can find Sanskrit scholars who own a large number of manuscripts as their family treasure.
These outstanding scholars, well versed in philosophical literature and accomplished speakers, were able to explain difficult matters in a simple and interesting way, thus making knowledge accessible to everyone. These scholarly families across the country are good collectors of manuscripts and some of them have even donated manuscripts from their collection for preservation to the libraries and research institutes.
Conclusion
While the government of India is taking steps to ensure that this tangible cultural relic of the country is preserved for present and future generations, the efforts needed to undertake this task need to be taken up on a war footing. This is because of the fragile nature of palm leaf manuscripts and the cost of digitizing such a massive collection. The relevance and significance of these treasure troves of knowledge has to be first made known to the present generation, which can be done with various outreach programmes and incentives such as scholarships and fellowships.
Unless the present generation is drawn into supporting the heritage structures that protect these collections of manuscripts, the mission to digitize them will end up on the shelf, like the manuscripts themselves: forgotten and dwindling into oblivion. ν
Notes
1. Swami Vivekananda. Lectures from Colombo to Almora, The complete works of Vivekananda, Vol III, Mayavati Memorial Edition, Calcutta.
References
Annual Report. (2007). National Mission for Manuscripts.
Arora, A. (2006, May 12). Digital Restoration. Kriti Rakshana, 2-4.
Chandra, Lokesh (2006). Rare Indian Manuscripts in Asian Countries, Tattvabodha, Vol – I, NMM
Chakraborty, M. (2010). Collection, Conservation and Publication of Manuscripts: Tagore's Initiative. Kriti Rakshana, 6(1-2), 7-10.
Chowdhury, G.G., Chowdhury, S. (1999). Digital library research: major issues and trends. Journal of Documentation. 55 (4), 409-448.
Gaur, Ramesh C. (2011). Preservation and Access to Manuscript Heritage in India. International Journal of Information Research. 1(1), 1-15.
Gupta, C. B., & Haider, S. H. (1995). Conservation Practices in Ancient India. Conservation of Cultural Property in India. 28, 36-43.
Hamilton, V. (2004). Sustainability for digital libraries. Library Review, 53
Harinarayan, N. (1995). Techniques of Conservation of Palm Leaf Manuscripts: Ancient and Modern. Palm leaf and Other Manuscripts in Indian Languages, 261-274.
Kalâkalpa, Journal of the Indira Gandhi National Centre for the Arts, New Delhi.
Kamat, J. (2000). http://www.kamat.com/database/books/kareducation/palmleaf_texts.htm.
Mukhopadhyaya, P. (2006). History of survey and cataloguing of manuscripts in India.
Nair, R. (2006). Digitization of indigenous materials: problems and
solutions in the Context of Kerala University. Library and Information Studies in the Digital Age. Ess Publications, New Delhi (India), pp. 222-247.
O.P. Agrawal. (1984). Conservation of Manuscripts and Paintings of Southeast Asia. London: Butterworths.
O.P. Agrawal. (1982). Palm Leaf and Paper: Illustrated Manuscripts of India and Southeast Asia. (Ed John Guy).
Project Document. (2002). National Mission for Manuscripts.
Ranbir, K. (1961). Preservation and Repair of Palm Leaf Manuscripts. India Archives XIV.
Sahoo J., & Mohanty, B. (2003). Giving Life to Palm Leaf Manuscripts: Technological Aspects. The Orissa Historical Research Journal. Vol. xlvi, No. 2, 108-112.
Saini, M.L. Manuscript literature in Indian language. ILA Bulletin. 1969, 25 (7), 6-19.
Salomon, R. (1998). Indian Epigraphy. New Delhi: Munshiram Manoharlal Publishers Pvt. Ltd.
Deepti Ganapathy has over ten years of experience as a journalist with leading Indian media groups. She was also the finalist for CNN Young Journalist Award in 2007. Her research interests are in areas of using social media for image building, effective communication, and on understanding the imaginary audience and writing on social media. Her research has been published in Media and Politics: Discourses, Cultures and Practices, International Journal of New Media Studies, Intellectual Resonance, and a few other national and international journals. She has been an invited speaker in a range of academic and media events. She has a doctorate in Social Media and Communication from the Department of Studies in Communication and Journalism from the University of Mysore. She is currently a Visiting Professor at IIM Indore, full time faculty at Narsee Monjee Institute of Management Studies.