16 Jan 2017

Preserving India's palm leaf manuscripts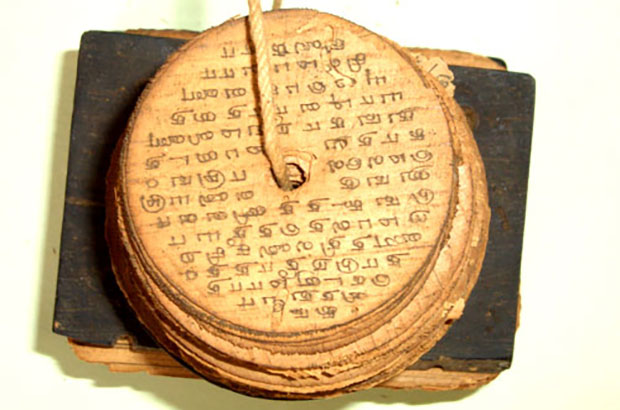 Palm leaves were among the first writing materials to be used, and some sources say that Sanskrit was first written on this material more than 6,000 years ago. Photo: Courtesy of Deepti Ganapathy.
---
In the most recent issue of Media Development, which explores "Media and Mediated Memory," journalist Deepti Ganapathy writes about conserving India's history through its ancient manuscripts.
"India's rich repository of knowledge has been passed down for generations through oral and written traditions through a variety of writing materials. One medium, palm leaf manuscripts, form an invaluable part of India's documented heritage. Written in different Indian languages, these manuscripts are scattered all over the country in monasteries, temples, libraries, museums, with individuals and in several private collections, she notes.
Scholars have documented indigenous methods of preserving palm leaf manuscripts such as wrapping, applying extracts of natural products and other chemical treatments. Studies have also been conducted on the digitization of these manuscripts. While efforts have been taken to digitize these endangered documents and prevent deterioration, digital archiving has not been centralized to enable the present generation to benefit.
Ganapathy says the life of a palm leaf manuscript is far longer than a modern-day device like CD or microfilm. The increasing popularity of printed books has revitalized the interest for collecting and preserving of manuscripts in India. The government has made consolidated efforts in preservation and providing access to manuscripts through many research centres across the country.
The article seeks to document the preservation of palm leaf manuscripts in India and to highlight the role that these institutions are playing in creating awareness about these cultural heirlooms for a younger generation.
Gandhi said that "a nation's culture resides in the hearts and in the soul of its people." Scholars have tried to ascertain the exact period when palm leaf manuscripts began to be used for writing, Ganapathy writes. Palm leaf writing is the oldest form of writing and has a life span of 300-350 years.
To read more about these efforts to save an important part of India's heritage, subscribe here to Media Development.