10 Mar 2015

Probing the gender-based communications gap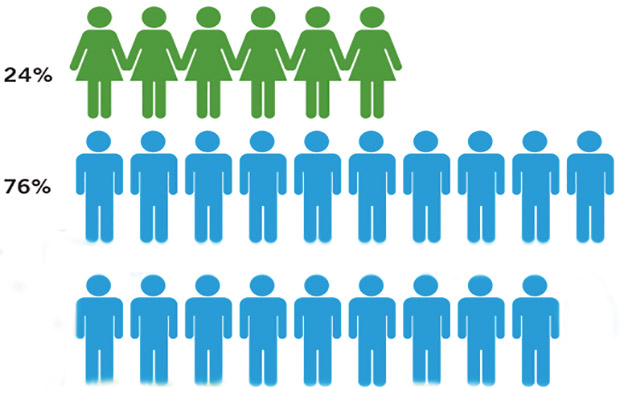 Only 24% of news subjects are women. Graphic: WACC-Global Media Monitoring Project.
---
Two hundred million fewer women have access to the internet than men, according to a study released March 9, reports the Inter Press Service News Agency (IPS).
According to the story, it is also estimated that 300 million fewer women than men own a mobile phone, with these gaps primarily concentrated in developing countries.
The study was published by No Ceilings, an initiative supported by the Clinton Foundation that has compiled thousands of data points on gender equality across a range of areas, including access to information and communication technologies.
WACC Deputy Director of Programmes Philip Lee commented that this type of gender-based communications gap is one reason for the WACC-supported Global Media Monitoring Project (GMMP).
"Until more media owners and editors realize the gravity of the situation and take steps to remedy it, women will continue to be at a disadvantage," he said. "The GMMP plays a crucial role in opening eyes and ears to gender inequality."
Every five years, the GMMP monitors media in more than 100 countries on one day to see how the genders are represented. In the 2010 study, the GMMP found that only 24% of news subjects on television are female, 16% of female news subjects online were depicted as victims in contrast to 5% of male news subjects and men are more often portrayed as experts in their field.
"Why does this matter?" asks the GMMP. "Because women and girls become second-class citizens when their concerns are not reflected in the news. The GMMP takes these findings directly to policy-makers in order to persuade them to come up with better alternatives. It challenges media organizations and professional journalists to implement editorial policies that are fairer, more balanced, and more gender friendly," said the organization on its website.
In order to ensure there is a 2015 GMMP edition, a fundraising campaign has begun, asking participants to donate at least $10 and ask 10 friends to do the same.
The IPS news agency also reports that women's participation and safety online was a popular topic on the first day of the 59th Commission on the Status of Women (CSW) at the United Nations.
The 2015 CSW also coincides with the 20th anniversary of the Beijing Declaration and Platform for Action (Beijing+20), the historic agenda for women's empowerment. Women's participation in media and new communication technologies is covered under Section J of the Platform.
Discussions at the CSW covered both the positive and negative impact of information communication technology on progress towards gender equality. To read the full story, click here.