06 Jun 2014

Public event on strengthening rights in Bolivia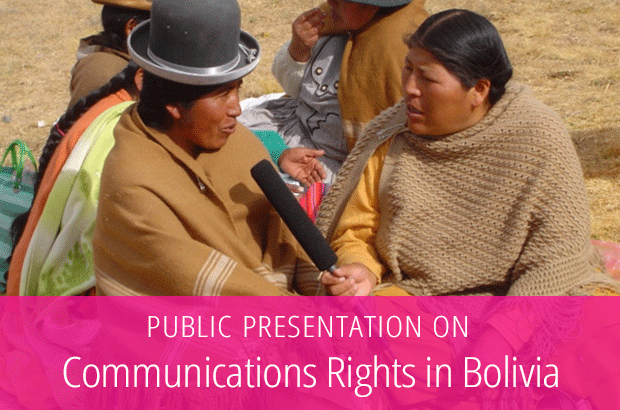 ---
A public presentation of the achievements of a WACC project on "Communication Rights and Marginalized People in Bolivia" will take place in Toronto on Monday 23 June 2014.
From 2011 to 2013, WACC and two of its long-time partners in Bolivia carried out a project working with the country's Indigenous Aymara and disability groups.
The project aimed to make use of communication and information rights to work towards gaining better access to social services including health, education, housing and employment. It also developed a communication rights index.
The project was supported financially by WACC and the Canadian International Development Agency (CIDA).
Guest speaker will be José Luis Aguirre Alvis, one of the project leaders, and there will also be presentations by WACC staff. They will focus on the Bolivian context and the project's impact and findings.
Everyone is welcome to this public event, which takes place on Monday 23 June 2014 from 10.00 am to 11.30 am at St Paul's Church, 227 Bloor St. East, Toronto. Entrance is free.
---
---