20 Jan 2015

Pursuing communication with a purpose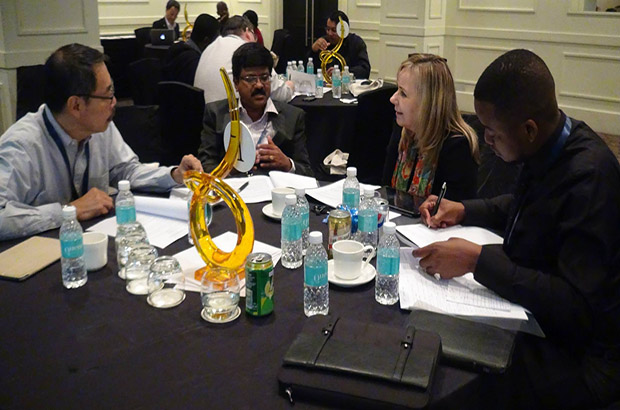 Rev. Dr. Karin Achtelstetter taking part in a working group during the CWM consultation. Photo: Shireen Lim.
---
Communication is not merely a tool; it should be viewed as an essence of being and an agent for change, said the Rev. Karin Achtelstetter, WACC General Secretary, in a keynote speech delivered Jan. 19 at a Council for World Mission conference in Singapore.
"Be the communication you wish to see in the world," Achtelstetter told attendees at the first Communication Consultation hosted from Jan. 19 to 20 by the Singapore-based Council for World Mission (CWM).
"Whatever values I hold, I convey them through word, gesture and deed … My communication has a purpose: it reflects the world I would like to live in," Achtelstetter said.
One example of communication in action is the ancient principle of offering hospitality to the stranger, she said.
"The theme of the 'uninvited guest,' the asylum seeker, the migrant, the 'other' challenges our willingness to see differently, to hear differently, to read differently the images foisted on us by global mass media. It begs the question of the human right that demands that people accept the reality of human differences, that they show hospitality to others," Achtelstetter said.
Quoting Prof. Cees Hamelink, a pioneer in the area of communication rights, she said: "A right to communicate proposes that societies learn to live with the 'permanent provocation' of living with 'others' that exist in widely differing universes. Mature societies are 'agonistic' arrangements, which means that people are forever in dispute about the quality, the purpose, and the direction of their co-existence. Only the full acceptance of this reality creates the social environment in which a right to communicate is a sensible proposition."
The Council for World Mission has included elements of WACC's statement on "Communication for All" in its own communication policy and this is a sign of solidarity and mutual understanding.
However, Achtelstetter asked, how will cross-cultural dialogue begin and are we prepared to listen?
"It is my contention that none of this can happen – not genuine hospitality, not genuine dialogue, not genuine understanding, not solidarity, not inclusivity, not justice – without the implementation of what WACC recognizes as communication rights. The implication being that the churches must move beyond narrow understandings of mission to embrace the unknown and the uninvited," she said.
WACC, in its revised Principles and Strategic Plan 2012-2016, states that a rights-based approach to communication provides a framework for everyone to be able to engage on an equal footing in transparent and informed debate.
WACC states in its document Communication for All: Sharing WACC's Principles (2012) that communication rights means free access to the information and knowledge essential to democracy, empowerment, responsible citizenship and mutual accountability.
These rights "claim political, social and cultural environments that encourage the free exchange of a diversity of creative ideas, knowledge and cultural products. Finally, communication rights insist on the need to ensure a diversity of cultural identities that together enhance and enrich the common good," the document states.
"Communication rights have a crucial role to play in recognizing and accepting those whom many perceive as uninvited guests, in abandoning notions of empire in order to create a new world in which all are equal," Achtelstetter said.
She concluded that "implicit in communication rights is a process of reconciliation with those whose freedom has been denied – a process based on truth-telling, commitment to justice, freedom in solidarity, and respect for human dignity. Such reconciliation can only take place in a context of mutual trust in a shared reality."