12 Sep 2014

Seven Years of the UN Declaration on the Rights of Indigenous Peoples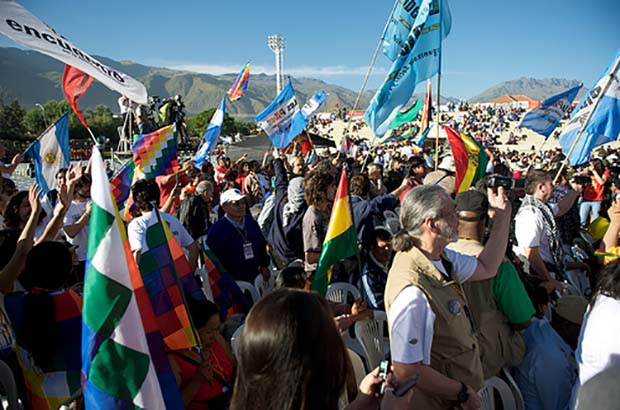 Indigenous Peoples voice concerns over land rights.
---
September 13 marks seven years since the United Nations General Assembly adopted the UN Declaration on the Rights of Indigenous Peoples (UNDRIP).
The outcome of 25 years of hard negotiations, the the rights spelled out in the document "constitute the minimum standards for the survival, dignity and well-being of the Indigenous Peoples of the world."
The Declaration protects collective rights and individual rights of Indigenous Peoples in relation to self-government, land, education, employment, health and other areas.
Since 2007, there has been increased international focus on Indigenous Peoples' self-determination and the right to participate in decision-making processes, especially on the states' duty to consult Indigenous Peoples to seek their Free, Prior and Informed Consent (FPIC) in regards to issues that will affect their lands, lives, and livelihoods.
Nevertheless, the communication rights of Indigenous Peoples have often been overlooked. The UNDRIP states quite clearly, "Indigenous peoples have the right to establish their own media in their own languages and to have access to all forms of non-indigenous media without discrimination."
As one UN Permanent Forum on Indigenous Issues delegate stated, "The most important element of Indigenous Peoples' ability to claim the right of Free, Prior and Informed Consent is to have informed and organized communities." For this, access to information is crucial.
WACC is currently supporting a project in Bolivia aimed at strengthening the voices of Indigenous people in communication. Fundacion Colectivo Cabildeo is a women's group committed to dismantling the power relations that subordinate women in society and promoting participation in national, regional and municipal public policy-making.
WACC applauds initiatives aimed at implementing Free, Prior and Informed Consent by increasing awareness and understanding of this right through community media and community dialogue.
Source: Cultural Survival.