20 Aug 2014

Support WACC's work on communication rights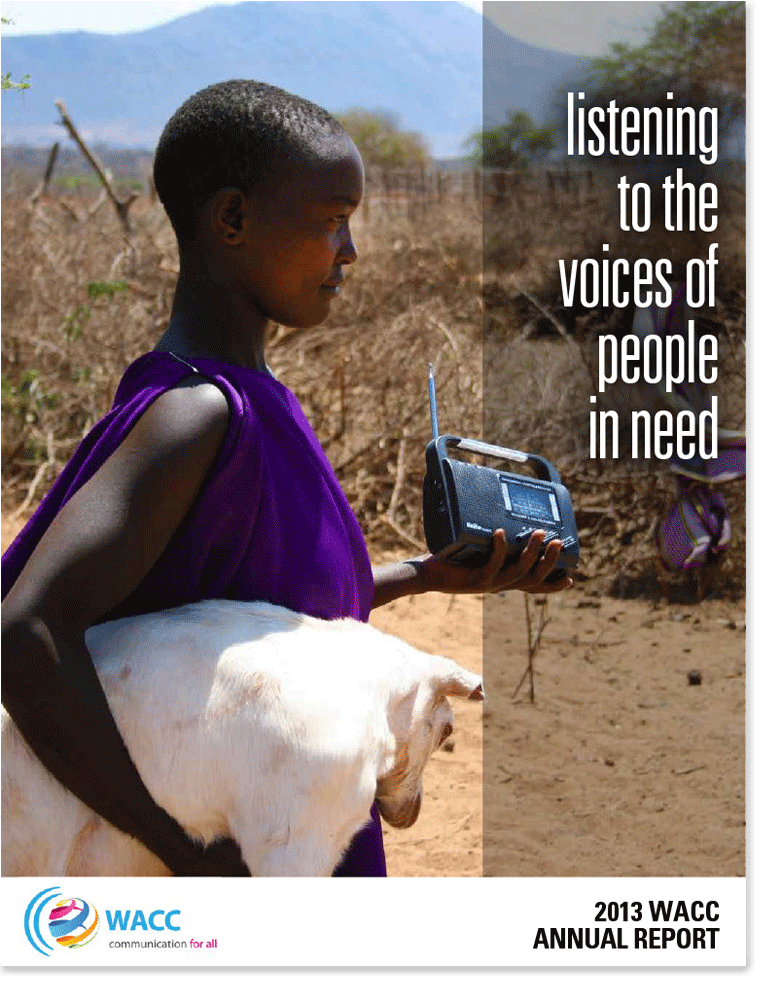 WACC's 2013 Annual Report. Design: Brad Collicott
---
Supporters of WACC are seeing the results of its global work advancing communication rights in the 2013 annual report.
Broadcasting advocates will note that WACC helps nurture community radio around the world, believing that low-power radio in a local context helps give voice to marginalized communities and support indigenous languages. WACC highlighted this work at the 10th Assembly of the World Council of Churches, held in October 2013 in Busan, South Korea.
Similarly, WACC was a key partner in the first UNESCO Global Forum on Media and Gender on the theme "Towards a Global Alliance." At both international forums, WACC addressed issues of media ownership and control, democratization of the media, and gender justice.
Examples of marginalized communities are the indigenous Aymara people and the disabled community in Bolivia. Last year, WACC and two of its longtime partners in Bolivia concluded a three-year project that aimed to make use of communication and information rights to work towards gaining better access to social services. This project was supported by the Canadian International Development Agency.
Worldwide, WACC supported 58 one-year long projects in more than 30 countries. These projects aimed to increase access to public communication and relevant information and knowledge for poor, marginalized, excluded and dispossessed people and to help them to participate in shaping local and national decision-making about priorities affecting their lives.
In the course of 2013 WACC rebuilt its global web site and laid plans to rebuild the Who Makes the News web site, which reports on the Global Media Monitoring Project (GMMP), a research and advocacy initiative that pursues gender equality in and through the news media. The new approach reflects WACC's current strategic priorities while offering an easy-to-navigate array of landing pages and resources.
Those involved in film work will note that WACC and its global partner SIGNIS gave their joint Human Rights Award to the feature documentary Caminhos da Paz (Paths of Peace) by Mozambican film director Sol de Carvalho. The film highlights the role of the churches in bringing stability to Mozambique after a long civil war.
WACC's work was featured for the second time in the Canada-wide Anglican Journal, focusing on the gender justice programme and the GMMP.
WACC continued to attract funding from many different partners concerned with furthering communication rights and communication for development. In particular, WACC signed a new funding agreement for project work with the Waldensian Church in Italy. As always WACC is extremely grateful for the support of the many agencies that see wisdom in combining resources and expertise to further WACC's vision of "Communication for All."
To find information on supporting WACC by becoming a member, click on the "join" button.
To donate to WACC's mission, click on the "donate" button.