10 Mar 2017

Symposium on gender equality in media looks at challenges and opportunities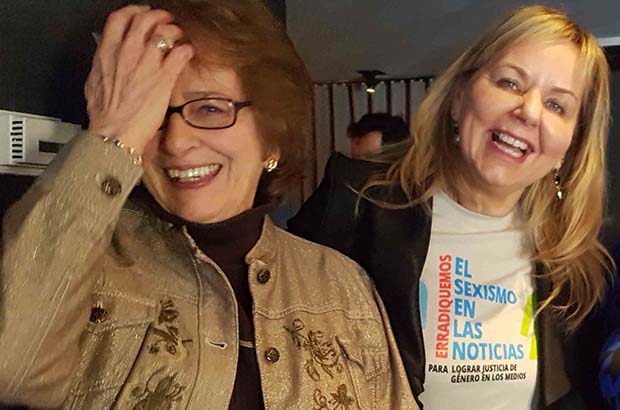 Shirley Struchen (left), President of WACC North America, and Karin Achtelstetter (right), WACC General Secretary, at the WACC symposium in New York. T-shirts available in Spanish and English call for an end to News Media Sexism. Photos: WACC/Esther Franke.
---
"We see signs that things are starting to change for the better," Nanette Braun, chief of communications and advocacy for U.N. Women, told participants at WACC's Symposium on "Gender and Media: Challenges and Opportunities in the post-2015 Era", taking place in New York, 9-11 March 2017. "But let's not fool ourselves."
Braun reminded the group of the results of the results of the most recent edition of WACC's Global Media Monitoring Project (GMMP), which U.N. Women supports along with UNESCO and other entities. That report revealed that "less than one quarter of people seen, heard or written about in the news are women," Braun said. Meanwhile, "nearly half of all stories uphold gender stereotypes."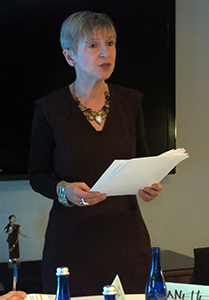 Braun (photo left) noted that another study showed that men hold 73% of all management jobs in media. "This begs the question: is the over-representation of men in decision-making linked to the presentation of women in the news?" She believes that it does, since the GMMP research has shown women are more likely to challenge gender stereotypes in their reporting. Still, there isn't enough data to say whether this carries over into editorial decisions.
Social media can be seen as a more accessible option for women hoping to pursue a career in journalism and who confront institutionalized sexism. But Braun cautions against viewing it as a panacea, and reminded the event's participants that a digital gender divide remains. While young boys may first use a computer when they are 12, the average girl – worldwide – is 2 ½ years older. She then has to contend with the risk of bullying, cyber-stalking and harassment.
At a minimum, Braun suggests that gender equality needs to be established on editorial boards, within editorial corporate policies, in determining audiences, in developing sources, and in making decisions on hiring and staffing at all levels.
Filmmaker Jennifer Lee reminded the audience that today's reality doesn't look much like this at all. Lee, an international ambassador for the GMMP and producer of the film "Feminist: Stories from Women's Liberation", recounted the experience of Megyn Kelly, the Fox News television host who stood up to then-presidential candidate Donald Trump during last year's campaign season and ended up losing in the ratings to Trump booster Sean Hannity. When Kelly left Fox (albeit for a very attractive deal at NBC), her departure left Fox without a single high-profile female anchor in their news lineup, Lee noted.
"Democracy and women's rights go together, but I don't think we really know that here in the United States," Lee commented, pointing to the fact that the United States is one of an increasingly small number of democracies to have never had a female leader.
To combat trends like those shown in the GMMP, and those we witness in public life, Lee suggested drawing on lessons learned from the feminists she portrayed in her film. Even without the benefit of the Internet, the movement they launched "was electrifying." It happened because of communication: "these women travelled, they communicated, they became friends, they developed a sense of sisterhood."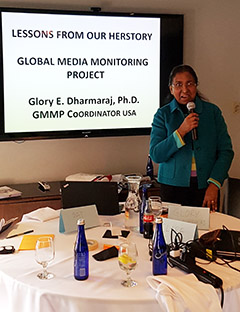 Participants in the symposium, who included GMMP North America coordinator Dr Glory Dharmaraj (photo left) and who represent 21 different countries and 24 WACC partner organizations, will spend three days brainstorming on new ways to push forward with women's communication rights in light of recent data showing that representation in women in the news media appears to have plateaued.
Introducing WACC's new Strategic Plan 2017-2021, to participants, WACC General Secretary, Rev. Dr Karin Achtelstetter noted that it's no longer enough to rely on the goodwill of the media organizations themselves. "For the first time since we have begun tracking data, in some areas like regional radio in the United States we are seeing a deterioration in the role of women. Clearly, appealing to goodwill on the part of these organization is not enough. How long do we have to wait?"
And, while the issue of gender equality in the media remains at the heart of WACC's mission, Achtelstetter suggested that the same media monitoring efforts that WACC employs to gauge how women are portrayed in newspapers, on radio and on television, can also be applied to other areas.
"It's not just a matter of data, but of bringing people into a movement; leading them to advocacy," she said. The kind of information produced by media monitoring programs "is the first step to change, to start a campaign."
Communication rights, which WACC began to advocate as far back as 1987, will remain central in any expansion of media monitoring campaigns to include other global problems, Achtelstetter suggested. The elimination of extreme poverty, the reduction of inequality, the protection of the planet, "none of these goals can be achieved without having effective communication."
To that end, Achtelstetter introduced the idea of creating a communications rights charter, drawn up along the same lines as the Universal Declaration of Human Rights, proclaimed by the United Nations in 1948. And, she added, pointing to an experiment carried out in Bolivia, "What if we had a communications rights index?"
These ideas, Achtelstetter explained, are the outgrowth of WACC's strategic review, a process that began in 2010. At WACC, "we also dream sometimes," she said. "Dreams are important because you want to work towards something."
But if Achtelstetter and the other speakers at the consultation have dreams, they also are aware of the hurdles that lie ahead for their most immediate project: combatting sexism in media. While participants cheered the distribution of T-shirts with vivid designs, boasting the slogans in either English or Spanish "End News Media Sexism" and "For Gender-Just News", they listened soberly as panellists reiterated the disturbing trends.
The WACC-sponsored strategy consultation on gender and media continues until Saturday, March 11, with the goal of producing new initiatives that will supplement and complement WACC's own End News Media Sexism by 2020 campaign. The consultation is scheduled to wrap up just ahead of this year's session of the U.N. Commission on the Status of Women in New York.