07 Nov 2017

Telling human stories about climate change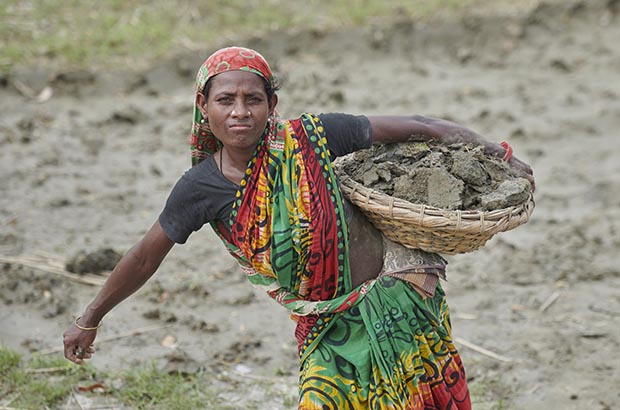 In order to raise her home a few inches above flooding, Shosida Begum carries dirt in a basket in West Fasura, a village on an island in the Brahmaputra River in northern Bangladesh. Photo: Paul Jeffrey/ACT Alliance.
---
Thousands have gathered in the city of Bonn, Germany, to demonstrate their support for government policies that tackle climate change as a matter of the highest priority.
Despite different organizational and individual priorities, and despite climate change naysayers, there is a clear and urgent demand for climate justice.
If anything, such demonstrations – and there have been many over the past few years – indicate that despite the complexities the media are succeeding in communicating the issue of climate change.
In fact, in many countries traditional and online mass media have been relentless in disseminating stories, feature articles, and documentaries on the seriousness of climate change worldwide.
With COP23 under way, media coverage has made the theme of climate justice headline news. After COP23 has come to an end and people have gone back to their homes, the issues will remain as pressing as ever.
WACC is a member of the ACT Alliance which is covering COP23 in Bonn. A blog by Jessica Dator Bercilla, Senior Advocacy and Policy Officer for Asia and the Middle East for Christian Aid titled "Beyond Adapatation" notes:
"For many of the communities, there is no time to adapt and, thus, losses and damage will be the consequences. What little time other communities have, they must use to enable resilient households, ecosystems, infrastructure, local economies, and social capital in the most efficient way and with innovations that are calibrated according to the power of projected climate change hazards."
Yet, adaptation and resilience depend on adequate information and knowledge as well as financing. The ACT Alliance blog goes on to lament:
"Sadly, many of these communities do not have access to scientific information on the hazards that they can understand. Neither do they have access to technology nor finances to enhance the indigenous knowledge they possess so they can better protect themselves — and ensure their right to life, livelihoods, social capital, history and culture and ecosystems and their accompanying services."
Here media can continue to play a key role in information and knowledge sharing as well as advocating for local policy change. Two years ago, The Guardian newspaper published a helpful guide to how they could do so more effectively:
People expect science to provide definite answers, whereas in reality it is a method for asking questions about the world. Use plenty of analogies from everyday life so people can see that uncertainties are everywhere, not just in climate science.

Start with what you know, not what you don't know. Too often, communicators give the caveats before the take-home message. On many fundamental questions, the science is effectively settled.

Having a clear and consistent message about the scientific consensus is important as it influences whether people see climate change as a problem that requires an urgent societal response.

For many audiences – politicians, business leaders or the military – talking about the risks of climate change is likely to be more effective than talking about the uncertainties.

A common strategy of sceptics is to intentionally confuse and conflate different types of uncertainty. It's therefore critical to be clear and adopt appropriate language for each risk.

Using an uncertain time framing makes it clear that the question is when (not if): as for example in "sea levels will rise by at least 50 cm, and this will occur at some time between 2060 and 2093".

Most people understand the world through stories and images, not lists of numbers, probability statements or technical graphs, and so It is crucial to find ways of translating and interpreting the technical language found in scientific reports into something more engaging.

Research has found that uncertainty is not an inevitable barrier to action, provided communicators frame climate change messages in ways that trigger caution and underlines the possibility of preventative action.

Communicate effectively about climate impacts. Climate change and some extreme weather events are made more likely, and more severe, by climate change.

And finally, what all good communicators know: tell a human story.
WACC has uploaded significant useful resources on the theme of climate justice here.