19 Feb 2017

The future of mobile learning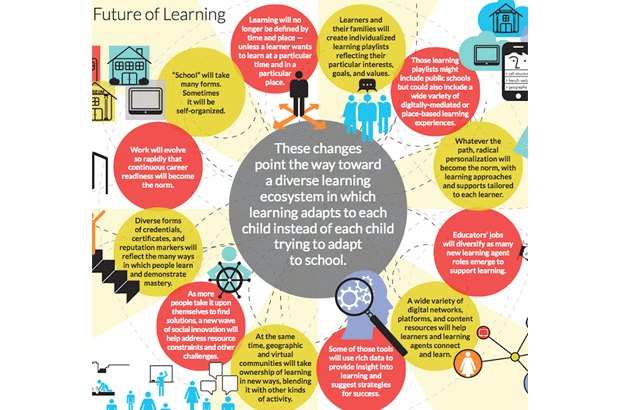 Photo: Contributed
---
In 2013 UNESCO commissioned a series of Working Papers on Mobile Learning. The aim was to better understand how mobile technologies can be used to improve educational access, equity and quality around the world. Collectively and individually, the papers consolidate lessons learned in different regions to provide policy-makers, educators and other stakeholders with a valuable tool for leveraging mobile technology to enhance learning, both now and in the future. The excerpt that follows identifies some of the implications for policy makers and planners.
Technology has changed our world in ways previously unimaginable. Mobile devices permeate our daily lives, providing unparalleled access to communication and information. By the end of 2012, the number of mobile devices was estimated to exceed the world's population (Cisco, 2012).
As the power, functionality and affordability of these devices increase, so does their potential to support learning in new ways. Innovative mobile learning initiatives from around the globe have highlighted this potential (Fritschi and Wolf, 2012b; Hylén, 2012; Isaacs, 2012b; Lugo and Schurmann, 2012; Roschelle, 2003; So, 2012; West, 2012).
In one way or another, many – if not most – of these projects are helping students learn about something important to them. Whether empowering a woman in India with daily audio messages to help convert her knowledge into economic gains, enabling a student in Singapore to bridge the gap between home and school, helping a child in New York gather data to become a "mini-scientist", or providing a retiree in Bangladesh with access to hundreds of English language audio lessons and quizzes, mobile devices have changed the lives and learning of millions of people in ways inconceivable even a decade ago.
Yet despite over fifteen years of research, mobile learning has so far failed to have a significant long-term impact on education. How can this be addressed? What can be done in the next fifteen years to build on the achievements of practitioners and researchers to increase educational quality and to ensure sustained learning opportunities for all?
Intersection with society, culture and commerce
Looking towards the next decade and beyond, it seems clear that the future of mobile learning lies in a world where technology is more accessible, affordable and connected than it is today. However, technology alone, regardless of its ubiquity and utility, will not determine whether mobile learning benefits large numbers of people. Designing effective mobile learning interventions requires a holistic understanding of how technology intersects with social, cultural and, increasingly, commercial factors.
The technology itself is undeniably important, but equally if not more important is how people use and view technology, a point that has been largely overlooked. Just because mobile devices carry a potential to, say, help improve the literacy skills of women in resource-poor communities does not mean that these devices will actually be employed towards this end. Indeed, across the world women are far less likely than men to own and use mobile devices, and in many communities women are discouraged from using mobile technology for any purpose, learning included.
Mobile devices are often banned from schools and other centres of education, despite considerable and, in many instances, well-established potential to enhance learning. Such bans project a view that mobile devices are antithetical to learning, and this outlook, regardless of its factual validity, impacts the way people interact with technology. Over the next fifteen years, the implementation of mobile learning projects and the pedagogical models they adopt should be guided not only by the advantages and limitations of mobile technologies but also by an awareness of how these technologies fit into the broader social and cultural fabric of communities.
Education and technical innovation
Education and technology can and should co-evolve in mutually supportive ways. While people tend to think of education as perpetually lagging behind technology, there are numerous instances in which education has prompted technical innovation. For example, some historians argue that Alan Kay's 1968 Dynabook, an early prototype of the laptop computer, came into existence as a means of helping students learn through "new media". Kay drew on the theories of well-known learning specialists to inform the design and functionality of the device (Dalakov, 2013).
The Massachusetts Institute of Technology's (MIT) Scratch tool, an innovative programming language that allows users to drag and drop code elements instead of typing them, was designed to help students learn authentic programming skills while creating their own interactive stories, games, music and art (BBC, 2012; MIT).
Software innovators have regularly taken cues from highly specific learning theories. SuperMemo, for example, is an application that attempts to facilitate the movement of information from short-term to long-term memory (Wolf, 2008). It works by drawing on research about memory retention and loss to help users optimize when they study and review information. Education can also dictate hardware design choices. In Russia, the E-OK tablet computer has two screens: one for reading and one for writing. This configuration, and the technology that underlies it, was developed specifically to accommodate educational tasks (Silver, 2012).
Many in the education community are working to ensure that changes in technology push pedagogy forward and, conversely, that innovations in pedagogy influence technology. While important developments are already underway, a great deal remains to be done in the coming years to ensure that technology is relevant to education and education is relevant to technology.
With the unprecedented rate of technological change, it may seem nearly impossible to imagine what mobile learning will look like a decade from now, let alone two decades. Yet exploring these questions is an important exercise, as the future will be moulded by the decisions made today. With the right social and political supports and, most immediately, mechanisms to train practitioners to design mobile learning interventions, mobile leaning has the potential to transform educational opportunities and outcomes.
This [UNESCO] report helps guide the way by highlighting issues and questions likely to steer mobile learning over the next fifteen years and beyond. It begins by presenting an overview of the current state of mobile learning, describing recent mobile learning developments in formal and informal education, seamless learning and educational technology. Based on current trends, the report then makes predictions for the future of mobile learning, forecasting likely technological advances and mobile learning focus areas.
Subsequent sections discuss mobile learning in light of Education for All (EFA) goals, both now and in the future, and identify the primary enablers for mobile learning as well as the main barriers to its development. Finally, the report presents the broad, overarching challenges to be met over the next fifteen years, in order for mobile learning to be integrated into mainstream education and impact teaching and learning on a global scale.
Questions for the future
While the future is sure to hold significant technological shifts accompanied by new learning opportunities, the educational community needs to capitalize on these opportunities to shape a future in which mobile technologies help facilitate learning for all.
Outlined below are important questions to be addressed if mobile learning is to transform from a field of uneven and scattered innovation into a dynamic force for educational impact.
Has the education community recognized the vast potential that lies within informal learning spaces, and is it leveraging the ubiquity of mobile technologies to afford new breakthroughs in bridging school, after-school and home environments?
Aside from the traditional model of education, what other types of education systems have emerged, and how are mobile devices being used to support them?
What skills are needed in a modern world, and is the education community capitalizing on the full range of tools available to help impart these skills?
Do teacher training programmes consider the unique value that a teacher adds in a world where enormous amounts of information are immediately available to all learners?
How do we effectively train educators to use mobile technologies to advance and ensure high-quality learning?
How do we build capacities for learners to exercise greater control and choice over their own learning?
Are model initiatives in the field of mobile learning effective, not only in terms of results but also in terms of scale and impact?
Have mobile learning solutions proven their value to learners and their families, so that parents and other gatekeepers become increasingly willing to invest in mobile devices?
It is important to consider these questions and others raised in this report, because the decisions made by policy-makers and education stakeholders today will determine what mobile learning looks like tomorrow. With clear and well-informed strategies in place, mobile learning can and will make positive contributions to teaching and learning and help increase educational access, equity and quality for all. ν
Excerpted from UNESCO, Paris, (2013). The Future of Mobile Learning: Implications for Policy Makers.
References
BBC. 2012. Programming project comes to primary schools. BBC News, 17 April 2012. London.
Cisco. 2012. Cisco Visual Networking Index: Global Mobile Data Traffic Forecast Update, 2011–2016. San Jose, Calif.
Dalakov, G. 2013. The Dynabook of Alan Kay. History of Computers.
Fritschi, J. and Wolf, M. A. 2012. Mobile Learning for Teachers in North America: Exploring the Potential of Mobile Technologies to Support Teachers and Improve Practice. Paris, UNESCO.
Hylén, J. 2012. Turning on Mobile Learning in Europe: Illustrative Initiatives and Policy Implications. Paris, UNESCO.
Isaacs, S. 2012. Mobile Learning for Teachers in Africa and the Middle East: Exploring the Potential of Mobile Technologies to Support Teachers and Improve Practice. Paris, UNESCO.
Johnson, L., Adams, S. and Cummins, M. 2012. NMC Horizon Report: 2012 K-12 Edition. Austin, Tex., The New Media Consortium.
Lugo, M. T. and Schurmann, S. 2012. Turning on Mobile Learning in Latin America: Illustrative Initiatives and Policy Implications. Paris, UNESCO.
Roschelle, J. 2003. Unlocking the learning value of wireless mobile devices. Journal of Computer Assisted Learning, Vol. 19, No. 3, pp. 260–272.
Silver, J. 2012. Classroom Disruptor: the proprietary tablet PC that's changing Russian schools. Wired Magazine, 24 February 2012.
So, H. J. 2012. Turning on Mobile Learning in Asia: Illustrative Initiatives and Policy Implications. Paris, UNESCO.
West, M. 2012. Turning on Mobile Learning: Global Themes. Paris, UNESCO.
Wolf, G. 2008. Want to Remember Everything You'll Ever Learn? Surrender to This Algorithm. Wired Magazine, Issue 16.05, 21 April 2008.