12 Nov 2017

The Meaning of Life: Locarno Film Festival 2017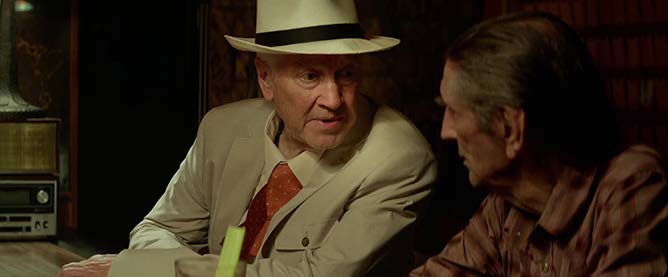 ---
The 70th Locarno film festival − held during the first days of August on the shores of Lake Maggiore on the border of Italy and Switzerland − again proved magical. But as Golshifteh Farahani, an actress staring in The Song of Scorpions (d. Anup Singh, Switzerland/France/Singapore, 2017), one of the films that was screened to more than 6,000 outdoor spectators on the Piazza Grande, said: "The power of the mountains, lake and rivers combined with movies and the best risotto in the world. What could be better than that?"
As it has done each year since 1973, SIGNIS (World Catholic Association for Communication) and INTERFILM, the international, inter-church film organization of mainly Protestants, joined together to appoint an ecumenical jury to choose a film in the festival's international competition that best portrayed "human experience that is in harmony with the gospel" or best sensitized "viewers to spiritual, human or social questions and values." What this award seeks to honour are cinematic works of the highest quality that bear witness to the power of film to explore the spiritual dimensions of our existence.
I was privileged to be part of the Ecumenical Jury this year. Co-members of the jury included a long-time organizer for a sister jury at Cannes, a programmer for a non-commercial Christian television station in Prague, a staff member for a Protestant church-in-mission organization in Montpellier (France), the director of a Roman Catholic cultural centre in Frankfurt a/M (Germany), and a lecturer in practical theology in the Netherlands. Four of us have finished doctoral work in theology and film, and two have had long standing involvement with film and the church. As one might expect from such a group, discussion of each film in the competition was both spirited and insightful. We learned from each other.
In a ceremony on the closing day of the festival, we awarded a prize of 20.000 Swiss Francs (to be used to help with the film's distribution throughout Switzerland) to the best film of the competition, as well as commendations to two other movies of merit that invited spiritual reflection on the nature of the human. The three films chosen could not have been more different, whether in genre, tone, nation of origin, or focus. But what all three shared in their stories was their filmic excellence, their universal impact, their inventive expression, and their spiritual depth in portraying what it is to be human.
Ecumenical Award for Lucky
The prize for best film went to Lucky (d. John Carroll Lynch, U.S.A., 2017). An homage to Harry Dean Stanton, one of America's greatest character actors who is now ninety-one, Lucky (see still on following page) winsomely explores the meaning of life given the immanence of death. Directed by an accomplished actor himself, John Carroll Lynch and including David Lynch in a memorable supportive role, the movie is set in a small, bleak desert town in the Southwest. Starring the 91 year old Stanton himself as Lucky, the film follows this elderly curmudgeon as he goes about his modest life. Though angry, fearful and living on the edge of his community, Lucky also proves "lucky" enough to have others who help him move beyond himself. He is not alone.
Although Lucky refuses for much of the film to engage with others, a highlight of the film is Lucky coming to a birthday party thrown by the waitress in the diner for her daughter. There he is cajoled into singing a song, something melancholy and probably inappropriate for a young girl's party to be sure, but something loved by all in attendance, nonetheless. It is his gift to the others. As the Preacher says, "Two are better than one… but woe to one who is alone and falls and does not have another to help" (Ecclesiastes 4: 9-10).
The film notes make clear, as did the director during his Q&A, that Stanton is an atheist, himself. And the film is meant to be about Stanton. But the film, despite itself, explores a spirituality of life that extends beyond surface reality. As John Lynch, the director, said in his response to the award, "While 'Lucky' wears his atheism on his sleeve, there is no doubt that the themes of mortality and life's meaning fall in a spiritual realm. Even though Lucky (and Harry Dean for that matter) would disagree that there is a spiritual realm, or a soul for that matter. But regardless of one's faith, we all have to face the truth of our mortality and 'Truth is a thing'," [as the movie says].
Though the bleakness of the desert where Harry lives is unrelenting, a slow walking tortoise by the name of Roosevelt symbolizes in the movie's narrative life's ongoing mystery and meaning. There is more to life than surface existence. Life is precious, even given the spectre of death. As the director said when commenting on the film, "Roosevelt steps slowly but surely into the future with his 'coffin' on his back, defying the bleakness around him. As the movie closes, Harry faces the audience directly and smiles. Perhaps for the first time in more than 60 years of acting, Stanton "talks" directly to us, his audience. The fourth wall is broken. The story is not one about death at all, certainly not about Lucky's death. It is about living. There is a larger spirituality to life, despite all that might seem to militate against it.
I write this review while back at home in Pasadena, California. I have just gone to the gym to work out. There, I meet once again, Tony, an elderly Japanese man who has had a stroke and who barely can shuffle along with the help of a three-pronged cane. A former body builder, Tony has been coming to this same gym for over twenty-five years (I know for he was there the first day I came.) Tony's life is precarious, but not without joy. For his community greets him daily, stops to chat briefly, even offers a helping hand before moving on. And Tony too, still shuffles into the cycling class, or moves slowly back and forth in an exercise class. Life is not much; but it isn't 'nothing'. Again, to quote the preacher, "But whoever is joined with all the living has hope, for a living dog is better than a dead lion" (Ecclesiastes 9:4).
Commendations for two different films
A commendation for merit was also given by the jury to two other films, Qing Ting zhi yan/Dragonfly Eyes (d. XU Bing, China/USA, 2017), and Vinterbrodre/Winter Brothers, (d. Hlynur Pálmason, Denmark/Iceland, 2017).
Dragonfly Eyes/Qing Ting zhi yan tells the story of Qing Ting, a simple young woman training to become a Buddhist nun. But sensing in her spirit the need for something more, she leaves the monastery to work on a highly mechanized dairy farm where the cows are perhaps treated better than the workers. There she meets Ke Fan, who is smitten by her. Their relationship becomes complicated however, Ke Fan ending up in jail for a time after doing something he thought Qing Ting would like, and Qing Ting then having plastic surgery and reinventing herself as an online celebrity. When Qing Ting dies, Ke Fan expresses his grief by also having plastic surgery so that his face becomes hers, and he then joins the same monastery as we have seen at the film's beginning. The movie ends where it began, with Ke Fan/Qing Ting beginning his/her quest to find meaning in life.
This story of a search for meaning in life by two Chinese young adults might seem straightforward, almost classic even if a bit quirky, except for one major factor. Rather than starting with a screenplay, the director, XU Bing, started with an image – actually lots of images. Fascinated by China's ubiquitous use of surveillance cameras (the average person in China is captured by surveillance cameras 300 times a day!), and aware that this footage was available for any to see from the internet cloud, Bing first culled images from 10,000 hours of footage. Here was the genesis of the movie. Bing then created a story line as he edited a bricolage of images. (To make his story work with the images at hand, Bing said in a Q&A that he chose to use plastic surgery as a plot device, thus allowing different people to be used as the same person!)
In the movie there are, as might be expected from surveillance cameras, few close ups. Instead, we as the audience are voyeurs of two lives, concurrently both proximate and yet also distant. The movie's editing is often frantic, even nonsensical. We see buildings collapse and a woman senselessly fall into a harbour and drown (perhaps while not paying attention while being on her i-phone), and a cow fall out of the back of a truck. But we as viewers remain fascinated, despite the confusion, for the footage is also real (think The Truman Show which was one inspiration for the filmmaker). What we might reject as poor editing if the images were simply constructed somehow seems genuine here. Life is chaotic. Stuff happens, and truth is often stranger than fiction.
The film asks, given life's mystery, what in life really is real, and what is fake? As the movie states, "When you fake reality, reality is fake." How does outer appearance relate to inner reality? Both the film's formal characteristics and its storyline raise such questions. Our panel of judges was fascinated by this portrayal of spiritual longing in the midst of life's ongoing absurdity. Though the movie comes out of Communist China, the film ends in a monastery where it also began, with a character seeking to mine the depth of China's rich spiritual past, even while cognizant of the vagaries and secularity of present life, chief of which is death itself.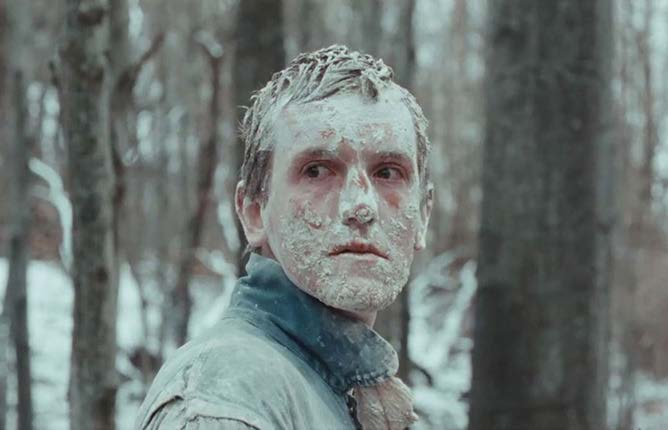 Focussing viewers' attention on mining
At the Festival there were randomly several movies that focused viewers' attention on mining and its consequences. Good Luck (d. Ben Russell, 2017, France/Germany) was a documentary in the competition about the lives of miners first in Slovenia and then in Surinam. Slow paced and largely without a narrative arc, the rhythm of the film nonetheless ushered viewers into the extremity of life for these workers.
Viewers also had the opportunity to watch Das Kongo Tribunal/The Congo Tribunal (d. Milo Rau, Switzerland/Germany 2017), a movie shown outside the main competition as one of seven documentaries selected by the Swiss Association of Film Journalists to help festival goers engage new perspectives that might provoke debate. Documenting a unique civil tribunal concerning the war in Congo that has claimed six million lives, the film gives us a tragic portrait of the bloodiest economic conflict in history, centring on the rich mining deposits being exploited at present in Congo.
But best, without question, was not a documentary but a drama – Vinterbrødre/WinterBrothers, (d. Hlynur Pálmason, Denmark/Iceland, 2017). Stunning visuals that showed only faint light from the miners' helmets amidst overwhelming darkness provided powerful "commentary" on the film's intended meaning, and a riveting sound design demanded the viewer's attention. The movie tells the story of two young brothers (Emil and Johan) who have no parents and who live and work at an almost animal level in one of Denmark's underground mines. Elliott Crosset Hove, who plays the younger brother Emil (still above), was awarded the festival's golden leopard for best male actor, an award richly deserved.
Emil and Johan seem reduced to life at its most primitive – work, food, drink, sex. A scene where they wrestle each other, animal-like in the nude, shows rather than tells all we need to know about their condition. Emil also is involved with making and selling moonshine to his fellow workers. Though some of the liquor is tainted causing another's death, he is unconcerned. The story's byline seems appropriate for much of the movie – "a lack of love story". But Emil unexpectedly finds a neighbour girl who loves him, even if Johan then has sex with her. Despite life's amorality and its overwhelming sense of enclosure, these young people, like the ninety-one year old Lucky, discover that "two is better than one".
The girl's love is life-giving to Emil, as is his for her. When Emil shows her his card tricks, a new spark of humanity is evident. And as Emil mixes two chemicals together, this time not to make liquor but to cause a delayed reaction for her to see, a reaction in which the liquid changes from clear to dark, viewers celebrate with this young couple their innocent joy. Though life might be vain, it is also precious; though too often inhuman, it is also wondrous. The person who is arguably the least likely in the mine to discover his true humanity, Emil, does so. The bleakness of the first ninety minutes becomes joyous. Life has real hope, however modest.
Additional movies to keep in mind
During our eleven days in Locarno, my wife, Catherine Barsotti, and I saw over thirty movies. These also included from the international competition: Wajib (d. Annemarie Jacir, Palestine/France/Germany/Columbia/Norway/Qatar/United Arab Emirates, 2017) was a Palestinian, father-son, road movie telling the story of a son who is living in Rome who returns home to Nazareth to join his divorced father in personally handing out invitations to his sister's wedding as is the local custom. This social custom brings the two estranged people together, as the conversation tests their fragile relationship.
As Boas Maneiras (Good Manners, d. Juliana and Marco Dutra, Brazil/France, 2017) was not only an excellently crafted Brazilian werewolf movie, but a story of the sacrificial love of a black nanny who comes to live with the wealthy Ana and her soon to be child and ultimately becomes a Madonna-like figure. The film was awarded the Special Jury Prize by the International Jury.
Goliath (d. Dominik Locher, Switzerland 2017) shows us a young man, David, small of frame, who chooses to take steroids in order to bulk up so he can protect his girlfriend from the bullies they encounter. In telling its story, the movie uses the biblical story of David and Goliath, only in this retelling David chooses not five small stones but attempts to become another Goliath with tragic results.
Las cinephilas (The Cinephiles, d. María Alvarez, Argentina, 2017) in the section "Semaine de a critique" is a documentary which interviews older women in Argentina and Uruguay who find their joy in life watching a movie at the cinema each day.
Finally Demain et tous les autres jours (Tomorrow and Thereafter, d. Noémi Lvovsky, France, 2017), the opening film on the Piazza Grande, tells a gentle, non-judgmental story of a single mother's mental illness and her young daughter's need to take on the role of the adult, helped through magical realism by the spiritual presence of a wise owl.
The Festival also showed in a retrospective a large number of films by the French director Jacques Torneur who made most of his movies in the USA. We saw his classic Cat People (USA, 1942) a superb, black and white film filled with suspense that uses suggestion and one's imagination (not high priced special effects) to create fear in the viewer.
The Golden Leopard
Perhaps the biggest enigma of the festival for me was the choice of its International Jury (president Olivier Assayas, France) of outstanding film. It went to the Chinese documentary Mrs. Fang (d. WANG Bing, France/China/Germany, 2017), which showed the last days of a dying woman with Alzheimer's disease. The men in the family go fishing most evenings and stay largely unconnected. The women stay in the room but talk about, not to, the dying woman. There is almost no interpretation of the event offered by the filmmaker other than the editing. Rather, viewers are asked to create their own narrative about its meaning.
If Dragonfly Eyes created the feeling of being a voyeur at times, Mrs. Fang does this throughout its screening. Are we as viewers intruding? Would Mrs. Fang have wanted her last moments to be made public in this way? Is it enough in a documentary to leave interpretation almost entirely in the minds of the viewer? Or is a dialogue between filmmaker and viewer a rightful expectation?
Questions, both ethical and formal, caused this movie to remain stillborn for me. But, of course, that is the promise and problematic of a movie's story. What is profound for one might do nothing for another. Perhaps. But a great film might be expected to capture more of our interest. I, together with my colleagues on the Ecumenical Jury, remained mystified.