18 Mar 2016

U.N. panel cites need for action against sexism in media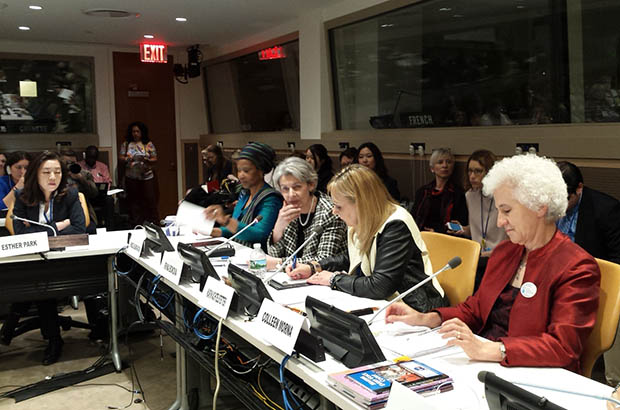 UNCSW panel, from left, Korean Broadcasting System Correspondent Esther Park, U.N. Women Executive Director Phumzile Mlambo-Ngcuka, UNESCO Director-General Irina Bokova, WACC Secretary-General the Rev. Dr. Karin Achtelstetter, and GAMAG Chair Colleen Lowe Morna. Photo: Solange De Santis
---
Decisive, coordinated action is need to combat persistent sexism in the media — in the portrayal of women in news and popular culture, among the ranks of journalists and in the executive suites of media companies, according to a panel of experts at the U.N. Commission on the Status of Women meeting in New York.
Organized by UNESCO and its Global Alliance on Media and Gender (GAMAG) and moderated by WACC General Secretary, the Rev. Dr Karin Achtelstetter, the panel discussion addressed the topic "Breaking persistent challenges for gender equality in media." It was one of the side events at the UNCSW's 60th meeting, held March 14-24.
The panelists were UNESCO Director-General Irina Bokova, U.N. Women Executive Director Phumzile Mlambo-Ngcuka, Daejeon Munhwa Broadcasting Co. President and CEO Jinsook Lee, Korean Broadcasting System Correspondent Esther Park and GAMAG Chair Colleen Lowe Morna.
Speaking to an audience of about 100, Achtelstetter noted that the 2015 edition of WACC's Global Media Monitoring Project (GMMP), which is supported by U.N. Women, UNESCO and other partners, discovered persistent sexism in media. For instance, the representation of women in the news media worldwide is at 24%, and this percentage "has moved only seven points in 20 years," she said.
In the same year, she pointed out, the U.N.'s Sustainable Development Goals were announced, one of which is ending all forms of discrimination against women and girls. Since the GMMP has identified the major goal of ending media sexism by 2020, "how do we move beyond awareness into real, sustainable and significant change," Achtelstetter asked the panelists.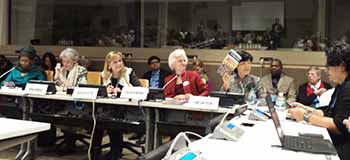 Bokova noted that the issue of gender equality in media is in the Beijing Platform of Action, a 1995 U.N. agenda aimed at the empowerment of women. Agreeing that the data on media sexism and pace of change are "quite disturbing," she said that partnerships "are the most effective way to move forward."
The photo above left shows (left to right) U.N. Women Executive Director Phumzile Mlambo-Ngcuka, UNESCO Director-General Irina Bokova, WACC Secretary-General the Rev. Dr. Karin Achtelstetter, GAMAG Chair Colleen Lowe Morna, and Daejeon Munhwa Broadcasting Co. President and CEO Jinsook Lee holding up a business magazine with a cover story about executives – all male.
Launching GAMAG was one example of how to move forward, with 16 U.N. organizations now part of this global alliance examining media and gender issues. She also mentioned UNESCO's annual Women Make the News initiative in early March, aimed at fixing attention on an issue relating to gender equality in and through the media.
Last December, UNESCO launched the first International University Network on Media and Gender, supporting research into media and gender issues, Bokova noted. In addition, UNESCO is highly concerned about the safety of women journalists. "We are seeing harrassment, killings and aggression increase, and not just in conflict areas," she said.
Governments should be held accountable, Mlambo-Ngcuka said. "If national broadcasters – paid by taxpayers – adapt these [gender equality] goals, what inroads we would make," she said.
U.N. Women also did a study with the Geena Davis Institute on Gender and Media on the portrayal of women in popular culture. "We need media to deal with the issue of stereotyping. It is the biggest elephant in the room and it brings everybody down," she said.
Korean society and media have come a long way concerning sexist barriers, but "changing the law is easier than changing attitudes" and all too often "there is an invisible hand at work" against the advancement of women, said Lee, the sole female CEO among 18 broadcast network affiliates.
Turning to positive action, "media industries can take transformative action" through the power of storytelling, said Lee. "What we have to do is to raise the next generation of women leaders," she said, citing the example of Malala Yousafzai, the young Pakistani activist for female education. "We need to show more of these kinds of success stories," she said
Lee is a role model for female Korean broadcasters, said Park, recalling that early in her career, she asked why she was not given assignments outside of Seoul. "My manager said, 'To protect you. Going on a business trip is too tough for a woman,'" she recalled. In the 70-year history of her media company, she is the first female correspondent assigned to the U.S., she noted.
GAMAG pushed hard for gender and media issues to be visible in the SDGs, but "it is not there," said Morna. Data on gender equality "is incredibly valuable," she said. "Anecdotally, we are seeing a change, working with media houses. They are doing it [paying attention to gender equality] because it is good for business. It's enlightened self-interest," she said. In additional, "it is good journalism – fairness, making every voice count," she noted.
UNCSW is the principal global intergovernmental body exclusively dedicated to the promotion of gender equality and the empowerment of women.