01 Apr 2017

U.S. religion communicators address violence and Islamophobia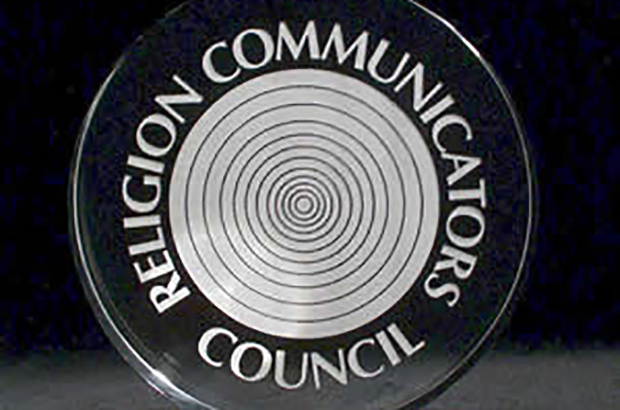 Faith communicators discussed their role in tackling social violence during a three-day gathering held in Chicago, USA, March 30 to April 1.
This year's theme of the convention of the Religion Communicators Council (RCC 2017) was "Virtually Here, There and Everywhere: Faith Communications and Presence".
RCC 2017 began with a pre-conference screening of "Violence in Chicago: Responding with faith", a documentary by the Chicago Sunday Evening Club about efforts to act meaningfully towards young people and communities in the city.
Leading the full programme was "Newtown", produced by Odyssey Network. It tells the story of the aftermath of the mass shooting of schoolchildren at Sandy Hook Elementary School. "Newtown" documents the trauma facing a community fractured by grief and slowly rediscovering a sense of purpose: how to survive and rebuild.
One plenary session at RCC 2017 explored "Guns into plowshares, presence into hope: On violence and faith" – how faith communities can help advocate renewal in areas of Chicago disproportionately affected by violence.
Other plenary themes included "Covering Christianity: The great temptations", and "Covering religion in an age of corporatized media and self-made bibles".
Workshops were dedicated to media literacy, podcasts, blogs, media relations, materials for children, crisis communications, and religious literacy.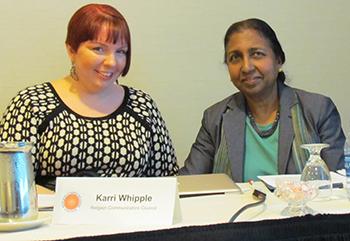 WACC North America was represented by Dr Glory Dharmaraj (photo right) and Karri Whipple (photo left), who presented a workshop titled "Re-writing the script: Analyzing gender and religion in the media".
Based on the findings of WACC's Global Media Monitoring Project, the workshop focused on gender bias in media coverage in North America. The presenters put forward an action plan to advance gender parity: (un)learning biases; think visually; embrace the process; move from equality to equity; and build coalitions.
Two keynote speeches gave participants pause for thought. Journalist, writer, lawyer, and award-winning playwright Wajahat Ali was responsible for the "Generation Change" leadership program to empower young social entrepreneurs.
In "How I Stopped Worrying and Learned to be a Moderate Muslim", Ali traced a history of Islamophobia in the USA using topical humour and wit to make serious points. 
Rabbi David Saperstein, former US Ambassador-at-Large for International Religious Freedom in the Obama administration, spoke of "The Fierce Urgency of Now: Advancing Justice, Peace, and Cooperation".
Saperstein called on religious communicators to build coalitions to speak out against gun violence, Islamophobia, and moral corruption in high places. Urging participants to act, Saperstein quoted Martin Luther King's "Beyond Vietnam" speech of 4 April 1967: "Tomorrow is today. We are confronted with the fierce urgency of now… Over the bleached bones and jumbled residues of numerous civilizations are written the pathetic words, 'Too late'."
RCC 2017 presented its annual DeRose-Hinkhouse Memorial Awards for high standards in the coverage of religion as well as the Wilbur Awards for promoting and encouraging excellence in the communication of religious faith and positive values in secular media.
Among them were a Wilbur for National Geographic's television and cable series The Story of God with Morgan Freeman.
The Religion Communicators Council has approved a new mission statement and is currently implementing a new strategic plan, outlining major steps it hopes to achieve by 2020.
There are five core objectives: offering professional development resources for religious communicators; recognizing and cultivating excellence in religious communication; advancing religious literacy; addressing religious discrimination and conflict; and acting as a public resource on communication about religion and faith values.
The next RCC convention will take place in Atlanta, Georgia, April 5-7, 2018.