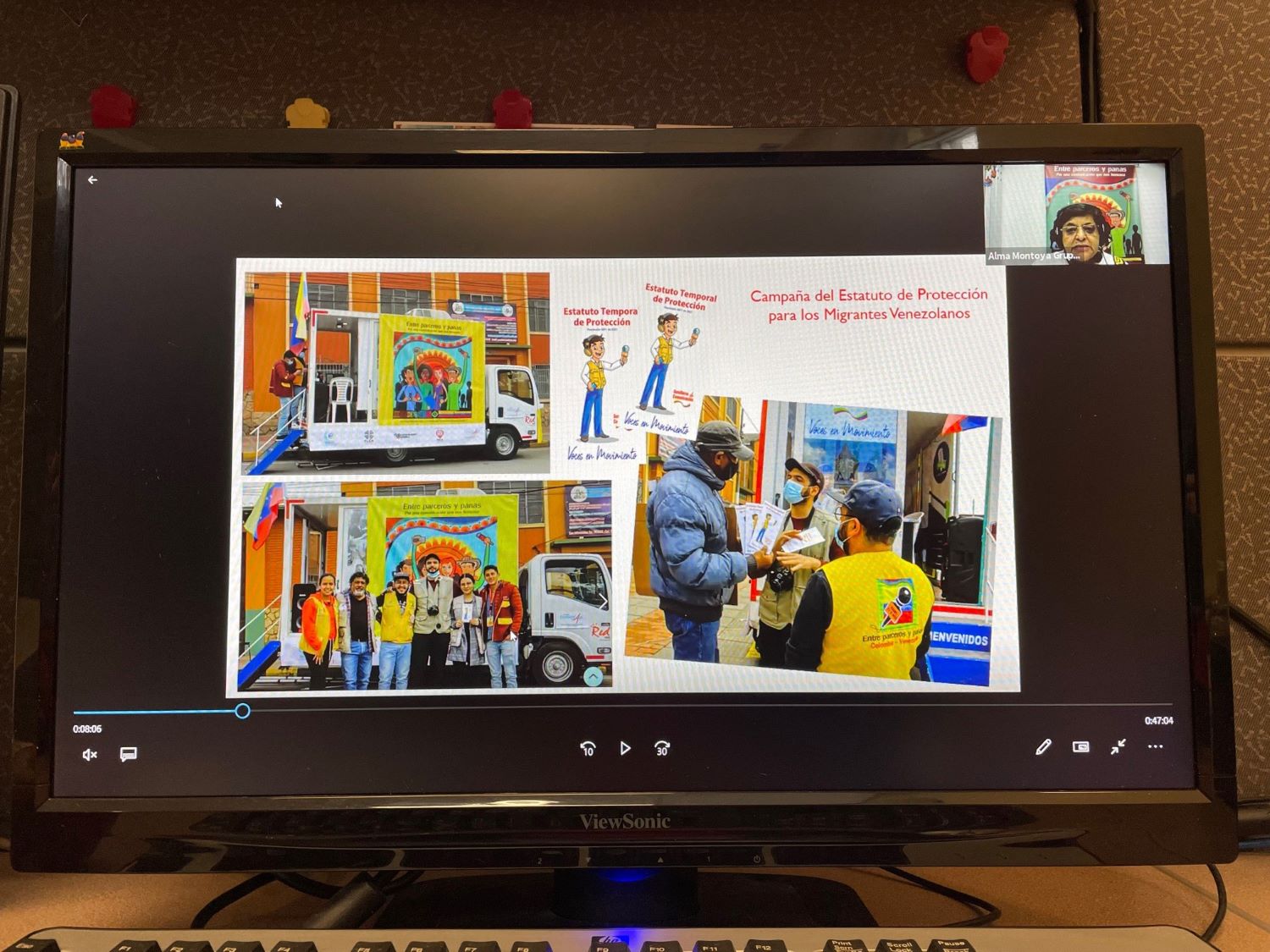 03 Nov 2021

Project makes a difference in Venezuelan migrants' lives

Venezuelan migrants, who already face economic difficulties resulting from their migration to neighbouring countries like Colombia, are also experiencing a host of health issues, according to a study conducted by WACC partners Grupo Comunicarte, Fundacion Comunicacion Positiva and Fe Y Alegreria Venezuela Radio Institute.  

Migrants who often suffer from food insecurity and try to "build a new life without economic means," suffer diseases such as diabetes, hypertension, and chronic obstructive pulmonary disorder, or have had to suspend treatments for illnesses such as cancer and HIV, David Morales Alba of Comunicación Positiva told attendees at a webinar hosted November 3 by WACC and the Evangelical Lutheran Church in America (ELCA).

Data for the study was drawn from 500 consultations conducted as part of Entre Parceros y Panas,  (Among Neighbours: Network of Colombian and Venezuelan Citizen Journalists) a project supported by WACC and ELCA aimed at addressing the communication and information needs of Venezuelan migrants and establishing new narratives on migration based on human rights and inclusion.

The consultations, which were conducted across five regions, sought to determine the barriers faced by migrants when trying to access health services in the country, said Alba. "They have limited access to services because of their irregular status, and so they have high levels of health-related vulnerabilities," he said.

Results of the study will be shared with local health authorities, said Morales Alba, noting that health practitioners often lack training on how to serve and aid migrants. Despite their irregular status, migrants "have a right to life and health," he stressed.

Alma Montoya, executive director of Grupo Comunicarte, expressed hope that the three-year project, which ends in December, can continue. The project has not only generated attention and goodwill but has become a "very good reference" for radio stations, which often replay the broadcasts because of their relevance.

The project, which established a network of 22 citizen reporters from 22 radio stations on both sides of the border between Colombia and Venezuela, as well as the capital Bogota, "has been a real network," said Montoya.

Since 2019, the network has collectively produced hundreds of audio and visual content focused on the needs of migrants and host communities, with an estimated geographic reach of nine to 10 million people. Radio productions are also available for non-member radio stations to download and use.

The network also played a crucial role of providing information at the height of the Covid-19 pandemic, said Montoya, noting how it was able to work around lockdown restrictions imposed to contain the spread of the coronavirus via online and mobile radio stations. It also launched other initiatives, such as online audio forums in communities, which gave people an opportunity to have cultural activities and exchange of stories.

"We have done a lot, despite the pandemic." she said, adding that in the midst of death and "collective depression" brought about by Covid-19 the network "needed to be the voice of hope."

The 1.7 million Venezuelan migrants now residing in Colombia and countless others in transit have come to view network-affiliated radio programs as a source of information and a lifeline, said Morales Alba, noting how the project's social media platforms receive numerous queries on matters such as how to access education service and legalization processes. "We bear a huge responsibility for those who access our information," which they often use to make decisions, he said, adding that the network always helps them find an answer or refer them to humanitarian groups who can assist them.

Venezuelan migration represents the biggest humanitarian crisis in the Western Hemisphere with an estimated 5.4 million people having been forced to leave their country since 2015.

With the Colombian government's recent decision to provide residence permits to Venezuelan migrants, Montoya said the focus of the network's content has been around providing information about how they can apply for the permit and how to access basic services. Stories have also focused on the Covid-19 vaccination campaign, and the issue of human trafficking.

The project has also increased the network's collaboration among local civil society groups, said Lorenzo Vargas, WACC program manager for Communication for Social Change.

Marie Anne Sliwinski, program director for ELCA's Lutheran Disaster Response-International, thanked Grup Comunicarte for the "amazing work" it has done.

Above: Alma Montoya, executive director of Grupo Comunicarte, discusses the  Entre Parceros y Panas project during the webinar.