02 Apr 2015

WACC and AMARC sign memorandum of understanding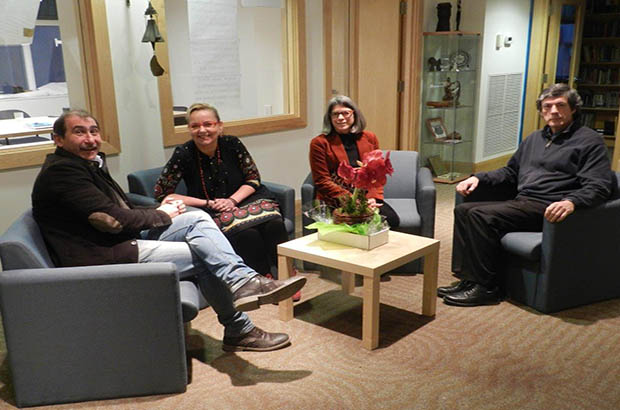 Francesco Diasio (left), AMARC Secretary-General, with Karin Achtelstetter (second left), WACC General Secretary,
Lavinia Mohr (centre), Director of Programs, and Philip Lee (right) during a visit to the global office. Photo: Edgar Bernal-Martinez.
---
WACC and AMARC – the World Association of Community Radio Broadcasters – have signed a memorandum affirming their shared understanding of communication that challenges injustice.
Through their worldwide networks jointly numbering some 6,000 members in over 130 countries, both organizations seek to empower people to voice their concerns in situations where political, social and cultural constructs lead to oppression or invisibilization.
The intention of both organizations is to pursue a communication strategy that challenges unjust communication and media structures and systems and that works for greater justice.
WACC and AMARC will focus on strengthening community radio (broadcast or Internet) associations and/or networks in areas where community radio is new or in danger and where community radios are advancing communication rights.
The long-term participation of women in all aspects of community radio work, encouraging better knowledge and information sharing, and bringing about regulatory environments that support community media.
"AMARC is a long-standing and valued partner in the development of community media. I am delighted that we have been able to agree on future cooperation and I look forward to the next round of discussions," said WACC General-Secretary Rev. Dr. Karin Achtelstetter.
AMARC and WACC are currently working on a joint project called "Fostering communication rights for participative democracy" and exploring the possibility of organizing a seminar or workshop in Canada where both organizations currently have their global offices.
WACC will also take part in AMARC's General Assembly in Accra, Ghana, 10-14 August 2015.
Commenting on the memorandum, AMARC's Secretary-General, Francesco Diasio said, "It represents an important milestone. On the one hand it acknowledges the common work of our organizations for many years in the struggle for the empowerment of communities through media. On the other hand, it underlines the impulse for a stronger engagement and commitment of both AMARC and WACC towards the promotion of communication rights. I am very pleased and enthusiastic."