25 Jan 2015

WACC-Asia condemns killing and calls for Goto's release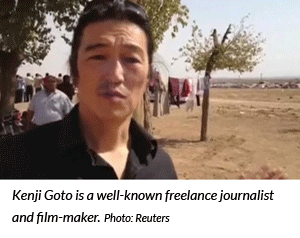 26 January 2015—The World Association for Christian Communication – Asia Region (WACC-AR) condemns outright the alleged brutal murder of Haruna Yakawa, a Japanese citizen held hostage by the Islamic State of Iraq and Syria (ISIS). They are still holding Kenji Goto Jogo, a Japanese freelance journalist and member of the United Church of Christ in Japan.
In a video released last Friday, January 23, ISIS said it would only release both Japanese nationals if the government of Japan paid a ransom of US$200 million. The demand was not met, which later reportedly led to the murder of Yakawa.
The abduction and killing is definitely an affront to and a violation of human rights. It is morally indefensible to use innocent citizens as bargaining chips to demand a ransom or, as happened late, to facilitate an exchange with a captive suicide bomber convicted in Jordan in 2005.
While the Japanese government may not be directly involved in the Syrian crisis, it is known to be a strong ally of the US government who is spearheading the military campaign against the IS.
Goto is a devout member of the United Church of Christ in Japan, one of the biggest religious denominations in the country. He practices his faith through news reports and articles focusing on the plight of people on the ground. For Syria, he wished to show how the war especially affects children.
Both his human rights and his right to freedom of expression are infringed when he himself is a victim of war, held hostage and being threatened with death. As a professional journalist, he was simply trying to bring to the attention of the Japanese people and the world the dire situation facing people caught up in the conflict.
WACC-Asia calls for the immediate and safe release of Kenji Goto so that he can soon be reunited with his family and loved ones. Its members and partners also pray for a lasting resolution to the Middle East conflict.