12 Feb 2016

WACC celebrates World Radio Day 2016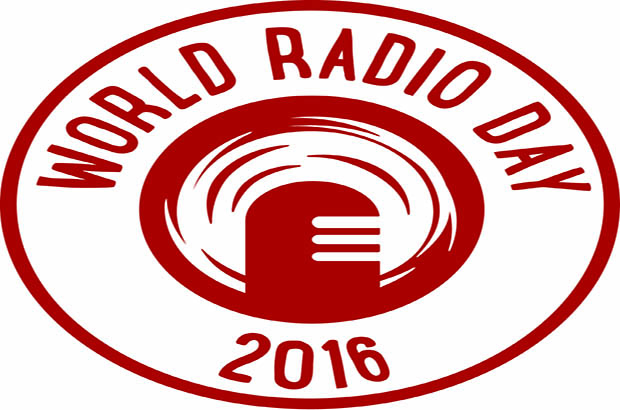 WRD 2016: Radio in Times of Emergency and Disaster.
---
February 13 marks World Radio Day, a global celebration of the contribution that radio and radio broadcasters make to people and societies everywhere.
World Radio Day was first proposed by the Spanish Radio Academy in 2010, and has been endorsed and promoted by UNESCO since 2011.
Radio remains the world's most accessible medium. This is because radio content can reach large numbers of people – even those who are illiterate – and because producing radio content is relatively affordable.
In addition, the internet is creating new opportunities for more people to become radio broadcasters and for their products to reach larger audiences.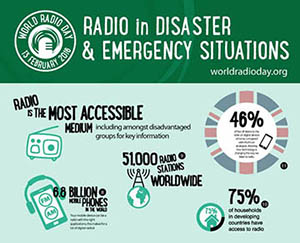 The theme for World Radio Day 2016 is "Radio in Times of Emergency and Disaster", and events around the world will highlight the following sub-themes:
Freedom of expression and journalists' safety should be disaster-proof;

Radio empowers survivors and vulnerable people, whose right to privacy is to be respected;

Radio has social impact and provides access to information. People's right to information should be protected even in times of emergency and disaster;

Radio saves lives; and

The immediate accessibility of radio frequencies is essential to saving lives. These frequencies should be protected so they are available in times of emergency.
WACC sees the contributions of radio broadcasters as vital to harnessing the power of media and communication for social justice. Community radio in particular plays a major role in enabling people to exercise their communication rights by promoting democratic participation and active citizenship.
Community radio stations also contribute to sustainable development because they help create local dialogue platforms around topics such as health, education, the environment, or conflict resolution that often lead to concrete action.
Through its Strengthening Community Radio Programme, WACC builds the capacity of dozens of stations (online and broadcast) each year to contribute to local development, as well as to advocate for their communities' communication rights. The program provides access to funding, knowledge exchange, and training.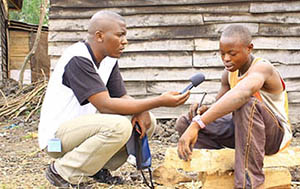 In the Democratic Republic of Congo (DRC), the area of North Kivu has experienced immense violence and armed conflict in recent years. Many people have died and others left wounded and traumatized. Entire communities have been displaced and ended up in temporary settlements.
Deep hatred lingers between some identity-based groups, or even between members of the same communities, for their actions during the conflict. Poverty also plays a role in this complex scenario.
In 2015, WACC partner Collectif des Radios et Televisions Communautaires du Nord Kivu (CORACON) implemented a project titled Ondes, paix, et pain that sought to contribute to peace-building through media and communication. (Photo left courtesy of CORACON).
The project strengthened the capacity of 23 local journalists to engage in peace journalism. It supported them as they produced peace-focused programs later broadcast by 23 community radio stations.
Each radio station also established community-based "listening clubs" that served as spaces to discuss radio programs and to extend the impact of the project as a whole.
One local participant described these radio clubs as places where "Tongues were untangled and people were able to talk openly about peace."
At the community level, the project enabled people who had been silenced to express themselves and their opinions – first steps towards creating a culture of peace and dialogue in North Kivu.
On February 13, WACC is celebrating the role of radio in fostering social change around the world.
To learn about World Radio events happening in your country, please click here. And to support WACC's work in the area of community radio, please click here.