30 Jan 2017

WACC gender and media consultation complements CSW2017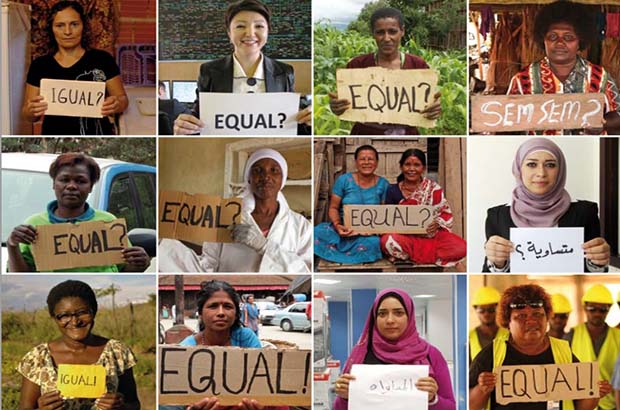 ---
WACC brings 19 project partners from 17 countries to participate in a consultation on "Gender and Media: Challenges and Opportunities in the Post 2015 Era".
The consultation will take place 9-11 March 2017 in New York immediately before the 61st session of the annual Commission on the Status of Women (CSW) also in New York, 13-14 March.
The CSW is the principal global intergovernmental body exclusively dedicated to the promotion of gender equality and the empowerment of women.
In 2016, UN Women launched the Step It Up for Gender Equality Media Compact to urge media organisations to play their part in advancing gender equality and women's rights within the framework of the Post 2015 Development Framework (Agenda 2010).
Adopted in September 2015 by the UN General Assembly, Agenda 2030 is a plan of action for "people, planet and prosperity". It provides a blueprint to eradicate extreme poverty through 17 sustainable development goals and 169 targets, including the goal to "achieve gender equality and empower all women and girls".
WACC's consultation on "Gender and Media: Challenges and Opportunities in the Post 2015 Era" aims:
To brainstorm on opportunities to advance women's communication rights and gender justice in and through media, in the context of the implementation of the Post 2015 Agenda;

To consolidate the

End News Media Sexism

by 2020 campaign strategy;

To make new connections and strengthen existing ones between individuals and organisations engaged in the thematic area.
WACC partners will also take part in a number of parallel events, with which WACC is actively involved. These include "Rewriting the Script: The Role of Faith and Media in Promoting Women's Economic Justice" organized by WACC North America, a joint UN Women/Global Alliance on Media and Gender (GAMAG) session on gender standards for media, and "Leaving No-one behind: Women's economic empowerment, sexual and gender-based violence and faith" organized by Side by Side and We Will Speak Out.
Since 1996, the CSW has led the monitoring of progress in the implementation of the Beijing Declaration and Platform for Action. The CSW also contributes to the follow-up to the implementation of Agenda 2030 to accelerate the realization of gender equality and the empowerment of women.
CSW 2017 will offer a wide-ranging programme of plenaries and side-events hosted by various UN agencies. The CSW NGO Forum offers parallel sessions by civil society organisations (CSO) taking place in the Church Center and other venues in Manhattan.
WACC's engagement with gender, media and communication began in 1987 with a series of regional consultations on "women and media" and took place at a time when the role of women in development was slowly being recognized.
In December 2016 WACC and its partners launched a campaign to End News Media Sexism by 2020. The campaign start date coincided with Human Rights Day to underline gender equality in the media as a human rights issue.
The campaign aims to support and highlight intensive efforts in several countries with the hope that new evidence will emerge on strategies that work to bring about fair and equal representation of women and men in the news media.
Gender and media remains a priority action area in WACC's new Strategic Plan 2017-2021.