29 Sep 2014

WACC Middle-East region supports mass movements

WACC Middle East Regional Executive Committee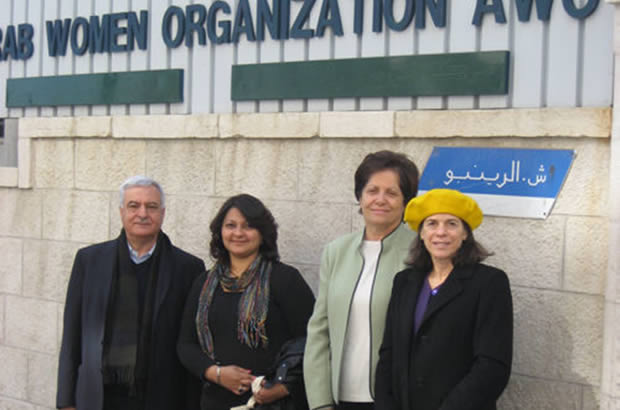 The Executive Committee members visited Arab Women Organization (AWO) in Jordan
(L-R: Dr Riad Jarjour – Regional Chair, Amany Latif – Secretary, Leila Hamarneh – Director of Projects, AWO
and Lavinia Mohr – Staff Liaison who is also the Deputy General Secretary and Director of Programmes, WACC)
The World Association for Christian Communication (WACC) Middle East Executive Committee, who met in March 13-14, 2011 in Amman, Jordan, releases the following communiqué concerning recent developments in the Middle East region.
WACC Middle East Executive Committee has been following the recent developments in some countries of the Middle East and especially the popular movements to enable change and transformation in the prevailing socio-political situation in these countries.
The committee expresses its support for these mass movements which seek to strengthen democracy and freedom of expression and put an end to corruption.
WACC's principles are social justice and freedom, thus the Middle East executive committee declares its support for democracy and the right to communicate. The committee hails the courage of the youth and its vital role and sacrifices that led to the uprising for democracy in their countries. The youth demands for reform and social change are highly respected and supported by the region.
The committee looks forward to peace in the region as we believe in the right of people to express their demands through peaceful marches and demonstrations.
Finally the committee hopes that peace and justice will prevail in the Middle East Region.