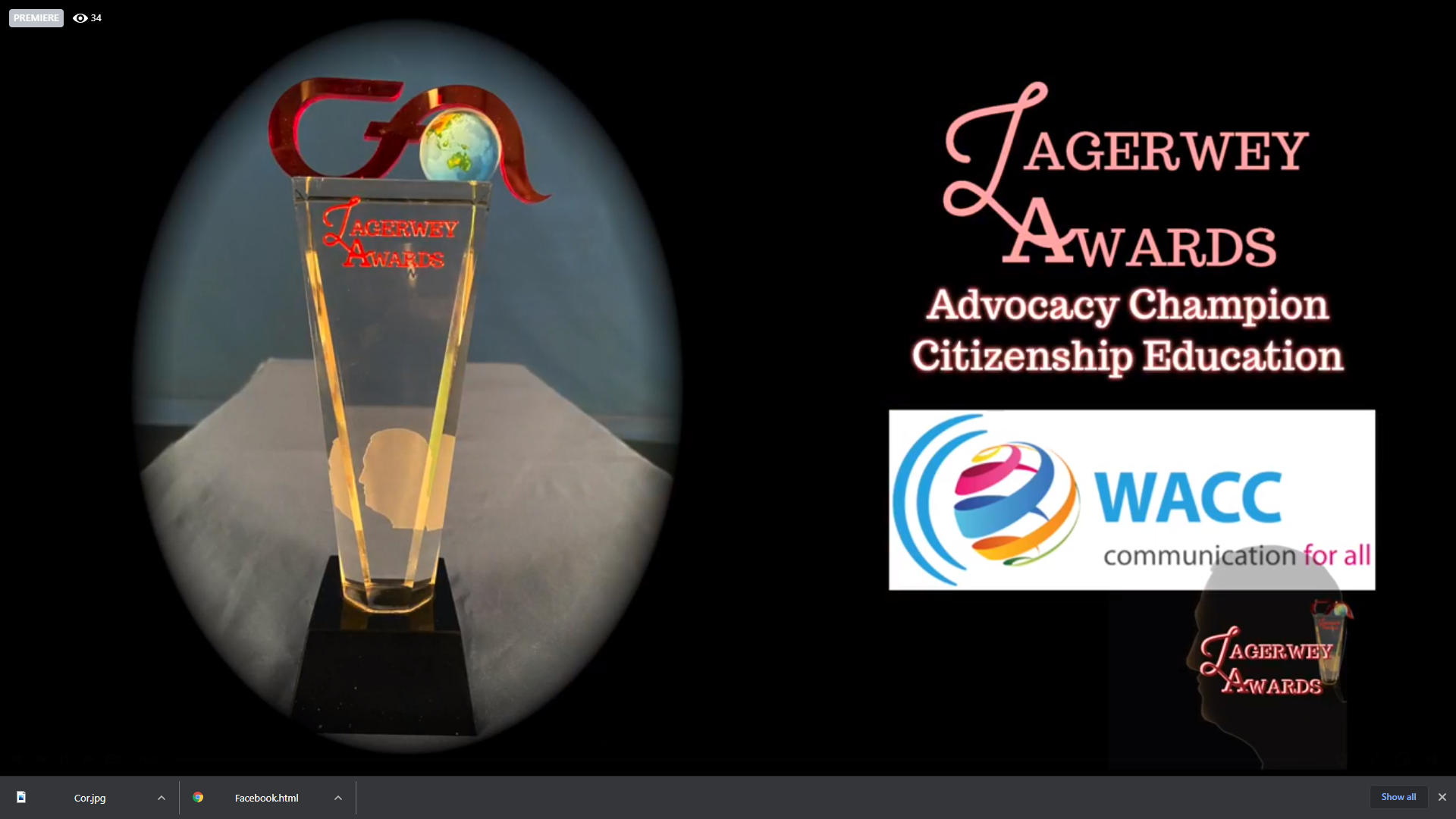 11 May 2021

WACC receives award for development communication work

The World Association for Christian Communication (WACC)  was among the recipients of the 1st Lagerway Awards given by the Manila-based Communication Foundation for Asia (CFA) during its 53rd Foundation Day held online May 6.

WACC was recognized for its commitment to "making a difference in the lives of people" in the field of development communication, according to CFA Communication and External Affairs' Mary Ann Crisostomo.

"We are very honoured to receive this recognition," said Philip Lee, WACC General Secretary, in a pre-recorded message played during the celebration. " WACC is very proud of its ongoing partnership with CFA, a pioneering organization in the communication rights movement in Asia, as well as an excellent example of the way faith-based organizations can make a meaningful difference to the lives and livelihoods of some of the most vulnerable people in society."

WACC and CFA "are not only strategic partners, but also allies linked by similar deep concerns for social justice and committed to advancing communication rights for all, particularly those excluded by media and digital structures that continue to prioritize profit over people," said Lee.

Established in 1968 as a non-profit organization, CFA is a pioneer in development communication and traces its origins to 1960, when the Social Communications Center was born with the publication of the Philippine Catholic digest. Both organizations were founded by Fr. Cornelio Lagerway, MSC, a Dutch missionary, in collaboration with his mission partner Genaro V. Ong and other lay Filipino communicators. CFA's mission, according to its website, is  "To harness the power of communication in order to promote Christian values and empower people in need towards social transformation." Both CFA and WACC celebrated their 50th anniversary in 2018.

Lee noted that WACC's partnership with CFA span several decades. WACC worked with CFA in promoting "People Power" in the Philippines in 1986, and have partnered on several initiatives, the latest of which was a project to build awareness about "fake news," and other issues affecting social media, he said.
Crisostomo said the latest initiative  helped young Filipinos "become responsible and empowered digital citizenry for social change," and  was "one of many [projects]  supported by WACC."

The connections between WACC and CFA also extended to staff, said Lee, citing Terry Hermano, who worked for WACC on fundraising and later led WACC's women's desk before moving to CFA.

"Hermano was responsible for initiating the Global Media Monitoring Project (GMMP). It was under Terry's leadership that the Asian Network of Women in Communication (ANWIC) was established based in part on the GMMP rationale," said Lee.

Fr. Fil Pelingon, CFA President, said the awards were being given to organizations who have done "God's work through the media," and was also meant to recognize the work and sacrifices made by Lagerway. Other recipients included the Konrad Adenauer Foundation,  and CFA community partners including Green Education Philippines, Seed4Com, Mindanao Tripartie Youth Core, Diocese of Malaybalay.