09 Feb 2017

WACC renews Indigenous voices in Nepal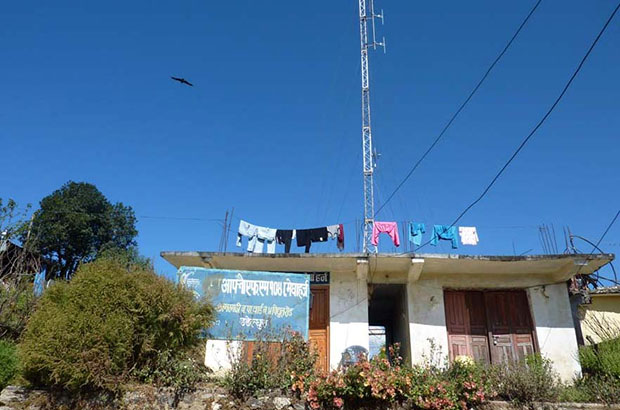 Today, there are approximately 300 community radios in operation in Nepal.
---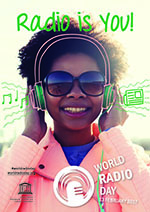 World Radio Day, 13 February 2017, recognises that, "Radio is still the most dynamic, reactive and engaging medium there is, adapting to 21st century changes and offering new ways to interact and participate."
These are the words of UNESCO, underlining the ongoing significance of radio in a digital age.
"Where social media and audience fragmentation can put us in media bubbles of like-minded people, radio is uniquely positioned to bring communities together and foster positive dialogue for change," says UNESCO.
WACC also believes that community media platforms can help advance communication rights in practice and contribute to broader social change.
In partnership with Cultural Survival, WACC is currently helping to build the capacity of four radio stations owned by indigenous communities and located in remote parts of Nepal.
WACC is promoting these communities' communication rights under its Communication for Social Change programme, which supports community and citizens' media projects working for sustainable development.
"Community radios were among the top priorities for rebuilding in the aftermath of the April 2015 earthquake in Nepal. They needed to be back on air if the rescue and relief efforts were to become effective. Local people protested vehemently even the slightest delay on resuming broadcasting. The shutting down of local radios had resulted in widespread communication blackout," notes Suman Basnet, Regional Coordinator of AMARC Asia Pacific.
He added, "Twenty-one months later, community radios continue to assist the survivors by demanding higher levels of accountability from the government agencies on people's behalf and by helping communities find answers to questions related to entitlements, rebuilding, and rehabilitation. For the survivors who continue to struggle to get on with their lives, community radios are the only allies they have that they can count on."
Today, there are approximately 300 community radios in operation in Nepal. Twenty-one have been brought together under the umbrella of the Indigenous Community Radio Network (ICRN).
In Nepal, women from Indigenous communities have much lower literacy and education levels compared to those of men and to the national average. So they face enormous challenges in accessing information and participating in discussions.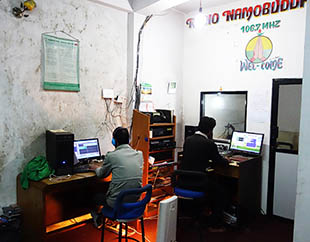 ICRN, with the support of WACC and Cultural Survival, is helping to tackle this problem by carrying out intensive training of women staff from 21 community radios in radio journalism, programme production, and the management of community media.
Another project, Radio Namobuddha (photo right) in operation since 2007 in over 12 districts including some parts of Kathmandu valley, was the first indigenous community radio station in Nepal. Destroyed and rebuilt following the 2015 earthquake, the station used to run for 18-hours a day and reach over a million people.
Now, the radio is in need of new equipment to resume full broadcasting in order to better serve its listeners. In addition to technical needs, Radio Namobuddha lacks trained women and seeks to improve their participation in all aspects of its work.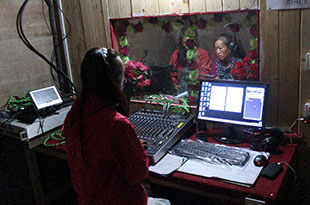 Finally, Radio Kairan (photo left) is an Indigenous community station that has been serving 36 remote villages since 2013. It is located in the skirts of the Himalayas, far from the capital city Kathmandu, where communities have no access to telephone, internet or any other means of communication.
Radio Kairan is the only source of news, information, and entertainment for communities deprived of access to regular government services, quality education, and healthcare.
WACC and Cultural Survival are responding to Radio Kairan's need for new equipment, following damage during the 2015 earthquake, as well as the station's lack of trained women on the production team.
WACC will be supporting similar efforts in partnership with Radio Sumhatlung and Radio Likhu.
To learn about World Radio events happening near you, click here. To support WACC's work in the area of community radio, click here.