11 May 2016

WACC signs memorandum of understanding with Cultural Survival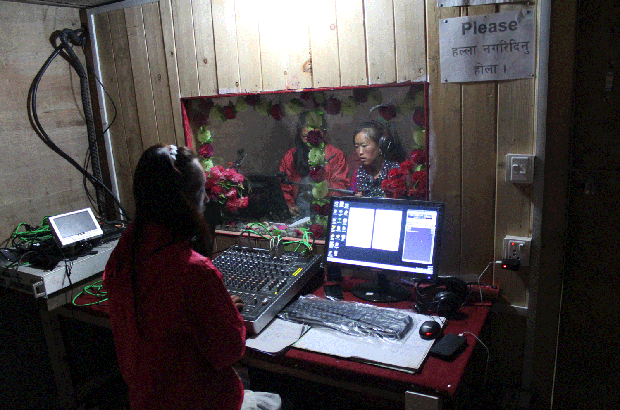 On air at Radio Kairan in Bamti-Bhandar-4, Ramechhap, Nepal, one of the stations Cultural Survival helped rebuild after the devastating earthquakes of 2015. Photo: Dev Kumar.
---
WACC and the nonprofit Cultural Survival have signed a memorandum affirming their shared understanding of communication that challenges injustice.
The focus will be on empowering people to voice their concerns in situations where political, social and cultural constructs lead to oppression or invisibilization.
The intention of both organizations is to collaborate on community media that challenges unjust communication and media structures and systems and works for greater justice.
Founded in 1972, Cultural Survival is dedicated to defending the human rights of Indigenous Peoples.
Cultural Survival and WACC will seek ways to support the community radio work of local partners, especially in accessing broadcasting licenses and/or advocating for legislative change to create a more enabling environment. They will also seek to promote the equal participation of Indigenous women in community media
With its vision of communication rights for all, WACC's goal is to improve access to public communication and relevant information for poor, marginalized, excluded and dispossessed people in order to enhance their participation in shaping local and national priorities and actions.
Cultural Survival's goal is to achieve a future that respects and honours Indigenous Peoples' inherent rights and dynamic cultures, deeply and richly interwoven in lands, languages, spiritual traditions, and artistic expression, rooted in self-determination and self-governance.
Both organizations advocate for Indigenous Peoples' rights and support Indigenous communities' self-determination, cultures, and political resilience.
In response to the agreement, WACC General Secretary, Rev. Dr. Karin Achtelstetter, said: "WACC is delighted to partner with Cultural Survival to advance communication rights in keeping with the UN Declaration on the Rights of Indigenous Peoples. We look forward to working together."
Cultural Survival recently wrote an article about their work which was published in WACC's international journal Media Development.