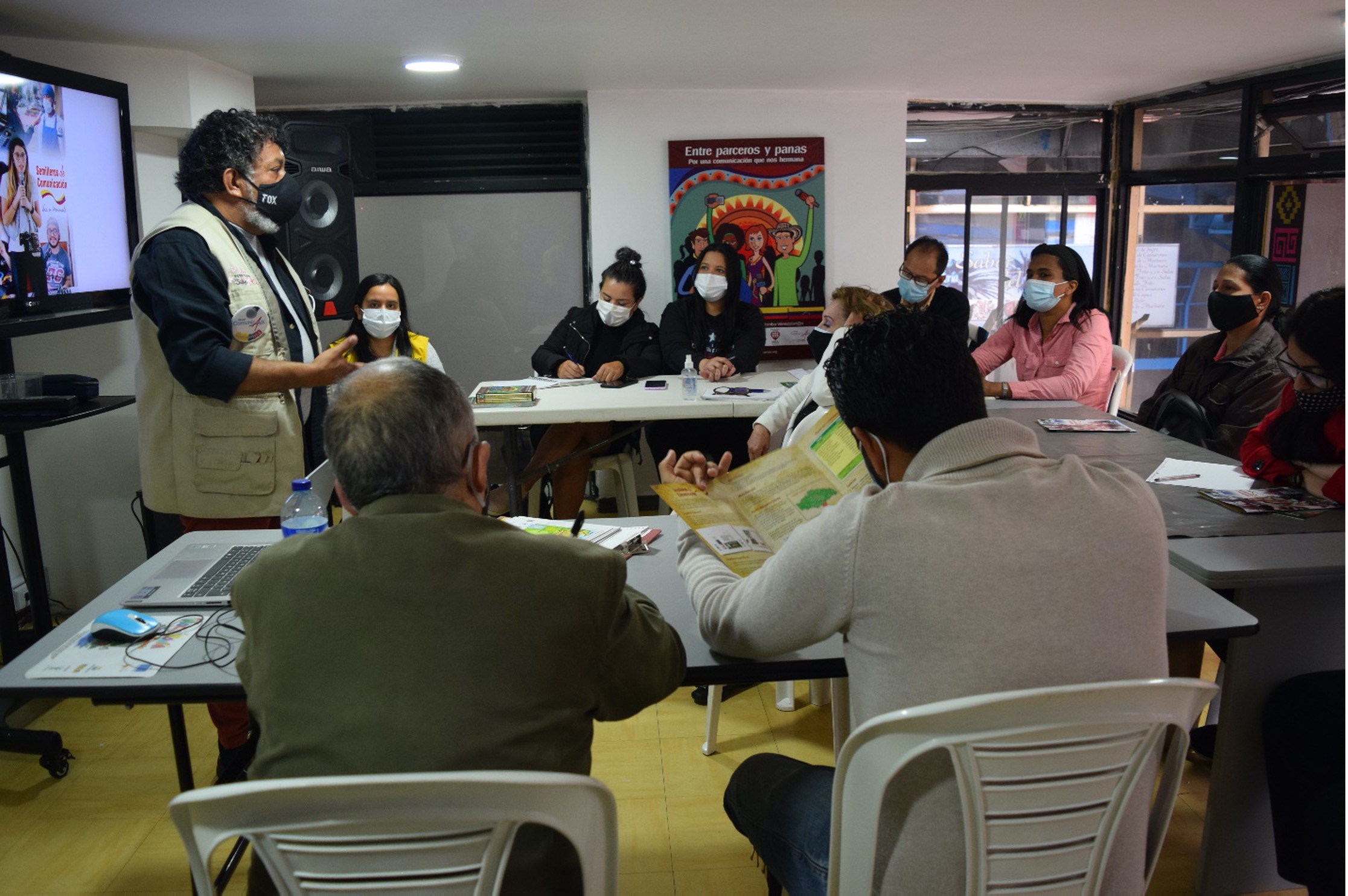 23 Apr 2021

WACC strengthens migrants' community radio network in Colombia

In light of the many health and economic challenges affecting migrants everywhere, WACC is proud to announce its continued support for a network of community radio stations working to meet the information and communication needs of Venezuelan migrants in Colombia. Venezuelan migration represents the biggest humanitarian crisis in the Western Hemisphere with an estimated 5.4 million people having been forced to leave their country since 2015.

The network, composed of 25 citizen reporters linked to community radio stations from both sides of the Colombia-Venezuela border, has an estimated reach of five million people in both countries. Since 2019 the network has collectively produced hundreds of media products focused on the needs of both migrants and host communities. It  has become a key source of information for the 1.7 million Venezuelan migrants now residing in Colombia, particularly among those with limited access to digital platforms. The network has also entered into several partnerships with UNHCR, GIZ, local civil society, and academia that are enhancing its reach.

The efforts of the network to create a rights-based and people-centred narrative of migration come at a time when hundreds of thousands of Venezuelans become eligible to obtain legal status. In early 2021, thanks in part to the advocacy efforts of civil society like Grupo Comunicarte,  the Colombian government announced legislation to grant temporary legal status to one million Venezuelans residing in Colombia. This will allow migrants to stay in Colombia for up to 10 years and to access the labour market as well as health, education, and financial services.

The plight of Venezuelan migrants has resonated around the world. In Canada, the Trudeau government's 2021 budget proposes to provide $80.3 million over two years, beginning 2021-22, to Global Affairs Canada and Immigration, Refugees and Citizenship Canada to help improve the integration of migrants and refugees into host communities, among other things.

Still, many challenges remain. Colombia, despite being an upper middle income country, is facing a major economic and social crisis as a result of the pandemic as well as ongoing internal armed conflict. There is a real risk that the gains in migrants' rights could be eroded by xenophobic discourse and political changes. In context, WACC is committed to continuing its support of migrants' rights by supporting their ability to exercise their communication rights.

Venezuelan migrants in Colombia experience different types of vulnerability related to income, age, gender, gender-based violence, and lack of access to services. The pandemic has exacerbated many of these issues, not only because of economic and health reasons, but also because of growing xenophobia. Negative perceptions of Venezuelan migration among the general public in Colombia reached 82% in April 2020, a trend that had started in late 2019 during mass demonstrations across the country that witnessed several attacks on migrants. Furthermore, only 15% of migrants have access to the health system and most have not been able to benefit from government cash transfer programs due to their legal status.

In 2021, the network seeks to enhance its work by:
Establishing two community media production centres: one in Bogota, Colombia's capital, and one in Cucuta (the main border city on the Colombian side). Both centres will be open to the migrant community at large to access digital services and to express their concerns through media production;
Deepening the training of the network, not just on radio production, but also on audio-visual media, as well as on urgent issues such as access to health and public advocacy;
Producing new content on topics such as the rights of migrants, access to essential services, particularly healthcare, and intercultural dialogue;
Gaining a greater understanding of the impact of the project in each of the 22 communities that host the citizen reporters through community-based research; and
Strengthening strategic alliances with other civil society organizations, UN agencies, and government.
WACC's work in Colombia is supported by the Evangelical Lutheran Church in AmericaCanada (ELCA) and is implemented locally by Grupo Comunicarte and Fundacion Comunicacion Positiva. For more information or to support this initiative, please contact Lorenzo Vargas at LV@waccglobal.org  
Photo above: Members of the network attend a training session in 2020. By Grupo Comunicarte