23 Nov 2016

WACC to host GAMAG General Secretariat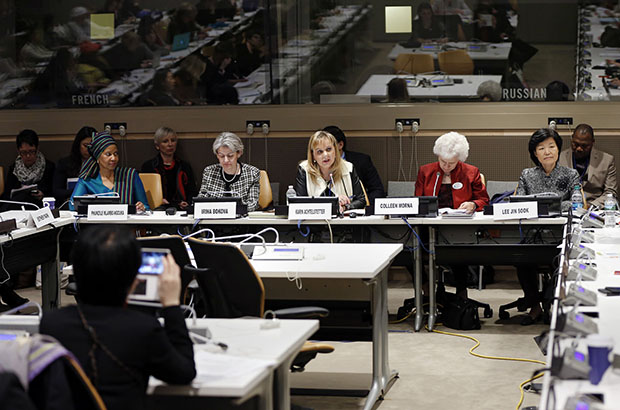 CSW60 – International Side Event on Gender and Media. Scene from the side event: Breaking Persistent Challenges for Gender Equality in Media, hosted by UNESCO on 18 March 2016. Photo: UN Women/Ryan Brown.
---
WACC has been chosen to host the General Secretariat of the Global Alliance on Media and Gender (GAMAG) at WACC's global headquarters in Toronto. GAMAG was launched by UNESCO, the U.N. Educational, Scientific and Cultural Organization, in 2013.
The move is in line with WACC's work on media and gender, including the Global Media Monitoring Project (GMMP), which every five years surveys the representation of women and men in the world's news media.
"The appointment recognizes the achievement of the GMMP and WACC networks of dedicated and hard-working members and volunteers in their struggle for gender justice worldwide," commented WACC's General Secretary the Rev. Dr. Karin Achtelstetter.
GAMAG is a network of media and media development organizations, unions and civil society organizations across the globe.
Its aim is to harness new opportunities, and address new challenges for gender equality and women's empowerment in and through media in an information society context that has radically transformed media architectures.
"We in WACC are excited about this new role. To serve this global network of some 800 member organizations is an enormous privilege and task. The appointment reflects WACC's longstanding commitment to issues such as equal and affordable access to communication and knowledge, media and gender justice, the relationship between communication and power," said the Rev. Dr. Karin Achtelstetter.
She also noted that this new role for WACC comes as the organization prepares to launch a campaign to end sexism in the news media. WACC is taking over the General Secretariat from the Caribbean Broadcasting Union.
The GAMAG network involves media professionals and their unions, media organizations, governments, civil society organizations, international agencies and youth representatives. Key organizations represented on the International Steering Committee include the Asia-Pacific Broadcasting Union (ABU), the International Federation of Journalists (IFJ), the International Women's Media Foundation (IWMF), as well as key players in the global media sector.
The GAMAG Chair has moved from Genderlinks, based in South Africa, to the International Association for Media and Communication Research (IAMCR).
GAMAG's next General Assembly is scheduled to take place in December 2017.
Photo caption (L to R): Phumzile Mlambo-Ngcuka, Executive Director of UN Women; Irina Bokova, Director-General of UNESCO; Rev. Dr. Karin Achtelstetter, General Secretary of the World Association for Christian Communication and current General Secretary of the Global Alliance on Media and Gender (GAMAG); Colleen Lowe Morna, Chief Executive Officer of Gender Links and former Chair of GAMAG; Lee Jin Sook, President, MBC TV, South Korea; Esther Park, KBS Correspondent to New York, Representative of the President and CEO of Korean Broadcasting System (KBS) America.