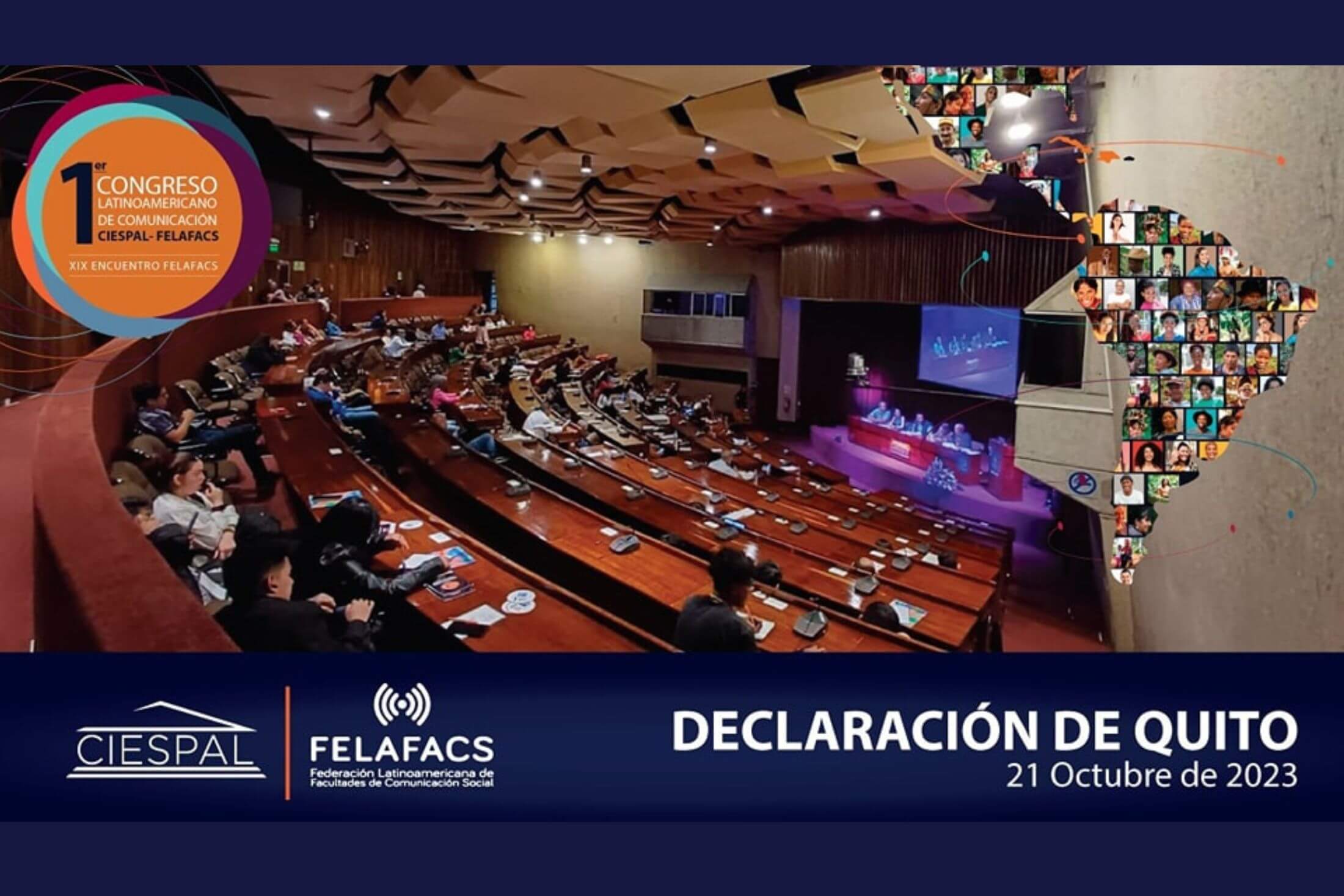 07 Nov 2023

WACC welcomes Quito Declaration affirming communication for social justice

WACC applauds the Quito Declaration from the First Latin America Communication Congress held last month in Quito, Ecuador.

"The Declaration recognizes that communication is transformative and has a critical role to play in promoting positive change in terms of social, gender, and climate justice," said WACC Global Program Manager Lorenzo Vargas.

Vargas and WACC Latin America President Leonardo Felix contributed to thinking on communication rights at the academic congress, which was organized by CIESPAL, an international communication research center based in Quito, and FELAFACS, an association of communication studies university faculties in Latin America.

A space to share ideas around communication research in the region, the gathering featured leading academics from across the region including Manuel Chaparro, Gabriel Kaplun, and Diana Rivera.

The program addressed a range of topics from communication and human rights, and challenges to journalism in terms of credibility and viability, to digital rights, epistemologies of the South, and environmental communication.
WACC support for communication rights in Latin America
WACC has close connections to relevant regional networks on communication issues, like CIESPAL, Vargas noted. The congress organizers invited contributions from the WACC participants in recognition of WACC's support for the communication rights movement in Latin America and for regional academic approaches to global communication issues, he added.
Felix took part in a panel on professional and activist communication and journalism networks in the region. He emphasized WACC's commitment to communication rights and to a grassroots approach. The WACC Latin America president said that the regional association's work on inclusion went beyond ecumenism to include other forms of spirituality.
Intersection of climate justice and communication rights
In the paper he presented to the congress, Vargas drew participants' attention to the intersection of communication rights and climate justice.
To advance climate justice, the right of people most affected by climate change to be seen and heard in the public sphere is essential, he stressed. "Otherwise, their voices, knowledge, and concerns will be missing from climate policies, thus undermining these policies' legitimacy and effectiveness."
Congress organizers also invited Vargas to moderate a panel on rural communication that included presentations from Honduras, Ecuador, Peru, Colombia, and Argentina.