17 Apr 2015

WACC's First Directors hold final meeting before new elections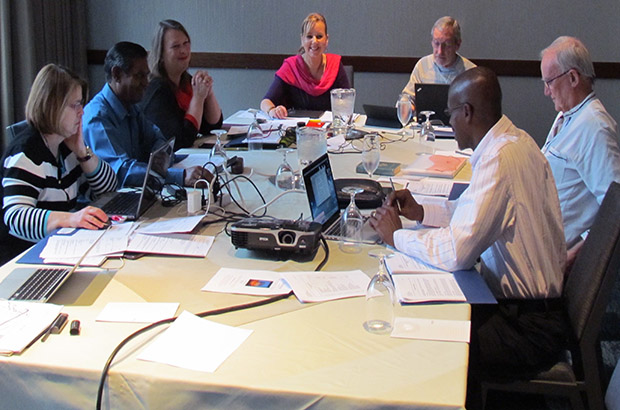 One of the lighter moments in a heavy agenda for WACC's First Directors. Photo: Philip Lee.
---
Two WACC meetings took place in the context of the Religion Communicators Council Convention, held in Alexandria, VA, USA, 8-11 April 2015.
The First Directors of WACC Canada met to review documents and decisions before the election of a new Board of Directors in May this year.
A key decision of the Directors was to decide the date of the Meeting of Members that will elect the new President and Board. It will take place on Friday 29 May 2015.
WACC UK's Officers also met to consolidate their work before the impending transition to a Charitable Incorporated Organization.
It was an occasion mixed with joy and sadness as WACC bid farewell to outgoing President Dr Dennis Smith, Vice-President Dr Praxedis Bouwman, Treasurer Rev. Dave Wanless, and Secretary Rev. Dr Samuel Meshack. Each has concluded two four-year terms in office and is now stepping down.
Both groups pursued full agendas, interspersed with a few RCC activities, such as a visit to the Newseum, the interactive museum of news and journalism located in Washington D.C.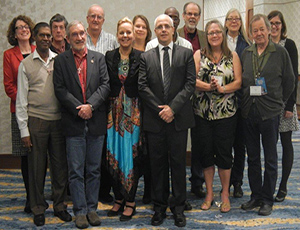 At a dinner given in their honour, and on behalf of members and partners worldwide, WACC General Secretary Rev. Dr. Karin Achtelstetter expressed her appreciation for the invaluable contribution of the Directors and Officers to developing and overseeing WACC's Strategic Plan 2012-2016, to the re-registration of WACC under new Canadian legislation, and to strengthening its governance structures.
"Bidding farewell always leaves a bittersweet taste – I know that some of you are looking forward to discovering life away from on-line meetings, policy papers, minutes and Board related travel. All of you have committed so much time and energy to guide WACC through new landscapes – and this was only possible because you sacrificed parts of your private and social lives," said Achtelstetter.
"Bitter because we will no longer be able to work together – we cannot deny that shared experiences, discussions and even controversies have a bonding effect. And while we come from different cultures, speak different languages and have different experiences, we found and built common ground. Certainly WACC's vision and mission, that we formulated and revised together, was the basis on which we could build our working relationship and friendship," she added.
The Religion Communicators Council (RCC) Convention was a fitting venue for the two WACC meetings. The oldest interfaith association in the USA, RCC works in the fields of print and electronic communications, marketing, and public relations.
RCC also organizes the annual DeRose-Hinkhouse Memorial Awards, which the WACC Directors attended. The Awards recognize excellence in more than 50 categories of communication and public relations. In 2015 there were 214 entries.
Each entry was judged on overall quality, including concept, writing, design, creativity, style, use of colour, appropriateness of material for intended audience, creative use of resources, and effectiveness in achieving its purpose.
Shirley Struchen, Executive Director of RCC, WACC UK Director and member of the WACC North America Steering Committee, commented, "It was an asset to have present the global perspective of WACC. Many RCC members work on or report on international projects, so there is a natural reason to collaborate. Both WACC and RCC are concerned about social justice issues, including- communication rights. Many support disaster relief agencies. Working together gives us all a bigger voice for change in the world and challenges all of us to try out new ideas."