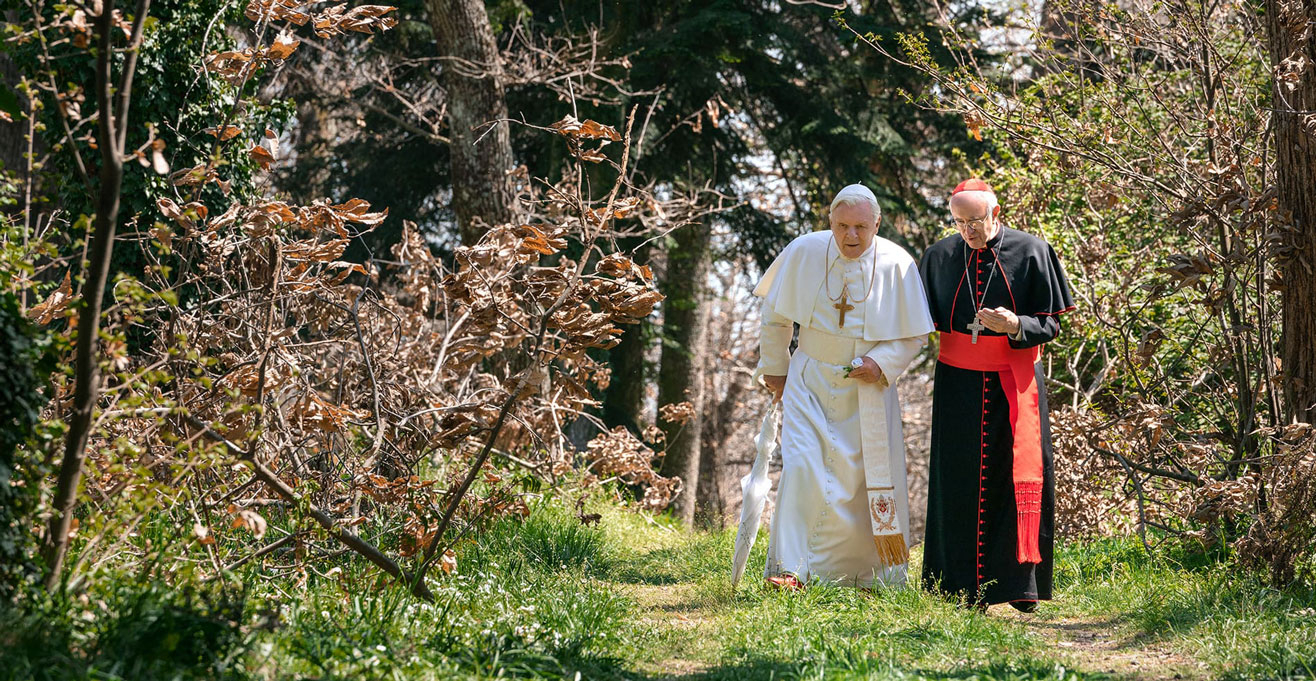 21 Feb 2021

What's to come in faith and film

By John P. Ferré

The last decade has been a strong one for critically acclaimed movies about faith. With the exception of Spotlight, the $20 million Universal Studios release about the Boston Globe's investigation of paedophile priests that won Academy Awards for Best Picture and Best Original Screenplay, movies about faith have been independent productions made with modest budgets.

Wadjda, the 2012 Saudi Arabian movie about spunky subversion of rigid religious culture, won three awards at the Venice Film Festival, including the INTERFILM Award for Promoting Interreligious Dialogue. Ida, the 2013 Polish movie about family, identity, and commitment, won an Academy Award for Best Foreign Language Film. First Reformed, Paul Schrader's film about a pastor's spiritual crisis, won a Critics' Choice Movie Award for Best Original Screenplay in 2019. That year also saw the Polish movie about anguish and redemption, Corpus Christi, receive the Europa Cinemas Label at Venice given to boost international distribution of important films.

But, like movies of all kinds, movies about faith – even the best ones – face an uncertain future. Already before the 2020 Lenten season, which began with Covid-19 breaking out in Europe and ended with the first million people infected around the world, per capita attendance at movie houses was in decline almost everywhere in the world except for China. Major studios were releasing fewer titles and spending more on blockbuster franchises. With fewer tickets being sold for fewer movies, cinemas were forced to consolidate, reducing the number of venues for screening movies that cannot promise the revenue return of mega-budget productions.

The pandemic had an immediate impact on the movie industry. Production scaled way down and scheduled releases were postponed. Theatres closed and festivals were cancelled, postponed, or moved online. Funding for new films diminished. Video streaming, by contrast, flourished. Streaming giant Netflix added 26 million subscribers in the first six months of 2020 and by mid-October reported a total of 195 million subscribers worldwide, over half outside the United States.

"It will take a lot of time, some box office gambles and perhaps even a vaccine before enough fans are comfortable sitting in a darkened room alongside hundreds of strangers to laugh and gasp in unison – or even just breathe the same air," says Time magazine's Eliana Dockterman.

Compounded by the pandemic, ongoing changes in the movie industry will affect movies about faith for some time to come. These changes include who makes the movies, the genres of the movies they make, and the way the movies are watched.

Women directors

Women have directed films at least since Alice Guy-Blaché directed The Life of Christ in 1906, but to this day most films have been directed by men. The so-called "celluloid ceiling" is troublesome, cultural critic Amanda Fortini explained recently in Playboy, "because the people who tell our stories, and the actors who embody them, shape our culture, our reality. If all the storytellers are men, society will continue to believe that only men are entitled to speak; we'll continue to live in a world that believes only men's subjectivity matters. The lack of jobs and the collective consciousness are not unconnected."

For Hollywood studio productions, the celluloid ceiling has been unyielding for female directors. According to research by Martha Lauzen, executive director of the Center for the Study of Women in Television & Film at San Diego State University, just 13% of the 250 top grossing films in 2019 were directed by women, a nominal improvement over the 9% figure from 2008. The Academy Awards have been just as unkind to female film directors. Only one woman, Kathryn Bigelow, has won an Oscar for Best Director (for The Hurt Locker in 2010).

Lauzen's research also shows that the gender imbalance in film directing is decreasing in the world of independent films. In 2008, women directed 22% of independent films. By 2019, that figure had increased to 38%. Also by 2019, women were directing 42% of independent documentary films and 33% of independent narrative features. To maintain this momentum, the Swedish Film Institute has promoted "50/50 by 2020," a campaign for gender parity in film festivals. Over 100 film festivals – including Cannes, Venice, and Berlin – have signed on. That is good news for today's film school graduates, half of whom are women.

It's also good news for the future of noteworthy movies about faith, many of which are independent films directed by women. One recent example is the 2017 animated feature, The Breadwinner, directed by Ireland's Nora Twoney. Appealing to children and adults alike, The Breadwinner tells the story of a resourceful 11-year-old Afghan girl named Parvana whose father has been unjustly imprisoned by the Taliban. Supporting her family falls on the shoulders of Parvana, who disguises herself as a boy to evade the Taliban's violent misogyny. The Breadwinner was nominated for the Academy Award for Best Animated Feature.

Following The Breadwinner a year later was the American dramatic film, The Miseducation of Cameron Post, directed by Desiree Akhavan. In this film, a teenaged girl is sent to God's Promise, a gay conversion therapy centre, after her evangelical Christian guardian learns about her same-sex relationship. Praying away the gay fails, of course, sometimes tragically, but not everyone understands or cares. The Miseducation of Cameron Post won the Grand Jury Prize for U.S. Drama at the Sundance Film Festival.

With the increasing number of women directing independent films, we can expect more films of the quality of The Breadwinner (still above) and The Miseducation of Cameron Post, which explore important issues about faith that resonate with diverse audiences.

Documentaries

Accompanying the growing number of notable films directed by women is the popularity of documentaries. Thom Powers, who programs documentaries for the Toronto International Film Festival, says that we are experiencing "an undeniable golden age for documentary filmmaking." Not long ago, documentaries were considered lesser artistic products as a class of films, products that were long on education but short on entertainment. Now they are go-to narratives, available not only on PBS and CNN, but also on Amazon, Hulu, and Netflix.

The rise of documentaries in the last generation has much to do with innovations in production and ease of access converging with a ready audience. Documentaries today more and more resemble their feature counterparts. They use original music scores, creative camera work and editing, protagonists and antagonists, and dramatic story arcs. They are easily accessible through online streaming services, which use algorithms to point viewers to both feature and documentary films that will likely interest them. And they appeal to millennials and other viewers accustomed to watching informative and entertaining videos on social media. It's not surprising that the number of feature documentaries released theatrically in the UK and the Republic of Ireland rose from 56 in 2009 to 99 in 2019.

Women are finding success as directors of documentaries. Over the last five years, an average of two of the five documentaries that contended for an Oscar for Best Documentary Feature each year were directed by women. Women co-directed the last two winners, American Factory in 2020 and Free Solo in 2019. Even more encouraging is Lauzen's latest study, which reported that nearly half of the documentaries that U.S. film festivals screened last year were directed by at least one woman.

A number of recent documentaries that garnered critical acclaim have concerned matters of faith. One of Us (2017) examined the lives of three Hasidic Jews who broke away from their ultra-orthodox community. The seven-part Netflix series, The Keepers (2017), explored the unsolved murder of Sister Catherine Cesnik, a Catholic high school teacher in Baltimore who was murdered in 1969 after she reported the school's chaplain for sexual abuse. And the six-part Netflix series, Wild Wild Country (2018) focused on the conflict and violence that followed the building of the utopian City of Rajneeshpuram in north central Oregon in 1981. Last Fall's Chicago International Film Festival featured 'Til Kingdom Come (2020), which examines the relationship between American evangelicals who pray and pay for the second coming of Jesus Christ and Israelis who build settlements in Occupied Palestinian Territory.

The popularity of documentaries combined with their production quality portends the ongoing production of important nonfiction films that explore issues of spirituality.

Streaming

Whoever the director and whatever the genre, movies today are most often watched through streaming services. Even after viewers return to movie theatres, they will continue to stream movies at home because what subscription video on demand lacks in movie-house screen size and the company of others, it more than makes up for in convenience and value. Netflix subscribers in the United States, for instance, have access to more than 4,000 films that they can watch at any time. For countries such as Albania, Gibraltar, and the Lao People's Democratic Republic the number is closer to 200, but that choice is still much greater than what was available in local theatres before the pandemic. A standard subscription costs as little as $6 in Brazil and as much as $19 in Switzerland, about the price of one ticket to a movie theatre. For the cost of one movie theatre ticket per month, subscribers to Netflix and other streaming services can watch as many movies as they want without leaving home.

Given the size of the Netflix film library in most countries, critically acclaimed films about faith will be among the selections available to subscribers. In some cases, those selections are Netflix productions. One is the 2018 film Come Sunday, about the African American megachurch preacher Bishop Carlton Pearson, who was declared a heretic for preaching that there is no Hell. In his review of the movie in Slate magazine, critic Lawrence Ware said, "This is an important movie for one simple reason: It shows why pastors who question orthodoxy are often afraid to publicly articulate the theological and political dilemmas with which they wrestle privately."

Netflix also produced The Two Popes (2019) about the unlikely friendship between Pope Benedict and the future Pope Francis (still left). An audience member's review of the film and television review aggregator Rotten Tomatoes called The Two Popes "one of the best, funniest and most emotionally-moving religious films I've ever seen."

Movie streaming is unlikely to lose the gains that it has made over the past decade. Audiences will return to theatres when they feel that it is safe to do so because watching movies on large screens in the presence of others is a visceral experience unequalled by watching movies on tablets and phones. But the convenience, the choice, and the price of streaming will keep subscribers subscribing, and that's good news for movies about faith, which appear on modest home screens far more often than on the giant screens at the multiplex.

Conclusion

With changes in the world of film come opportunities for making innovative movies about any subject, spirituality and faith included. As they always have, filmmakers who are risk averse will let these opportunities pass and produce sentimental movies that appeal to conventional attitudes and viewpoints. Others, however, will respond creatively to the changes that filmmaking worldwide is experiencing in production, distribution, and consumption.

These innovators will make movies about faith that intrigue viewers by questioning assumptions and challenging prevailing viewpoints. Many will be directed by women, some will be documentaries, and all of them will be distributed online. For discerning viewers who make a point to seek them out, these will be movies to remember and re-watch.

John P. Ferré is a professor of communication at the University of Louisville, USA, where he studies historical, religious, and ethical dimensions of media.