12 Mar 2014

Women of Distinction award given to Rolls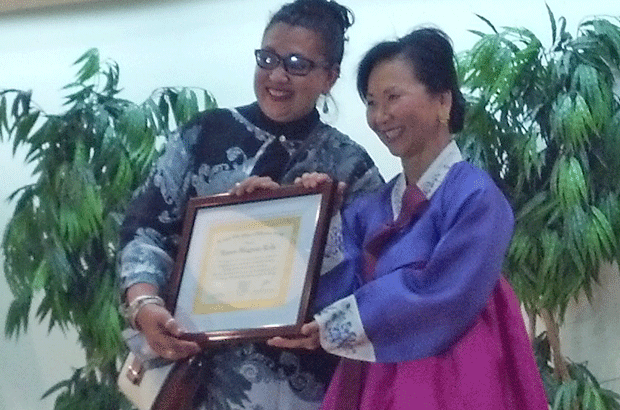 Sharon Bhagwan Rolls, left, receives the NGO-CSW/NY Women of Distinction award on March 11 in New York from NGO-CSW/NY Executive Committee Chair Soon-Young Yoon. Photo: Solange De Santis
---
Sharon Bhagwan Rolls, executive director of FemLINKPACIFIC in Fiji and a WACC partner, on March 11 accepted the 2014 Women of Distinction Award from the NGO-Committee on the Status of Women (CSW)/New York.
The award was presented at a reception as the NGO-CSW/NY held several events during the 58th session of the Commission on the Status of Women, which is taking place at the U.N. in New York, March 10-21.
Saying she was humbled by the award, Rolls added, "When women come together for peace, our message can resound throughout the nation and throughout the world. We will continue to be vigilant."
NGO-CSW/NY Executive Committee Chair Soon-Young Yoon, in presenting the award, noted that Rolls uses "a suitcase radio" to "equip women so they can give their messages and communicate with each other." FemLINKPACIFIC operates a rural and regional media and policy network that includes the women-led community radio network FemTALK 89FM.
Rolls is also an International Ambassador for the 2015 version of WACC's Global Media Monitoring Program (GMMP), which monitors gender representation in global media every five years. The NGO-CSW is a committee of the Conference of NGOs, in consultative relationship with the U.N.
On March 9 at the NGO-CSW Forum in New York, Rolls said in a keynote speech that gender and communications rights issues are being addressed by the Pacific Media Assistance Scheme, "which has recently adopted a comprehensive gender policy," the GMMP and women's media networks.
However, much remains to be done, she noted. "Five of the ten countries in the world with no female representative in parliament are Pacific Island countries. Women are also marginally represented in other decision-making bodies," she said.
Communication and information technology is a powerful tool in women's political empowerment, Rolls added. "In Fiji, our community media work has given rise to an annual policy series which covers … survival and healing following conflict, women's budgets for conflict prevention and economic security, democratizing security decision-making, a more holistic approach to disarmament and reintegration and communicating a culture of peace."
Fiji has experienced political instability, including four military coups during the last three decades.
Rolls also said that "we need to urgently address the barriers of our communication rights and freedoms and enable women to claim our rightful spaces in the media and ICT (information and communications technology) fields."
In addition, "we need to build on the findings of the Global Media Monitoring Project and ensure that communication regulatory systems are gender inclusive and do not simply regard women as homogenous, heteronormative and passive consumers of the media but as active producers of media content whether it is on community radio, social media or film and publications."
The award, she concluded, is a "tribute to the women who mentored and paved the way for our activism, the women who have embraced our community media approach and the young women who inspire me with their innovation and ideas."